Why we all love a Unimog
It's big, bad and usually muddy – and Mercedes-Benz produce it. What is it? The Unimog of course, ploughing its own furrow since 1947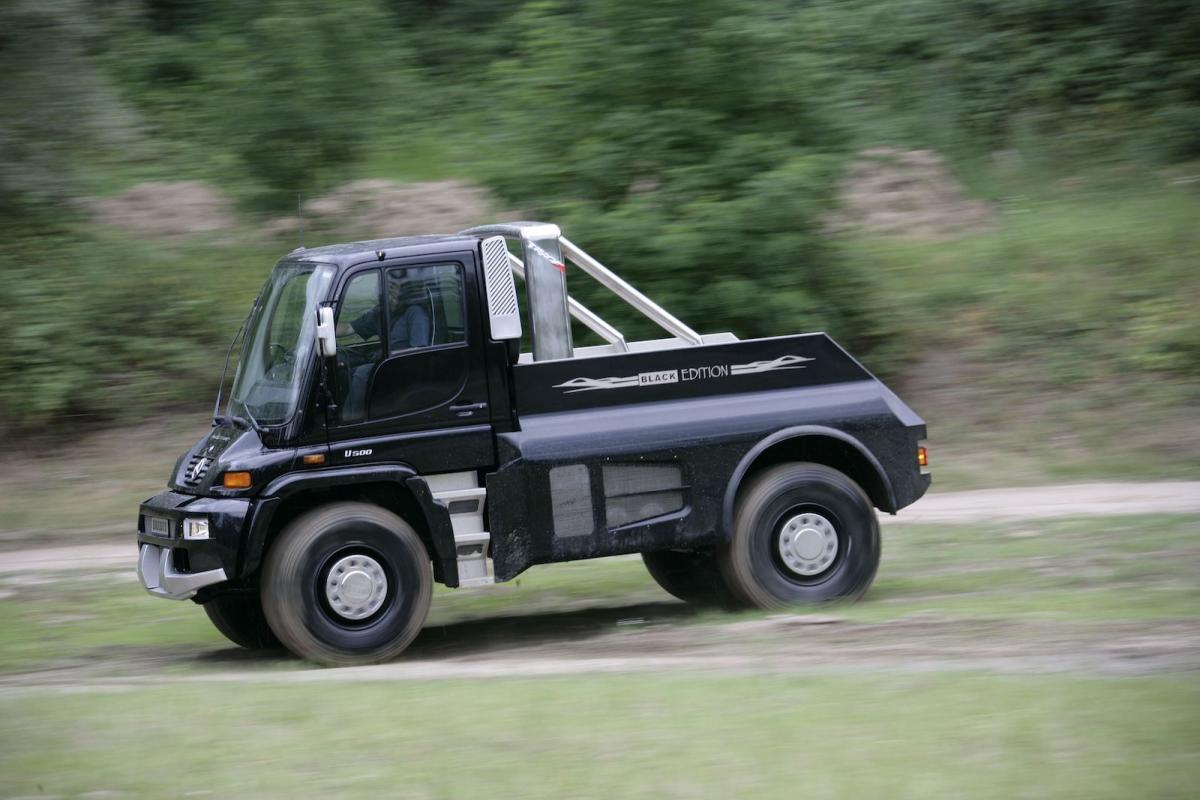 Many good mechanical ideas are conceived during wartime. A military conflict accelerates all development, costs are rarely considered, and winning becomes the paramount goal. In the field of technology, the quest for decisive breakthroughs stimulates lateral thinking. Without a talented military engineer who had a penchant for exactly that, Unimog would not exist.
Albert Friedrich, born in 1902 in Munich, was the engineer. After completing his degree, he went to work on air-cooled aviation engines for Argus, engineered the Horch 8 and 12 luxury cars, and also designed trucks for a Swiss manufacturer. As of 1933 he was employed by Mercedes-Benz in the aviation engine department, where he quickly rose to the post of chief engineer and then to technical director.
He was responsible for the development of the DB 601, 603 and 605 series of aero engines, best known for their employment in the Messerschmitt Bf-109 fighter plane and other significant aircraft built during the Third Reich.
It's worth noting, as an aside, that without the work of his team during the 1930s and World War Two, the post-war success of the Mercedes Gullwing and Sir Stirling Moss's Mille Miglia-winning 300SLR would not have been possible, as their engines used a direct-injection system and a lot of know-how developed by the brand's aero engine department.
When the war ended, Friedrich – like so many engineers who had been helping build up Germany's military might – was banned by the Allies from working in industry. Some sources say it was while at an internment camp, waiting to be interrogated, that Albert met an old Mercedes engine-design acquaintance, Heinrich Rößler. Other sources claim this happened later, and that Rößler had been working as a farm hand at the time, also banned from an industry job.
It's been reported that Friedrich already had the idea of designing a versatile farm tractor during WWII, but I've also read that wartime also saw the creation of a similar vehicle to the later Unimog at the Mercedes plant in Berlin-Marienfelde. Mercedes history touching the end-of-war period is invariably vague. Historians prefer not to dig too deep, and perhaps I should follow their example.
Friedrich set up an engineering company, and started sketching his idea for a Motorised Universal Working Machine for Agriculture. The occupying forces decided to rebuild Germany, and to start that by bringing the nation's agriculture back to life.
Production of farm machinery would usually be approved by the Allies, but ideas to build cars or trucks would not. The engineer's concept, which later morphed into the Universal-Motor-Gerät, fit the existing legal framework perfectly. In 1945, the odds of a former Nazi engineer being granted permission to build something called a car were precisely zero.
Friedrich drew the contraption with not only functionality, ease of use and enormous off-road capability in mind, but also with regard to keeping the production cheap and simple. The unpretentious and spectacularly ugly vehicle had a frame construction comparable with trucks or cars, four-wheel drive and four wheels of equal size. With an output of 25bhp, it was intended as a substitute tractor, a versatile agricultural working machine, a mobile drive unit for farm machinery and an agricultural delivery vehicle… and nothing else.
A six-speed gearbox was planned, making for a possible speed range between walking pace and 50kph – much faster than ordinary tractors. Friedrich envisaged a power take-off at the front, a load space close to the centre of gravity and a tow hook at the rear. After some time he redrew the blueprints, using the same stampings for the front and rear axle, identical hub gearboxes front and back in the portal axles (with offset gears making greater ground clearance possible) and only four driveshaft joints.
Everything was dictated by necessity. For instance, the weird track width of 1270mm corresponded to the typical width of two rows of potatoes. By making the vehicle faster than normal tractors, Friedrich ensured it would not be a hindrance on the Landstrassen.
In using coil springs and dampers on both axles, he made sure farmers would not curse him. By providing implement mounting facilities at the front, rear and at both sides, he knew the Universal Motor Appliance could outperform any existing farm tractor. Meanwhile, the PTO accessible in three locations (front, centre and rear) plus the standard differential locks front and rear allowed a farmer to improve the way he used his equipment.
Helped extensively by his daughter Ursula, who spoke English, Friedrich managed to obtain a 'Production Order' from the American forces of occupation. His chosen partner for the production of the new vehicle was the gold and silversmithing company of Erhard & Söhne in Schwäbisch Gmünd. There, an attempt at production was made, and then in 1949 the next production partner, Gebr. Boehringer, was found. Here, Unimogs (as they were now called, an abbreviation of UNIversal-Motor-Gerät) were built, each adorned with the characteristic ox-head insignia on the front of the vehicle.
At this point, Unimog had absolutely nothing to do with Mercedes-Benz, which still was not permitted to build AWD vehicles. However, a new diesel engine, OM636, was being worked on, and Mercedes was going to supply it for the Unimog. Around the turn of 1950-'51, the Unimog engineering team and production equipment were moved from Göppingen to Gaggenau. Production of the Unimog began on June 3, still with the ox-head trademark and without the Mercedes star.
Customers knew that the Unimog was something very special, and the market, starved of all-terrain trucks, was asking for more versions of the tractor. The sales outlets taken over from Gebr. Boehringer were gradually integrated into the sales organisation of Mercedes-Benz, and rationalised production at the vehicle plant helped to reduce costs and increase sales.
Nonetheless, the Unimog was only permitted to bear the Mercedes star in its radiator grille from 1953, and it was not until 1956 that the emblem replaced the previous ox-head trademark. In 1953 a fully enclosed cab was offered for the first time, and in 1955 the first Unimog S was produced.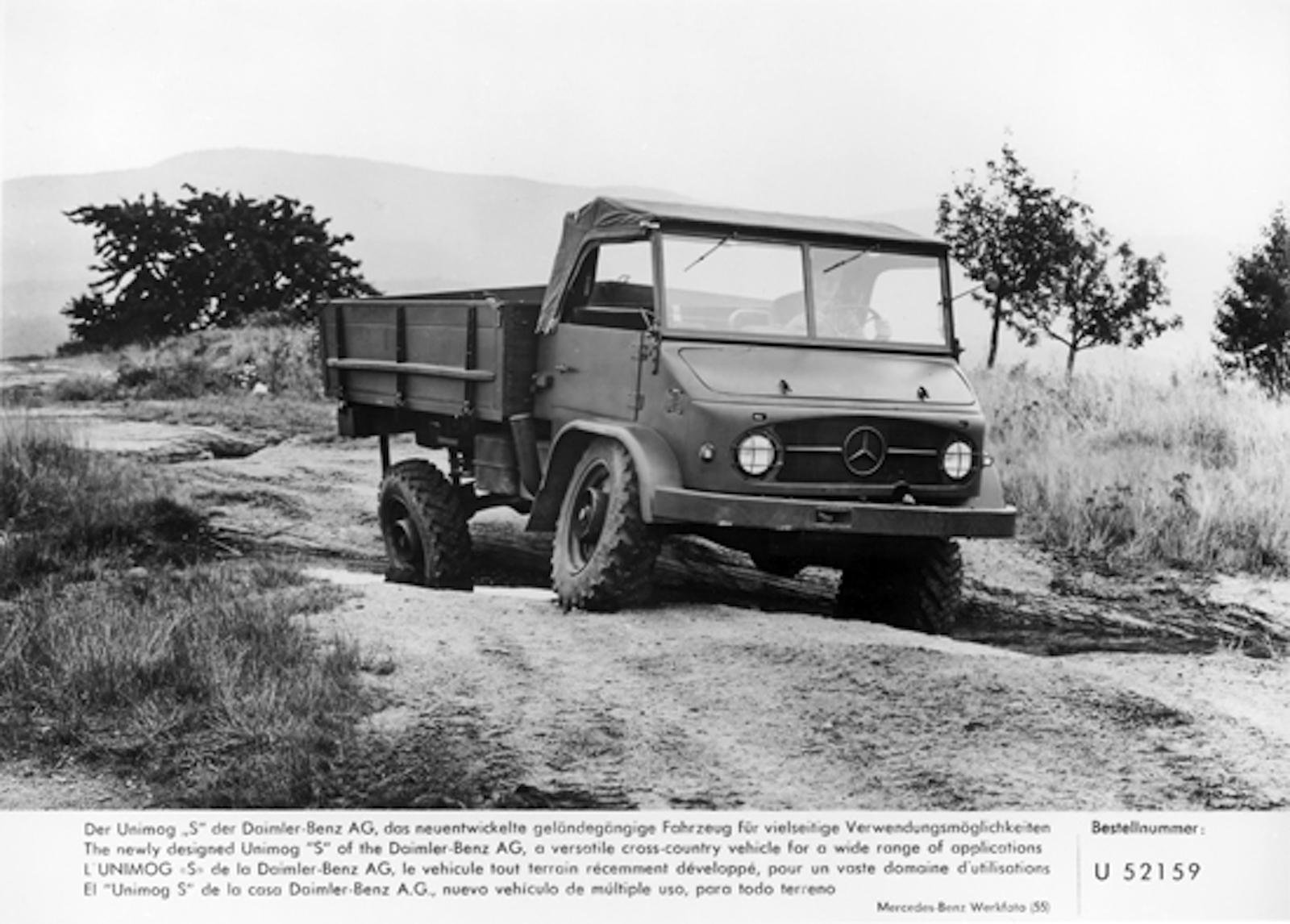 The S, with its long wheelbase and more truck-like behaviour on the road, utilised many parts from the passenger cars produced by Mercedes at the time, and its arrival was not coincidental. In 1956, the Bundeswehr – the new German armed forces – came into existence, and it ordered the new Unimog (as well as many variants since) in extremely large numbers.
Soon, the military forces of other countries became aware of this new vehicle's potential, so the large Bundeswehr orders gave them confidence to order some as well. In turn, civilian customers trusted the German workhorse's military-level reliability, and started to order civilianised versions.
The basic Unimog tractor was constantly modernised, and the basic concept served the company well until the 1970s. Numerous new models appeared in the 1960s, including those in a new medium-heavy weight range, which had been out of reach for the basic and military models. Total production passed the 200,000 mark in 1977, and Unimogs were built in Gaggenau until 2002, when production was moved to the huge Mercedes truck complex at Wörth.
Over time, Unimogs became the staple vehicle for multiple municipal uses. They were utilised by the military around the world, for expeditions, disaster relief, all-terrain exploration, firefighting… virtually any task that requires a highly mobile vehicle with a huge speed range. A Unimog can crawl at walking pace, sweep the streets or tow a train, without additional wear to its components, and it can drive on a highway as fast as regular trucks.
Friedrich never imagined his little agricultural tractor, which was born of a real agricultural need and of a desire to bypass the Allied restrictions on vehicle production in post-war Germany, to become so diversified and successful. The main tenets of his genius design are valid even today for a majority of Unimog models – the four equal-sized wheels, four-wheel drive, portal axles and supreme reliability.
Unimog U500 Black Edition by Brabus
Over the years I've sampled a number of Unimogs, as I've always had a weak spot for these rugged but stylish machines. One I remember particularly well was a prototype of a limited-edition 'lifestyle' Unimog first presented at the 2005 Dubai Auto Show – the Unimog U500 Black Edition by Brabus.
In fact, I was the first journalist to drive the truck, both on public roads in Germany and at Unimog's off-road track, also known as the Kiesgrube Ötigheim. I remember the occasion fondly. After breakfast at a little family hotel in Plieningen, just outside Stuttgart, I was taken to the truck factory where a shiny, jet-black Unimog awaited us.
Attempts to photograph the engine compartment where thwarted when it transpired that the wizards at Brabus who had added some external cab ornaments (and reworked the interior trim) had forgotten to take precise measurements. This meant the cab could no longer be tilted to allow us to see the $300,000 truck's engine. To this day I have no idea what it looked like, and at the time I shared a good laugh with my Mercedes hosts.
I got behind the wheel, having climbed what felt like a flight of stairs, and was instructed in the vehicle's operation. As with all of the Unimogs I drove, it had an EAS transmission that could be operated either using a clutch pedal or automatically. If you don't want to use the clutch, a special lever lifts the left-hand pedal up and out of the way, and you can either select the eight gears manually or leave it to the truck's electronic brain, which then operates the gearshift as if it were a slushbox.
The reduction gear, used for off-road rock-crawling and other difficult conditions, has a selector marked with the picture of a tortoise; a picture of a hare signified normal driving. As I wanted to drive the huge, ostentatious truck on narrow city streets, we set off immediately for a quaint medieval town selected by my hosts.
I was getting the hang of driving the thing, and it was predictable and relatively easy to drive but very bouncy on its huge 455/70 R 24 tyres. The 6.4-litre turbodiesel, producing 286bhp and 1120Nm of torque, easily hauled the 7.5-tonne Unimog to permitted urban area speeds, but then progress became less pronounced...
Once in the little town I decided to squeeze the beast into a narrow street, and I kept going until it narrowed so much I had to stop. The photographer shook his head as he didn't like the surroundings, and with no pictures taken I had to reverse back out. It must have been several hundred meters, with cars haphazardly parked on both sides; difficult, but a great exercise in spatial orientation.
Then I wanted to shoot the truck at a zebra crossing, with people on it to provide an idea of the Unimog's size, but we encountered a problem: nobody wanted to walk across the front of the menacing black machine. Children stayed back, older people squinted at the dark beast – but finally one of my German hosts started to personally persuade each person to cross the road, and we got the shots we wanted.
I drove onward to Baden-Baden, where we'd arranged to park this lifestyle accessory at the main entrance to the spectacular Festspielhaus, the world-famous opera house and philharmonic. Later we hit the Autobahn again, as we had to head to the former gravel mine used by Unimog as a proving ground.
The highway proved the undoing of the poor Unimog Black Edition, as it felt terribly out of its element. On paper it was capable of 100kph, but I have no idea what downward gradient would be required to persuade it to reach that speed. After what seemed like a week I reached about 80kph, and the huge, knobbly tyres caused the contraption to wander all over the place, necessitating a constant vigil and frequent course corrections.
It must have been the first time I was ever on the German Autobahn in something wearing a three-pointed star when trucks passed me with ease...
Once I arrived at the Kiesgrube, things became much better, as the Unimog's reputation for off-road prowess is fully justified. I got it wet, used the remote-controlled tyre-inflation system, tested the axle articulation and ramp angles, everything… and the beast just shrugged it off. As long as a jet-set billionaire wanted to tow his boat with it, and not try to race people across the desert in Dubai, it made sense.
As the afternoon wound to a close, my hosts asked me to drive a number of anonymous customers around the off-road test track, and I gladly obliged. I returned the prototype to its huge hangar with no damage, and only then did I tell the Germans that I had never obtained a truck driving licence. They went very pale...
Unimog U4000
Despite this, a few months later I got a chance to drive the heavier, more full-on Unimog U4000. This 12-tonne, 231bhp monster is used by many armies around the world, often wearing armour and packing serious firepower.
This time, however, my gracious hosts took a sensible precaution: they assigned a factory driver to instruct me in how to use the truck properly. Our language difficulties – he, a German of Egyptian origin, and I, a Pole – were circumnavigated by us both speaking French.
He guided me through all the obstacles on the off-road course, some of which had been off limits to the Brabus with its added appendages. Wading, driving up staircases, teetering on the brink of rolling the truck, I gained confidence, and understood the philosophy of Unimog much better.
Of course, I wanted to push the envelope. I found a loop of very bumpy mud-and-dirt track running within the testing area, and proceeded, against my instructor's protests, to cover it at higher and higher speeds, Dakar style. (An Unimog won the truck category of the 1985 Dakar Rally, driven by the famous Jost Capito, now again the boss of Volkswagen's performance arm, and previously responsible for the VW WRC team).
Yes, the truck rolled a bit, but its degree of lean was fully under my control. I certainly enjoyed myself; the instructor, who sometimes had to grab onto the cab roof to stabilise himself, not so much…
After this, probably as a way of punishing me for wrecking his sense of balance and altering his Weltanschauung with regard to Unimog roll angles, the instructor made me drive up a vertical wall. Yes, really. A proper Unimog has no front overhang. With the reduction gear and diff locks engaged, you crawl up to the wall and kiss it with the front of the tyres. A smooth push on the gas pedal makes the truck rear up until the front wheels roll over the top of the one-meter wall. Very impressive.
I imagine it's easy to start believing a Unimog is invincible off-road, and to get stuck and be embarrassed by amateur YouTube videos for years to come. However, in my experience I've never found an obstacle one of these beasts could not cross.
It's been years since I've driven a Unimog, and I would gladly refresh my skills. Perhaps in a classic one – preferably the first generation penned by Albert Friedrich.
Images: author, archive, Dieter Rebmann, Horst Stein