Why Jaguar's Formula E team director loves historic racing
Jaguar and its Formula E team director James Barclay prove that historic and electric racing needn't be at odds
In association with
Conventional attitudes seem to dictate that Formula E and historic racing need to occupy opposite ends of the motorsport spectrum. On the surface, there's a good reason for that. One is a development race that aims to bring the future of motoring into the present day and proves that truly exciting motorsport does not depend on an internal combustion engine. The other turns the clock back to relive a bygone era.
Formula E cars are bulky by any measure of single-seaters and the grid runs a specified aerodynamic package. By comparison, historic racing is a showcase in simple, pared-back racers and design diversity. Many lovers of historic racing view increased levels of technology as a force for purity-sapping evil, regardless of how enjoyable the racing is that series like FE produce.
See also...
But despite each being the antithesis of the other, historic racing can still be the perfect accompanying tonic to FE. That's why, away from his day-job as Jaguar Formula E team director, James Barclay is no stranger to the cockpits of Ford Mustangs and Lotus Elan 26Rs. Ultimately he's a racing fan so to have that competitive element through the week and to be sliding round of some the world's most special circuits at the weekend, when there are no clashes with an ePrix, is no bad split.
'Obviously I have grown up through racing all my life and it's part of my blood – whether it's competing in it or working in it,' says Barclay on why he enjoys such a large crossover between work and play.
'The classic stuff has been something over the last 10 or 15 years that's really boomed. A lot of the drivers who I've worked with through coaching have moved from more modern forms of motorsport to more historic forms.
'I really like the older stuff, it's great. Being involved in the cutting edge future of the sport is really exciting to see what direction we're going in and just what the opportunities are. But I do love a nod to the past.'
In many ways too, Barclay is a reflection of his employer. Jaguar's second season in FE is currently underway with drivers Mitch Evans – a GP2 race winner – and the inaugural series champion Nelson Piquet Jr. It has also revealed its I-PACE eTrophy support race that will use the marque's first-ever EV.
And yet alongside that, the brand's Classic arm is reproducing Lightweight E-types, XKSS and more recently another 25 D-types. It's almost as if its electric E-type is the perfect reflection of Jaguar's split identity.
'As a business, it's really exciting for us,' says Barclay about the distinctive products. 'I'm not involved with our classic team but it's obviously part of the business and we've done some fantastic cars over the last few years with the XKSS and the Lightweight E-type – these are beautiful, beautiful cars and it's amazing as a business to see what we're doing in the space. Genuinely building beautiful carbon copies – they're continuations, they really are. If I had the money then without a shadow of doubt I'd have one.
'You get continuation cars and then you get them built exactly how they were in period. So as a brand it's lovely because you're involved at the cutting edge but also through our classic division you can order an E-type road car in your colour, in your specification just like you could do in the 1960s which is amazing. But you're buying from a manufacturer with a warranty, you get a guarantee of quality. That's a robust case.'
While historic racing is a pleasant change of scene for Barclay, he's no amateur enthusiast. He's amassed over 20 years of racing experience, beginning with karting in 1995 and progressing through Formula TKM – the same low-cost category won by Jenson Button in 1992.
In 1998 Barclay won the Vauxhall Vectra Scholarship and progressed with Vauxhall's support into the 1999 Vectra SRi V6 Challenge supporting the British Touring Car Championship. From there he moved into the Autobytel Lotus Motorsport Elise series a year later and was a consistent frontrunner in the TOCA support series.
Notably, in more recent years, he raced an Elise to second in the 2009 Britcar Championship, also driving alongside TV presenter Vicki Butler-Henderson in a GT3-specification Honda NSX.
But at Thruxton last season, he swapped the slicks and wings for an Elan 26R with the Classic Sports Car Club. During Barclay's stint behind the wheel, he was trading places continually with a 4.7-litre TVR Griffith for the lead. After an outing like that, it's easy to appreciate why he finds choosing between the two vastly different disciplines a tough call.
'Well [the Elan] is from an era where people took different approaches. It's like everything, over time if you refine and refine and refine then you end up at pretty much a similar point. Whereas in that kind of racing people are still coming up with new ideas and so you end up with 2-litre cars racing V8s and you don't really see that now.
'The Elan at Thruxton was a great battle against a TVR which was fast in some parts and really struggling in others. So where the strength is in the Elan it wasn't necessarily in the TVR so you get some fantastic racing. The lead can change twice a lap every lap for a half-hour race.'
Off the track, Barclay explains that while historic racing is a far cry from matching the technical tour de force of Formula E, it's by no means immune to the low-hanging fruit of data analysis.
'With historic racing now, it is a historic car but you use all the same, well not a million miles off anyway, the data you can log on a contemporary car. The thing with a historic car is that you can only make it so good. You're never going to make a historic car perform like a modern GT car. At Spa last season I raced a modern GT car and a Mustang at the same meeting and talk about two worlds apart!
'I was braking at the 150m board in the Mustang, whereas I was braking at the 50 or 75m mark in the Honda and it's just things like that. Paddle shift compared to the Mustang where you need a big heel-and-toe and deliberate shifts. In the Honda, you're changing gear mid-corner.'
Whether it's compared to the NSX or to the Elan, the Mustang might seem the more likely car to require brutish inputs in order to tame the large capacity engine and perceived unwieldy handling. Instead, the opposite approach is needed.
'It's actually interesting, it's the other way around. With the Mustang you actually have to be quite a bit more delicate with everything. If you drive like a lunatic then you'll destroy the tyres in no time at all. You'll destroy the fronts, destroy the rears, overheat the brakes.
'Genuinely, racing historic cars I think is all about driving efficiently because basically, you want to drive as quickly as possible [but] just not wear anything out. Because the thing is, in the Mustang, if you attack as hard as you want lap after lap then three laps in your brake pedal will start to go to the floor, so historic racing is actually brilliant because you have to think about what you're doing and really bring the race car to you.
'Whereas in a modern car it's flat [out] attack, last braking points, on the power as early as you can with having traction control nowadays. You literally are pushing the car every second to its maximum.
'In a historic car, you just can't really do that. If you do then you'll soon start running out of tyres, running out of grip. It's fun because sometimes in a historic race you're having to do that and you're literally hanging on thinking is it going to stop this time?'
But Formula E bucks that trend with contemporary motorsport. The cars are infamously hard to handle with their high weight, use of road tyres and lack of downforce, and drivers need to manage usable energy for the full duration of a race. It requires efficiency to extract the best results, exactly as Barclay says is required in historics.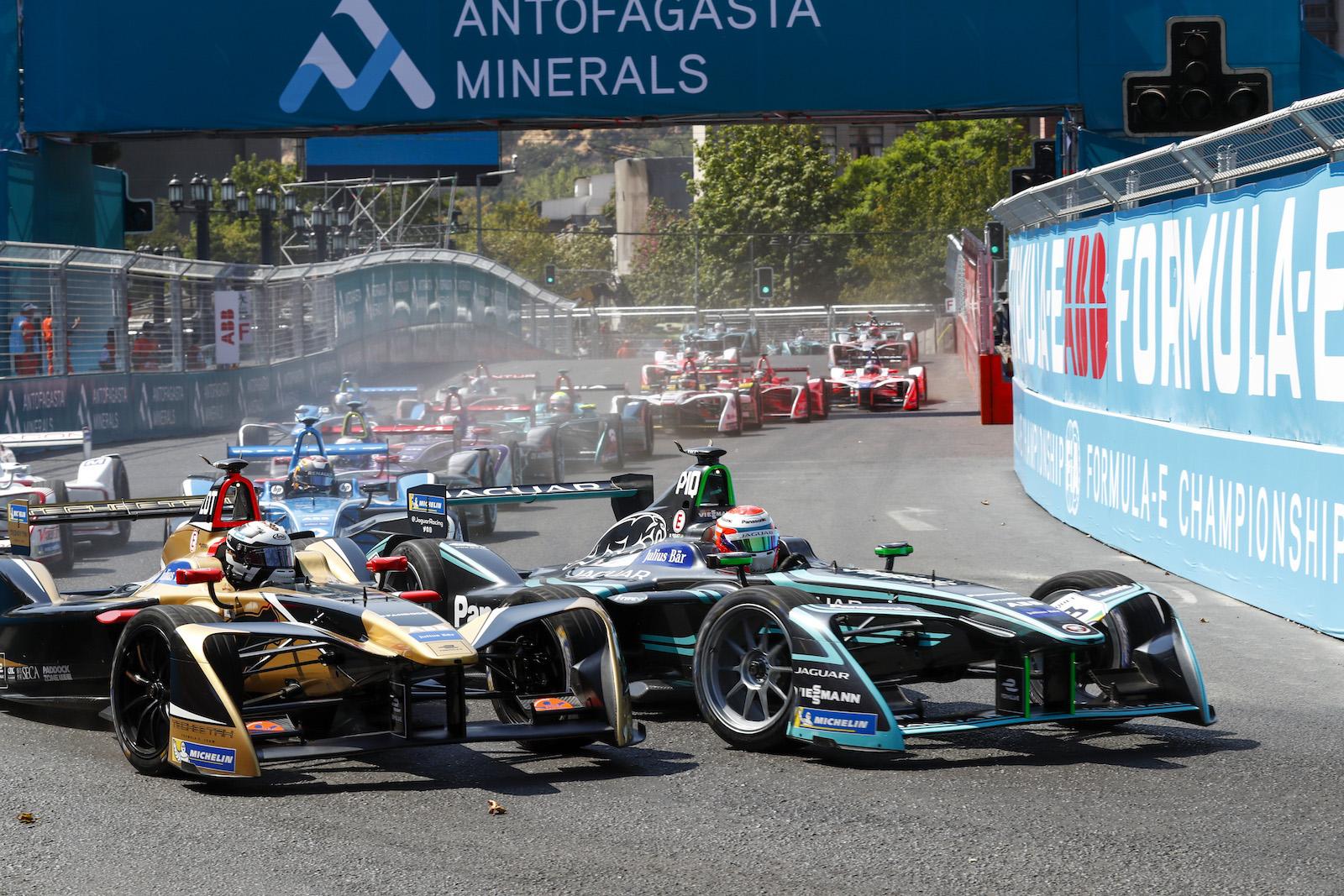 Despite the more considered driving style required, the competition that so often unfolds with historics is far from conservative. And again, that's of little surprise. In Formula E, sportscar winners and ex-Formula 1 drivers are numerous. But regular Goodwood appearances from the likes of nine-time Le Mans winner Tom Kristensen and Jochen Mass emphasise the draw of classic grids. Albeit the drivers may be less in their prime than with a top-flight single-seater series, but the quality still shines through.
That skill on circuit instils confidence and means that, for Barclay, considerations of the value of some entries is less prominent when strapped in the driver's seat.
'To be honest, when you're behind the wheel a lot of that seems to go away. You're conscious that you don't want to ruin people's beautiful cars but once you're racing, it's as fierce as I have ever come across.
'People have a limit in terms of modern stuff. You'll just get a knock for no apparent reason, but in historics people know if they damage that bumper then they can't just go and order a new one. So people, I would say, are a bit more wary about the complexity, the value and rarity. They're beautiful bits of artistry so people just don't want to bend them and I respect that.
'But the racing is just as competitive, especially at meetings like the Spa Six Hours or Goodwood. At the Revival, no one is leaving anything on the table. The [Mike] Jordan-[Dickie] Meaden fight last year was one of the best bits of racing in a number of years. There was definitely nothing left on the line there, right?
'When you're in the big million-million pound cars I think there's a bit more of that but depending which category you're in. But they're great fun cars and people race properly.'
Rather than getting bogged down in a tiresome, repetitive argument about whether Formula E is as stimulating as classic grids, instead Barclay and indeed Jaguar are more appreciative of wider motorsport.
Through the tight confines of Formula E city circuits and the low grip and resulting oversteer in historic motorsport, both produce exciting, close racing. Both attract stellar drivers and that results in excitement. It's easy to see why both man and company dedicate their time and resources to enjoying the best that each has to offer.