When the Alpine A110 ruled the world
The Alpine A110 has returned for 2018! But what of the original? AutoClassics reflects on the winner of the first ever WRC
In association with
'Simplify, then add lightness' – words synonymous with iconic engineer and Lotus founder Colin Chapman. His pioneering ethos that utilised glassfibre body panels to negate the need for high power outputs resulted in the most engaging-to-drive road cars as well as motorsport success throughout the 1960s and '70s. When it came to low mass and subsequent agility, Norfolk was king.
Or rather, that's how it's remembered. For across the English Channel and based out of Dieppe in northern France, Alpine had the values and resultant motorsport success to match.
Its creator was Jean Rédélé, the then-youngest Renault dealer in France, aged just 24-years-old. He had been born with a predisposition to racing as his father, Emile, worked as a mechanic for Renault grand prix driver Ferenc Szisz – winner of the Grand Prix de la Sarthe in 1906 at Le Mans.
For Jean, his passion for motorsport ran deep. In 1952, Renault entered him at Le Mans and with two hours to go he was leading his class, only for mechanical issues to intervene. Two years later, piloting a modified Renault 4CV, he won his class at the Alpine Rally. Further class honours were clocked in the Mille Miglia and Liège-Rome-Liège Rally.
In his 700cc, two-cylinder Renault he had triumphed over entrants running with four times the number of cylinders and five or six times the displacement. If ever there was a lesson that being light and nimble could overcome a power deficit, this was it. On the tight turns his short-wheelbase car made the difference and, thanks to that lack of grunt, the car was easy to drive.
And it was with the 4CV that Rédélé kickstarted his rise from enthusiast to creating one of France's most evocative marques. For him, the 4CV was a known quantity and so in 1955 he took the engine and gearbox and slotted them into a sleeker, lighter platform. In homage to Rédélé's finest motorsport success, the brand was to be called Alpine.
'I chose the name Alpine for my company because for me, this is an adjective that epitomises the pleasure of driving on mountain roads. The most fun I ever had behind the wheel was driving through the Alps in my five-speed 4CV, and it was essential for me that my customers should experience this same level of enjoyment in the car I wanted to build. In this respect, the name Alpine is both symbolic and entirely appropriate,' he said.
The car may have been a true parts bin project, but the prototype A106 had neverthless been born. What was bespoke, rather than simply a hand-me-down, was the aluminum bodywork. Three cars, painted in the French Tricolour, lined up to be presented to Renault's then boss Pierre Dreyfus. Over 200 coupés and convertibles were built during its lifespan.
The A108 followed after. Sporting a Dauphine engine that produced 40bhp, it proved reliable and the perfect basis for a faster car. In 1962 Renault released the more spritely R8. In keeping with the Alpine way, its engine and gearbox were also harvested and nestled in the rear of a backbone chassis and beneath a lightweight glassfibre bodyshell.
It was called the A110 Berlinette Tour de France, and following Rédélé's naming convention, borrowed from the A108's successful run in the 1962 Tour de France rally. Heroic French racer and car designer Amédée Gordini was called upon to tune the engine with a revised manifold, cylinder head and two DCOE Weber carburettors finding their way in. Over the course of its 12-year lifespan, the A110's output climbed from 956cc producing 50bhp in 1962 through to an 1800cc and 180bhp unit come '74.
Nevertheless, the A110 was a sporting underdog. But that was the role in which Rédélé had flourished during his own rallying success. Now though, Alpine needed the perfect litmus test for its new creation and so five M64 prototypes headed to the Circuit de la Sarthe in 1966 for the 24 Hours of Le Mans to bring it full circle for Rédélé. While it's the first win for the Ford GT40 and their one-two-three finish that's most commonly remembered from '66, Alpine repeated that feat in its own class, also consuming the least fuel out of any of the finishers.
But racing the A110 came at a literal cost and so Alpine needed to sell more cars in an effort to keep the company afloat. In 1964 just two cars a week were produced out of the small factory in Dieppe. Alpine's solution to conspicuous consumption was, peculiarly, conspicuous consumption. Oddly, it channelled more money into motorsport but that yielded results. As the saying goes, Alpine won on Sunday and then sold on Monday.
Come 1968, Rédélé had to build a new factory to keep pace with the six-to-eight car per day demands. While the cars were simple thanks to their borrowed parts, they still took a disproportionately large amount of time to build. That meant labour costs were expensive and so the Alpine was struggling for popularity in foreign markets due to its high price. Commanding a 50 per cent premium over its Renault 8 counterpart, it looked an expensive proposition.
For the time, Rédélé made another pioneering decision. He licensed A110s to be built in Brazil, Mexico, Spain and Bulgaria. 4000 were produced outside of France and that meant the Dieppe facility could focus increasingly on the A110's motorsport involvement.
With backing from Renault, Rédélé mounted a serious challenge for the International Championship for Manufacturers rallying title. In similar fashion to its Le Mans class clean sweep, Alpine A110s scored a one-two finish in the 1971 Monte Carlo Rally. It validated Renault's decision to invest in what was now termed the Alpine Renault team.
Two years later, in 1973, Alpine was entered into the inaugural season of the World Rally Championship. In competition trim, the A110 had one layer less of fibreglass than the road car and only the windscreen glass remained as the rest was swapped for perspex. The resulting challenger weighed in at just 620kg.
It went on to win six of that year's 13 rallies and so sealed the manufacturers' title for Alpine in crushing fashion – it racked up 147 points, Fiat finished second with just 84. Three wins for Jean-Luc Thérier meant he finished the season as the most successful driver, albeit the drivers' championship wouldn't be formally introduced for another four years.
But while in the bubble of motorsport all was rosy for Alpine, the wider global political climate intervened. In 1973, the world fell into the Oil Crisis. Although, as its Le Mans outing had shown, the Alpine was frugal with fuel for a sports car thanks to its small engine and lightweight design, it was nevertheless still a sports car.
Production fell by 50 per cent and in rallying, the A110 had reached the glass ceiling hanging over its performance development potential and Lancia had arrived with its similarly diminutive Stratos, but with the advantage of Ferrari-derived power.
It seemed the writing was firmly etched on the wall for Alpine as modifications to make the A110 comply with new regulations were wildly expensive. So, as to not lose the brand, Renault took total control with increased investment and replaced the Alpine moniker with Renault Sport.
While Alpine arguably matched the achievement of winning the 1973 WRC five years later by clinching the overall win at the 1978 Le Mans, it is still the 1960s through to early '70s and the A110 that is most fondly remembered. In the years that followed, the A110 was replaced by the A310. Likewise it was a rear-engined, lightweight driver's car. But it was untrue to the Alpine name. While Renault was active in Formula 1 through the car's lifespan, the A310 never got the motorsport treatment it deserved.
The last hurrah for Alpine was the A610 that took the brand from 1991 to its eventual death in '95. It took heavy inspiration from its A310 forerunner and was a product of its time. Designed with a ruler and fitted with period pop-up headlights, while it's got a loyal following, it lacked the class, flare and competition pedigree that Alpine and the A110 represented. To its credit, the A610 was lighter and faster than its Porsche 944 rival and was well recieved by the press, but ultimately poor sales killed both it and the brand.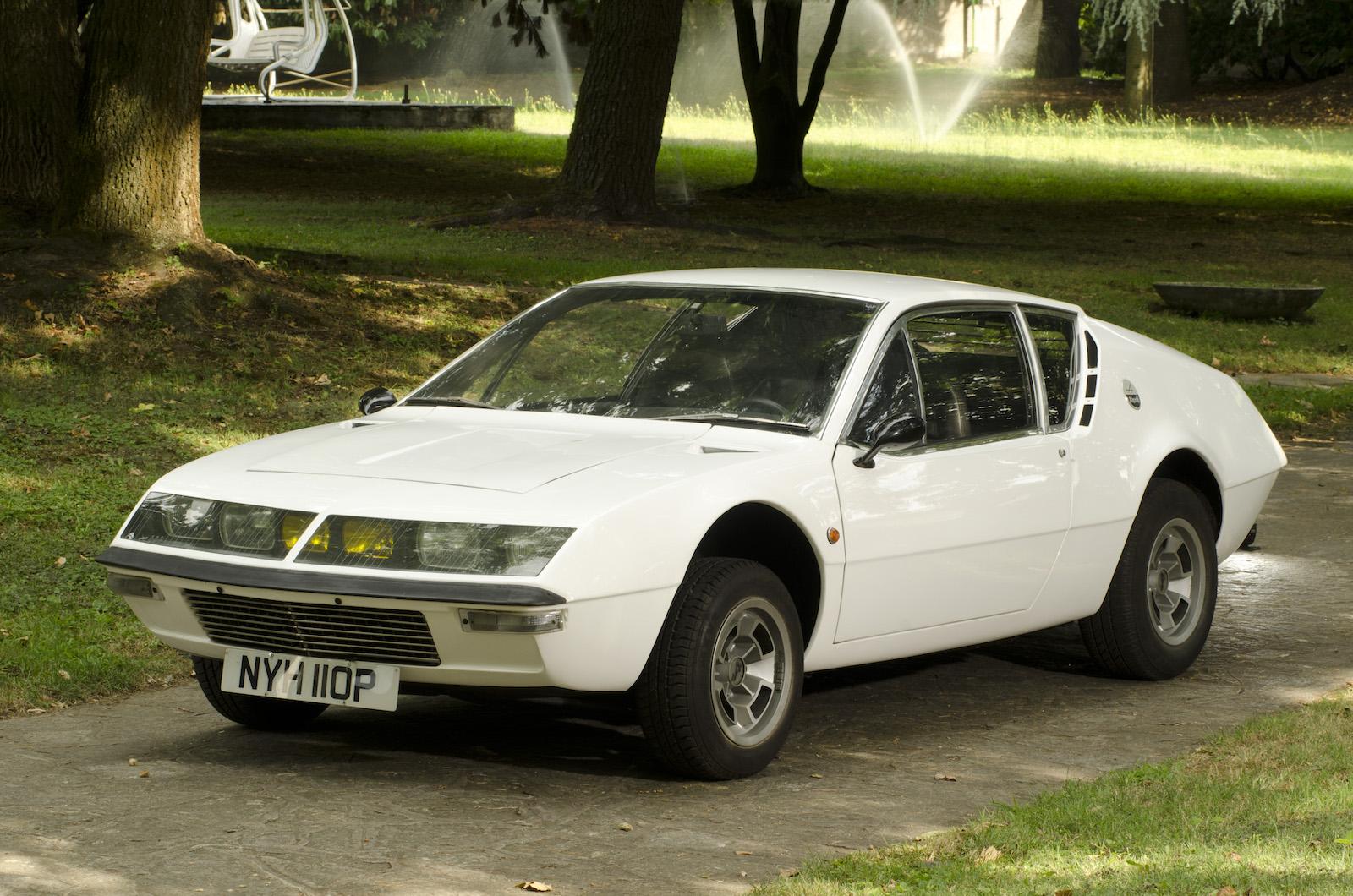 Today, however, it's a different story as the Alpine name commands great kudos. The A110s can sit alongside any Ferrari or Jaguar, and indeed Lotus, at a classic car show and still attract attention and is still enormously successful across the full spectrum of historic racing, rallying and hillclimb events.
So evocative is the car that for 2018 Renault has relaunched the Alpine brand and it's leading with a homage to the A110. The new car not only takes obvious styling cues from its predecessor, but tipping the scales at just a ton, keeps the lightweight ethos at its core. Not for the first time in its history, Alpine is gearing up to take on Lotus in the lightweight sportscar segment.
To read a review on the reborn A110, visit our sister website Motor1 here.
Images courtesy of Groupe Renault and Rota Archive