Top 10 Touring Car Drivers
They're mad, bad and dangerous to know – but which BTCC drivers make our top ten?
In association with
Dieter Quester
Inextricably linked with BMW, this ex-speedboat and motorcycle racer didn't switch to four wheels until late in 1965, by which time he was already in his mid-20s. Results were instant: Quester won the following year's Austrian Touring Car Championship, followed that up with Division 3 honours in the 1968 European Touring Car Championship, and wrapped up another Euro title within 12 months. While maintaining an active sideline in sports cars and single-seaters up to Formula 1, Quester managed two more ETCC titles (1977 and '83). What's more, he contested more than 40 24-hour races, winning the Spa round-the-clock endurance classic in 1973, 1986 and 1988.
AutoFact: He won the 1973 Silverstone Tourist Trophy in a BMW CSL co-driven by Tom Walkinshaw.
Klaus Ludwig
Ludwig's resume includes German Supercup titles, IMSA wins and three victories at Le Mans. Oh, and then there were his nine FIA GT wins and the 1998 title. This Bonn-born racer was also a touring car colossus. He missed out on a world title by one point in his first full saloon year in 1987, but racked up seven endurance victories during his two seasons with the Eggenberger Sierra Cosworth equipe. This model also brought him his first German touring car crown in 1988. His best tin-top work was done for Mercedes, however, with Ludwig storming to the DTM title in 1992 and '94.
AutoFact: Ludwig claimed 12 DTM/ITC wins at the Nürburgring alone.
Jim Clark
This sainted Scot was as adept in a saloon car as he ever was in an open-wheeler. Few motor-racing images are as evocative as that of Clark three-wheeling his Lotus Cortina around Bottom Bend at Brands Hatch. After sporadic outings during 1963, including one class win, his 1964 British Saloon Car Championship title was a whitewash: he mustered a clean sweep of class victories with the works Cortina, three of them outright race wins. Clark still performed the occasional smash-and-grab raid on the Brit tin-top series, managing two outright victories in 1965 (plus three class wins) and three the following year (plus two further class wins).
AutoFact: Clark also won the 1965 Sebring Three Hours in a Lotus Cortina.
Roberto Ravaglia
There was a spell, a miraculously long one, when Ravaglia couldn't stop winning – titles that is. Between 1986 and '93, he secured seven of them. His unbroken glory run of championship success – Euro, World, Euro and DTM (the world's most competitive series by '89) – was a triumph of sustained speed, innate survival instinct, masterful strategy, slices of good luck and, in '86, a governing body that was not too hot at arithmetic (the ETCC title was Win Percy's until a recount was demanded).
AutoFact: Ravaglia won the Nürburgring 24 Hours in 1989 and '95.
Frank Gardner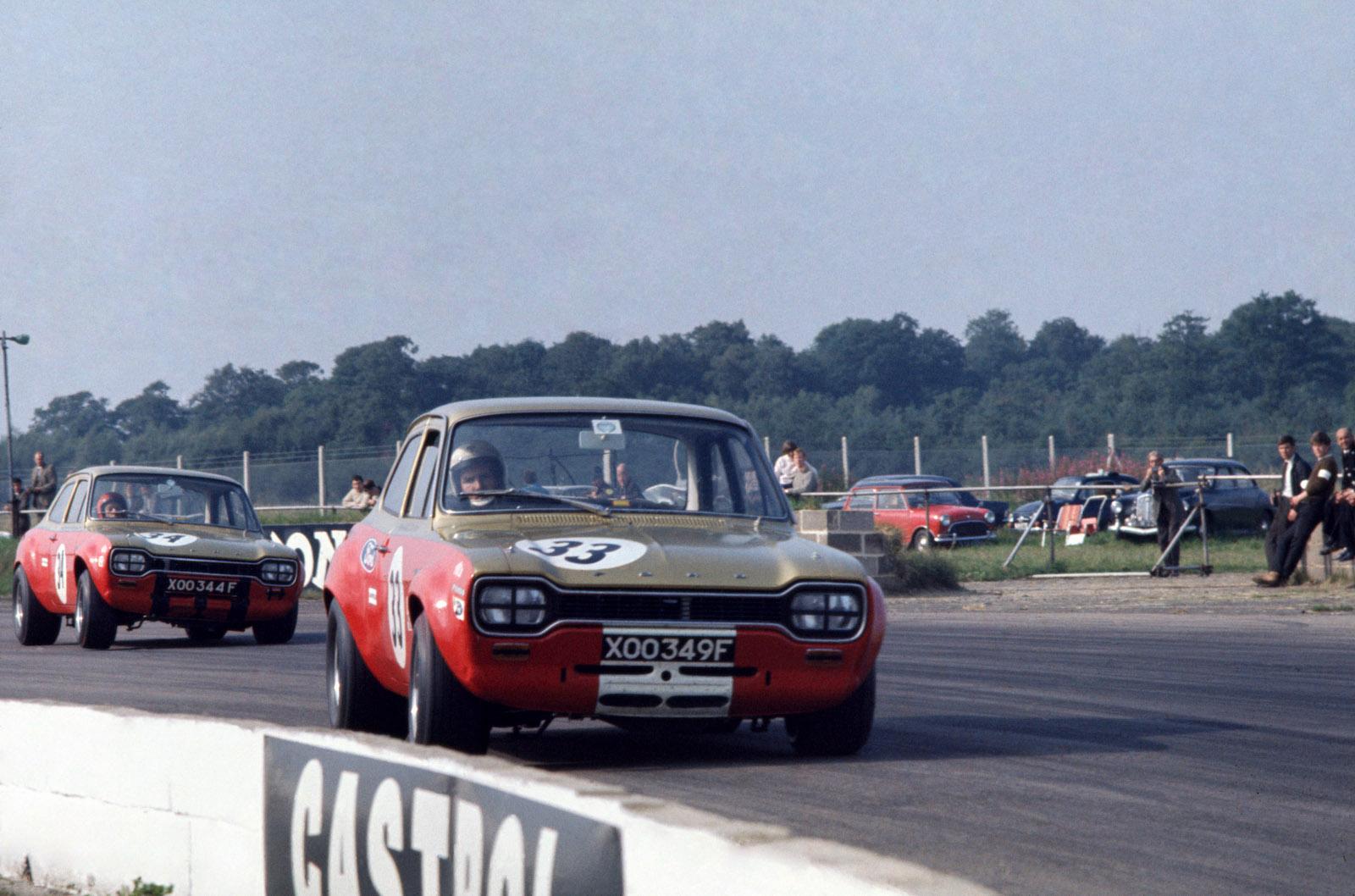 This laconic, trawler skipper's son from Sydney drove Jags with great success in Australia before arriving in Europe. With Alan Mann Racing, he won the 1967 BSCC in his red and gold Ford Falcon, repeating the feat a year later with the FVA-powered Lotus-Cortina Mk2 (and Escort Twin-Cam from June). That same season he gave the Escort its maiden ETCC outing, at Zolder. Despite being 40bhp down on the works Alfas, he was the class of the field and won outright. Gardner would have to wait until '73 before sealing his third tin-top crown in the thunderous SCA Road Services Chevrolet Camaro.
AutoFact: Gardner racked up 35 BSCC and British Touring Car Championship outright wins and 44 class victories.
Bernd Schneider
The successor to Klaus Ludwig as 'King of the DTM'. When Ludwig jumped ship to Opel in 1995, Schneider's time had come; not only did he win the DTM, he also claimed the inaugural International Touring Car Championship. The death of hi-tech Class 1 saloon car racing forced Mercedes into GTs. Schneider followed, claiming the FIA title at his first attempt in '97. But after the Merc's back-flipping fiasco at Le Mans in 1999, driver and marque were more than happy to return to tin-tops via a reborn DTM in 2000. He claimed three more titles, and is still winning endurance races.
AutoFact: Won the Interserie title in 1990-91.
Alain Menu
This Swiss ace would probably have made a decent grand prix driver had the cards fallen differently. He began his saloon career with a couple of BMW drives in the 1991 DTM, before joining the Prodrive BMW squad for his first BTCC campaign. His first season with Renault in 1993 reaped just one victory. The Laguna was introduced for 1994, and as the BTCC grew in stature, so did Menu. He was points runner-up for three years in a row, before dominating in 1997. He won his second crown in 2000 with Ford, before switching to the DTM.
AutoFact: Menu scored the most points and podium finishes of the BTCC's Super Touring era.
Andy Rouse
When Rouse retired from driving in 1994, he could look back on a career that spanned more than 20 years and included four BTCC titles, nine class titles and 60 outright victories. He secured his first BTCC title in a Triumph Dolomite Sprint. Three titles in as many years between 1983 and '85 showed his class, especially as each was secured in a different car: Rover Vitesse, Alfa Romeo GTV6 and Merkur. He was the benchmark in the Sierra Cosworth years, with victory over the works Eggenberger squad in the 1988 Silverstone TT – a career highlight.
AutoFact: Rouse scored a record 84 BTCC class wins.
Peter Brock
Peter Geoffrey Brock was a household name in his native Australia. His three national touring car titles (1974-'78 and '80) has been eclipsed by six drivers, but in all other respects he dominated this series: 37 wins, 57 poles (an incredible 13 in succession in 1979-'80) and more than 100 podium finishes from 209 starts. He won in his first full year – 1973 – as a 28-year-old and in his last – 1997 – as a 52-year-old legend. Then there's the small matter of his nine victories at Bathurst, which is unlikely to be bettered any time soon.
AutoFact: Brock finished second in the 1977 Spa 24 Hours in a Vauxhall Magnum co-driven by Gerry Marshall.
Steve Soper
Where to start? This former tyre fitter from Harrow has only one touring car title to his name – the 1996 Japanese crown – but this belies his standing in the touring car arena. Already a star in Minis, Metros and ModSports, Soper was also bestowed with the 1983 BTCC gong, only for it to be annulled six months later. The reason? His TWR Rover's single-cam V8's hydraulic tappets had been fitted with non-homologated grub screws for ease of adjustment. He would go on to claim scalps in the ETCC and DTM, but title remained elusive.
AutoFact: Soper also won the 1987 Bathurst 1000, only to be excluded for a technical infringement…
Images courtesy of LAT