Top 10 Italian classics
Few other countries have created as many landmark classics as Italy. We outline ten of the best, from the sublime to the outrageous
Alfa Romeo 105-series Sprint/GTV
Most beauty arbiters agree that the Giorgetto Giugiaro-penned 105-series Giulia Sprint GT is a styling masterclass, many cues having been lifted from Il Maestro's earlier 2600 Sprint. Not that this was ever intended to be a mass manufactured range filler, mind. Studio chief Nuccio Bertone envisaged a small-series, coachbuilt offering but he made the mistake of showing preliminary renderings to Alfa bosses and it was adopted as a catalogue model from 1963. Giugiaro himself remains a fan of the 'Bertie', and even owned one himself in period, although he could only stretch to an entry-level 1.3-litre edition.
AutoFact: Giugiaro penned the Sprint while doing his national service.
Alfa Romeo cars for sale here.
See also...
Alfa Romeo Spider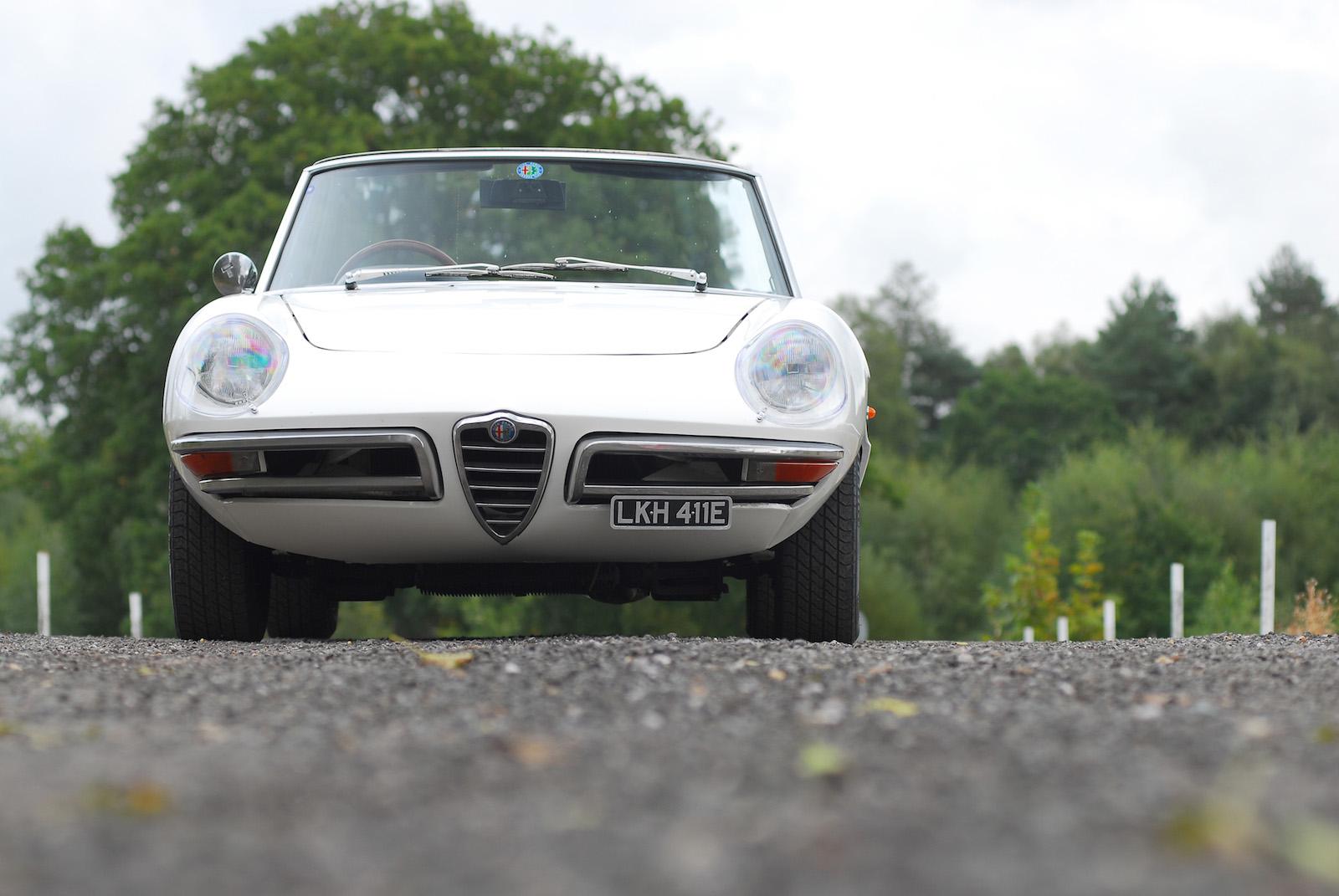 Though lambasted by some design pseuds at the time, the first-generation 105-series Spider is nowadays worshipped as a style icon. It was the last design to be signed off by Battista 'Pinion' Farina – he died just days after its March '66 debut. The Duetto's drivetrain was lifted wholesale from the brilliant Giulia saloon. So that meant a 1570cc all-alloy 'four' and a five-speed gearbox for starters. 1968 saw the arrival of the fleeter 1750 Veloce. Yet if anything, the subsequent post '70 Kamm tail version was better balanced stylistically. A late-run makeover by Pininfarina in 1990 was masterfully done, the Spider remaining in production until 1993.
AutoFact: The Duetto famously appeared in The Graduate but was overdubbed with a V8
Alfa Romeo cars for sale here.
Ferrari 365GTB/4 'Daytona'
When ushered in at the 1968 Paris Motor Show, the big-boned 365GTB/4 was labelled a dinosaur. Tractor magnate Ferruccio Lamborghini had already stolen the limelight with his mid-engined Miura. It represented the future and this latest offering to wear the Prancing Horse motif appeared more an asthmatic pit pony by comparison. However, the Daytona – to give the model its more romantic if non-official tag – may have appeared dated in outlook but it worked. Beneath the dramatic Leonardo Fioravanti-penned outline was a proven 4390cc 60deg double overhead cam V12 all-alloy jewel fed by six gurgling twin-choke Webers. It also spawned a Spider variant. That, and 15 competition variants which were beyond sexy.
AutoFact: Daytonas won their class at Le Mans three times – 1972-74.
Ferrari cars for sale here.
Dino 206GT/246GT
When the Dino 206GT broke cover at the 1967 Turin Salon it became the first mid-engined Ferrari road car product. Except no Dino ever wore the Prancing Horse motif in period. This was a standalone brand, after all. The 206GT (derived from two-litres and six cylinders) had gorgeousness on its side and its jewel-like quad-cam 'six' was turned sideways and squeezed behind the seats. The thing is, the Dino was outgunned by the Porsche 911 which trumped it on displacement. Response from Maranello was swift, the 206GT morphing into the 246GT for '69 with an extra 432cc and a stronger cast iron block. The delicious Targa-roofed GTS edition arrived in 1972.
AutoFact: The Dino was named after Enzo Ferrari's only (legitimate) son who died aged just 24.
Ferrari cars for sale here.
Lamborghini Countach
There is no literal translation but legend has it that Countach is a Piedmontese expletive indicating a sense of awestruck disbelief. Just imagine the reaction at the 1971 Geneva Motor Show – 'Countach me!' indeed. The first series LP400 (Longitudinale Posterione 4 litro) was a remarkable piece of packaging: the gearbox sat ahead of the V12 engine which meant it was within the wheelbase, along with the fuel tanks and water radiators. Yet it was only during the '80s that the Countach really began to gain credibility as a car for heroes, the P500S and the mighty 5000 Quattrovalvole maintaining bragging rights.
AutoFact: The run-out 25th Anniversary edition was conceived by Horacio Pagani of Pagani Zonda fame.
Lamborghini cars for sale here.
De Tomaso Pantera
Backed by Ford, styled by Tom Tjaarda of Ghia, and powered by a mid-mounted 351cu in V8, the Pantera (Italian for Panther) was intended to take the fight to the Chevrolet Corvette Stateside from '71. Cars were sold in the US via the Lincoln-Mercury subsidiary but the relationship with the Blue Oval soon soured amid mounting warranty claims; build quality was, cough, 'variable' which did for the car's reputation. However, the car's instigator Alejandro de Tomaso continued to sell it in Europe, ushering in the steroidal GT5S edition in '84. A late run restyle by Marcello Gandini was partially successful, with production finally ending in 1991.
AutoFact: Panteras raced at Le Mans as late as 1994, fielded by the British ADA squad.
De Tomaso cars for sale here.
Fiat/Bertone X1/9
With striking mini-exotic looks and a chassis conceived with tough (but ultimately stillborn) US safety legislation in mind, the X1/9 'midi' could have been a trailblazer when unveiled in 1972. Styled by Bertone's Marcello Gandini, and inspired by his earlier Autobianchi Runabout concept car, the X1/9 featured a 1290cc (1498cc from '78) SOHC 'four' mounted transversely amidships. London's Radbourne Racing kicked off right-hand drive conversions before the factory got around to it in 1977. Bertone took on the model from 1982 after the suits at Fiat lost interest, with production lasting to '89 by which time around 190,000 of all types had been made.
AutoFact: Touring car superstar Steve Soper raced a ModSports X1/9 early in his career.
Fiat cars for sale here.
Lancia Aurelia B20GT
There was a time when Lancia products were inordinately beautiful or, at the very least, elegant in their thinking. The Aurelia B20GT, for example, was a car for the connoisseur and priced accordingly: in 1957, a B20GT cost £3346. By means of comparison, an Aston DB MkIII was almost £300 cheaper. At its launch in 1951, there really wasn't anything else like it. The Aurelia being the first production car to be manufactured in volume with a V6 engine (Marmon had dabbled with the idea as far back as 1905 but only one prototype was made). Production ended in June '58 by which time 3121 had been made.
AutoFact: Aurelias claimed a 1-2-3 finish on the 1952 Targa Florio.
Lancia cars for sale here.
Iso Grifo
Ushered in at the 1963 Geneva Motor Show, beneath this super-coupé's outer dazzle lay the same platform as the existing Rivolta model (shortened by 6in) and a 5.3-litre Chevy V8. Over time, there would be various options up to 7.4-litre big blocks. Not that it lacked performance from the outset as befitted the eye-watering price tag: starting at £5950 in 1966, the 327cu in Grifo was good for an independently-verified 161mph. Iso tanked in December '74, a group of employees acquiring tonnes of spares and establishing the Ennezeta concern. They built a new Grifo in 1977-78 but demand for the model had by now ebbed.
AutoFact: Some last of the line editions featured Ford rather than Chevy V8s.
Iso Grifos for sale here.
Maserati 5000GT
In period, the 5000GT was the money no object über-exotic. Just 32 cars were made, with a variety of body styles from the likes of Bertone, Allemano, Frua and Monterossa. Based on the existing 3500GT platform, power came from a quad-cam V8 running on four twin-choke Weber 45 carbs. There was little danger of the model ever being outgunned – 170mph was possible. Lavishly equipped, no whim could not be entertained with one example featuring an in-car record player.
AutoFact: The 5000GT inspired the lyric 'My Maserati does 185' from Joe Walsh's Life's Been Good.
Masertati for sale here.
Images courtesy of Rota Archive