Top 10 Group C Oddities
When Group C goes wrong... these are some of the more 'unusual' contenders from the legendary race series of the 1980s and '90s
In association with
Alfa Romeo SE 048SP
It's about as shadowy as Group C cars get, and that continues when you learn there remains a degree of confusion as to when this car was actually built. Reputedly intended to race in 1991, in-line with Group C's latest 3.5-litre regs, it was designed by ex-Osella man Giuseppe Petrotta and powered by a bespoke V10 engine which had earlier appeared in the 164-based 'Procar' concept. It has been suggested that it was based on a Lancia LC2 tub, but this is pure conjecture. What is clear is that despite being linked with Gianpiero Moretti's Momo Corporation team, the car never raced.
AutoFact: The Alfa made its public debut at the 2010 Goodwood Festival of Speed by which time it had gained a couple of cylinders.
Allard J2X-C
The tragedy here is that this radical design promised much but was undone by the collapse of Group C racing in 1992. Powered by a 3.5-litre Cosworth DFR V8 producing around 580bhp, allied to a six-speed Leyton House-sourced transmission, the Allard also boasted a carbonfibre monocoque and double wishbone/pushrod suspension. Unfortunately, this brand revival didn't heap glory onto the original marque. With its intended category of racing axed, Allard Holdings was liquidated. Only one car had been completed. It was acquired by veteran racer/collector Robs Lamplough for £76,000 who intended racing it at Le Mans. He never did.
AutoFact: Lamplough finished ninth in an IMSA GTP race at Laguna Seca in 1993, the car's only race start.
Olmas GLT200
This promising machine was the brainchild of owner/racer Luigi 'Gigi' Taverna, who replaced his earlier Alba with this Gianni Lobartolo-designed device. Following the briefest of appearances in practice for the 1988 Monza 1000km, the car made its race debut at that year's Silverstone 1000km where it finished a troubled 16th overall – last place. The Olmas actually made the cut for June's 24 Hours of Le Mans after getting through two Cosworth V8s in qualifying. Unfortunately for Taverna, there was no spare for the race itself so it didn't start.
AutoFact: Taverna's team-mate for the aborted Monza run was future Formula 1 backmarker Gianni Lavaggi.
Norma M6
The intriguing Norma had the dubious distinction of passing scrutineering for the 1990 Le Mans without ever venturing trackside. Marque co-founder Norbert Santos, along with Aerospatiale Toulouse, was responsible for the Tiga-like monocoque. The mooted Cosworth engine made way for Guy Nègre's bold MGN W12 unit which had been (briefly) rested in the back of an AGS F1 car. However, the M6 remained stationary in the paddock as the engine refused to fire. Game over. It was never seen in a pitlane or on track again.
AutoFact: Nègre sold the rights to his compressed-air engine design to Tata in 2007.
Grid S-2
Giuseppe Rise and Ian Dawson formed Grid for the 1982 season, the Geoff Aldridge-penned S-1 finishing only one race that year. A second car – the S-2 – was built for privateer Dudley Wood for '83, with twin-turbo Porsche 935 power being his choice over a Cosworth DFL unit. The car was raced predominately in IMSA that year before returning to Europe for the following season. Run as a C2 car, Wood/Barry Robinson/Paul Smith placed 11th in the '84 Brands Hatch 1000km, Grid folding shortly thereafter.
AutoFact: Spanish crooner Julio Iglesias was an early sponsor.
Mirage M12
This, the final international bow for the Mirage marque, promised much. Based on a Tiga chassis, but with bespoke bodywork, power came from a Cosworth DRL V8. Three cars were planned, with one appearing at Le Mans in 1982 with Mario Andretti, returning to the great race for the first time since 1967, joining son Michael. However, the organisers pulled the M12 from ninth on the grid just minutes before the start due to the suspect positioning of an oil-cooler, despite it having passed scrutineering. The M12 was replaced by first reserve, a Porsche 924 Carrera.
AutoFact: The car's best-ever race finish was seventh in the '83 Miami Grand Prix.
Isolia
Jean-Claude Ferrarin based his bargain-bucket C2 car around an old Chevron B36. The Frenchman bloodied the car at Spa in 1985 and managed one racing lap of the 1000km race. He then ran it at Brands and managed 137 tours of the Kent track before the gear linkage broke. It reappeared the following year with a Cosworth DFV engine, substituting for the ancient F2-spec BMW 'four'. He failed to qualify on a return run at Brands, but ran as high as fourth in the '86 Spa 1000km before dropping back and eventually retiring the car with a broken oil pump.
AutoFact: The bodywork was largely borrowed from an earlier Group C grid-filler, the Stehmo.
Jaguar XJR-17
This long-forgotten parts bin concoction was conceived for the 1992-only FIA Cup category, which was effectively a revival of the old C2 class. Powered by a normally-aspirated 3.5-litre V6 in a chassis that had previously appeared under the XJR-10, XJR-11 and XJR-16 models, it never raced at international level. Would-be entrant Alan Randall talked up a storm about running a fleet of cars with Tiff Needell and Julian Bell on the driver roster but neglected to mention where the money was coming from. Same too for his attempt at 'rescuing' the ailing Brabham F1 squad a year later.
AutoFact: Brian Chatfield later club raced the XJR-17 in the Castle Combe Special GTs series.
Eagle
Not to be confused with Dan Gurney's efforts, this lamentable device appeared during practice for the 1990 Le Mans. Based on a 1988 Lola-designed Corvette GTP tub, and powered by an 11,471cc V8 created from scratch by Joe Schubeck, the car was hobbled initially by electrical glitches. With these sorted, the oil system then dumped its contents over the rear wheels, sending team owner/driver Paul Canary into the barriers. The team rebuilt the car – with a smaller, all things relative, 9.6-litre unit – but it didn't make the cut.
AutoFact: The Eagle was later offered as a road car.
Chevron B62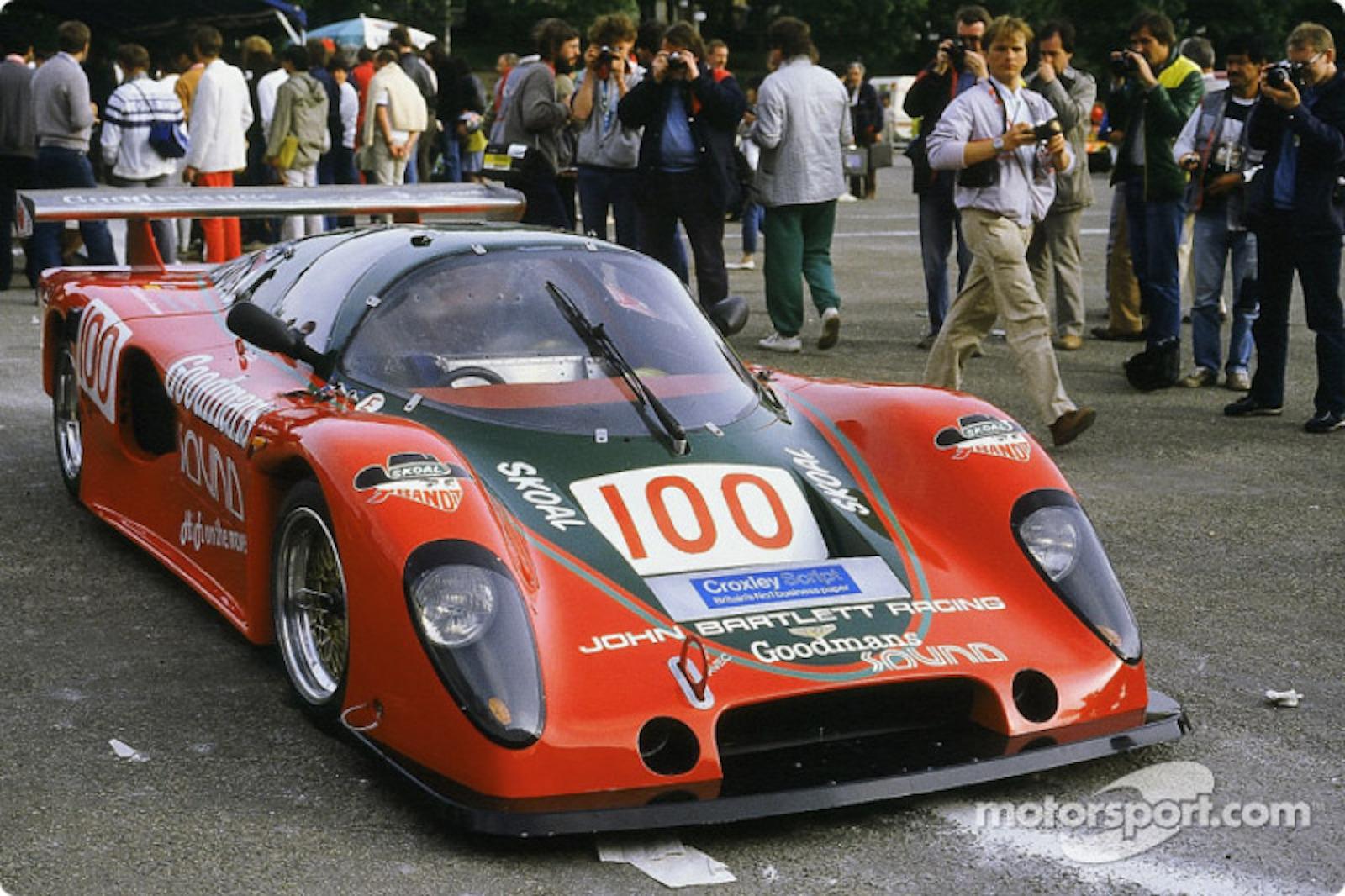 A few years after the death of marque founder Derek Bennett in 1978, Chevron was acquired by sometime ModSports racer Roger Andreason. This C2 class machine made its debut at Le Mans in 1985 but retired 90-minutes in and failed to feature elsewhere that season. A year later, a reworked B62 appeared with privateer John Bartlett driving. However, following the season-opening Monza 1000km, both parties fell out, with custody of the car being disputed in the High Court. It never raced again at international level and its current whereabouts are unknown.
AutoFact: The lighter B65 evolution also remained unique.
Images courtesy of Rota Archive, LAT and Philippe Hubert