Top 10 cars that failed to find love
Carrying the weight of big brands and high expectations meant some cars would always fall short. We pick ten of the most misunderstood classics
Alfa Romeo Arna
The early-1980s tryst between Nissan and Alfa Romeo resulted in just this one collaboration, and the marriage of an Alfasud flat-four and a Nissan Cherry hull was a distressing act of philistinism. Introduced in 1983, and remaining on sale for four years, the Arna was an aberration the purists abhored. The heady blend of 1980s Italian build quality and Japanese styling flair made most Alfistas weep. The thing is, for all the brickbats that have been levelled at the Alfa Romeo Arna, it was a fine-handling car from a time when Alfa still had a reputation for producing class-leading chassis.
AutoFact: An Arna once won the Alfa Romeo Owners' Club race series outright.
See also...
Citroën SM
Criticising this sainted Citroën is a sure-fire recipe for a good tarring and feathering. However, before you warm the acetone and pluck the chicken, consider this: it bombed in period for all its fabulousness. The Citroën SM's Giulio Alfieri-designed V6 was a compact and (relatively) light masterpiece. Potential punters, it seems, were put off by the car's complexity, while the ultra-rapid DIRAVI steering was faintly terrifying to the uninitiated. But to anyone with a soul, the SM remains one of the true greats – not least because of its Robert Opron-penned styling. In all, 12,920 were made from 1970-75.
AutoFact: Run-out SMs were constructed by Ligier.
DeLorean DMC-12
The union of Giugiaro styling, a mid-mounted PRV V6 engine and Lotus-refined handling should have resulted in a winner. Unfortunately, for all its virtues, the DeLorean DMC-12 came unstuck. It didn't help that John DeLorean, who conceived of the car, was filmed in 1982 purportedly involved in the trafficking of 'nasal party favours'. He was desperate to save his eponymous marque, but unfortunately the man who'd roped him into the deal turned out to be an FBI plant. DeLorean claimed entrapment and beat the rap, only to become entangled in more than 40 separate legal battles over the ensuing two decades.
AutoFact: At the start of the project, the car was to have featured a Wankel rotary engine.
(Ferrari) Dino 308 GT4
Viewed today, it's difficult to appreciate the furore this model caused when introduced at the 1973 Paris Motor Show. This was a 'clean sheet of paper' car, one where Ferrari's Dino sister brand would pick up from where the 206/246-series had left off in the fight against the Porsche 911. This time, the Dino 308 GT4 featured a V8 rather than a mere 'six'. Endowed with 255bhp, it could reach close to 150mph. Few took to the Bertone styling, though – and not even the formal adoption of 'Prancing Horse' badging in 1976 to render it an official 'Ferrari' had much effect in reversing the model's fortunes.
AutoFact: NART withdrew its GT4 from the 1975 Le Mans 24-hours barely an hour before the start following an argument with the organisers.
MG RV8
For much of the 1980s, MG fans had been praying for a new sports car. The RV8 was created to remind potential punters that MG also meant two-seater roadsters rather than hot(ish) hatches. The MG RV8 was a marketing exercise, an appetiser until the MGF came online. Essentially a reworking of the much-loved 'B', there was nothing inherently wrong with the RV8, just that in-period road testers found it lacking by comparison with main rivals in terms of ride, handling, refinement, cabin space... It makes far more sense viewed as a stylish classic buy, and many have been repatriated from overseas.
AutoFact: The car's headlights were borrowed from the Porsche 911.
Rolls-Royce Camargue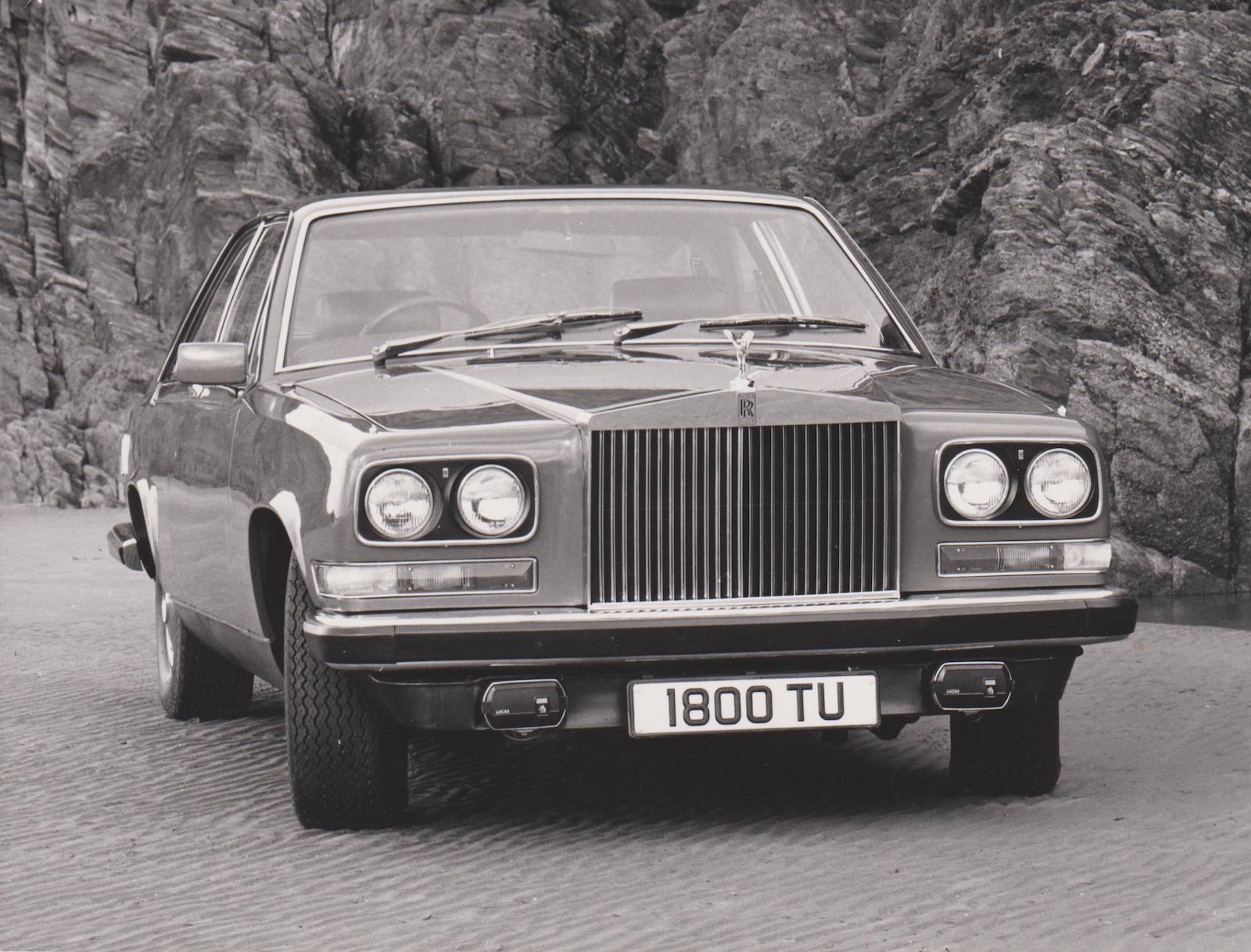 With styling by Pininfarina, and 6.75-litre V8 power, the Camargue should be revered. Unfortunately, it never quite hit the mark. Inspired by an earlier one-off Bentley T-series created by the Turin design house for Lord Hanson, in many ways it echoed themes explored on stylist Paolo Martin's Fiat 130 Coupé outline. However, the Rolls-Royce Camargue suffered from a degree of interference between the Italians and the suits in Crewe. Launched in the UK in March 1975, the model cost an eye-watering £29,250 including taxes. Only 530 cars were produced during its 11-year production run.
AutoFact: A Bentley-badged version was also made, but it remained unique.
Lotus Seven S4
The original Lotus Seven was essentially a 'Clubman' racer in all but name, the same basic outline remaining a constant. However, there was a brief moment when the Seven took a turn for the groovy – the Series 4 iteration proving the best-selling Lotus-built edition. Except nowadays history paints it as a sort of 'soft' Seven that's best left unmentioned. Launched in March 1970, the Alan Barrett-styled S4 was well received, but company talisman Colin Chapman chose to clear house a year later. Production limped on until October 1972, with around 600 units being shifted. Each returned a profit.
AutoFact: Caterham built 70 S4s before returning to the S3-style outline.
Daimler SP250
Daimler isn't a name you would naturally associate with sports car manufacture. The Daimler SP250 (né Dart) could conceivably have changed perceptions. On the plus side, it was equipped with a 2.5-litre 'hemi' V8. Unfortunately, this was installed in a chassis that, initially at least, lacked torsional rigidity. Nonetheless, when introduced in 1959, the Daimler roadster was capable of an honest 123mph. What really did it for the SP250 was Jaguar's takeover of Daimler in 1960. A new strain dubbed 'SP252' was created, but it remained a prototype – perhaps out of fear that it would take sales away from the E-type.
AutoFact: The original Dart name was dropped after Chrysler, who owned the rights, objected.
Cadillac Cimarron
Prior to the Second World War, Cadillacs packed V16 punch. In the 1950s, the marque represented the ultimate in gadget-laden excess. Scroll forward to 1982, however, and it was a different story. This reskinned GM 'J-Car' wasn't the worst act of badge engineering ever perpetrated, but the sense of desperation was palpable. It wasn't even marketed as a Cadillac. Well, not exactly. Instead, it was initially trumpeted as 'The Cimarron by Cadillac'. Remarkably, it limped on for six years, despite costing almost twice the price of the Pontiac and Chevy cousins with which it shared its architecture.
AutoFact: The Cimarron was the first Caddy available with a manual gearbox since 1953.
Ford Thunderbird
This, the eleventh generation of T-bird, was introduced in 2002 amid much hoopla. The last example was built in July '05, sales having dropped off a cliff after the first year: just 4000 or so were made in its second term. Underpinning the Ford Thunderbird was the proven DEW98 platform, which was shared with the Lincoln LS and Jaguar S-type. Power came from a 3.9-litre DOHC V8. As to the reason why it failed to find favour, nobody can really pinpoint a particular flaw, other than the cabin borrowed too much from the Lincoln. Punters, it seems, wanted greater differentiation. A cameo role as Jinx's wheels in Die Another Day can't have helped much, either.
AutoFact: The retro 'Bird was meant to have been one of a raft of 'Living Legends', including a reimagined 1949 Ford.
Pictures courtesy of Rota Archive