The star cars of SEMA 2017
From the utter madness of SEMA in Las Vegas, here are our favourite classics, chosen from over 1500 cars
With it covering over 2.7 million square feet of the Las Vegas Convention and Events Center and attracting visitors from over 140 countries, the chances are you've heard of the SEMA – Specialty Equipment Market Association – show.
It's the industry trade show hosted by, and for, the automotive aftermarket. The variety of the 2500 vendors that display is dizzying to say the least, and every aftermarket performance company you can name, and many more besides, is there in one way or another. No matter if your company is looking for bulbs, tyres or superchargers for big-blocks, there's a vendor at SEMA that either makes or distributes it.
Although it isn't open to the public, 140,000 people attend and over 1500 vehicles feature. Between the crowds and sheer size, it's impossible to cover everything at SEMA, but here are the cars that shone through it all to catch our eye.
2018 Shelby Widebody Mustang Concept
It's may be a 'concept' but do not be shocked if Shelby greenlight production of this curvaceously fendered, mad Mustang. Besides the big hips, it's got the rolling stock and brakes to match, not to mention well over 750bhp from its supercharged 5.0-litre Coyote DOHC all-aluminum V8. Choose between this Shelby Blue, and Wimbledon White with blue stripes, and six-speed manual or automatic transmissions.
1932 Ford 'McGee Roadster' highboy hot rod
Without question among the quintessential definitions of the '32 Ford hot rod. Built back in the day by racer/rodder Bob McGee, and several times a Hot Rod magazine cover car; it's got all the right stuff – a proper hopped-up Ford Flathead V8, manual transmission, steelies and caps with bias ply tires, '40 Ford steering wheel, and rich warm brown leather upholstery inside. It now belongs to collector Bruce Meyer and sits as one of the pearls among his many Deuce hot rods. Recently inducted into the Historic Vehicle Association registry, the McGee is truly the star of any show.
1967 Porsche 911 SRT
The newest creation by Porsche shaman Magnus Walker, this early SWB 911 riffs on S/T and 911 R model themes. No chokey old carbureted 2.0-litre here, instead a twin-plug 2.5 by Wicked Sixes' Matthias Hong. The bespoke short stroke motor spools out 278bhp and about the same amount of torque. The wheels are Walker's own Urban Outlaw alloy modulars, which resemble factory Fuchs but have extra holes in the spokes for a unique look. The cabin is also a retro looking Tartan Plaid, and contains nothing that doesn't need to be there. Look for this one to be cloned around the world very soon.
1948 Tucker Torpedo Twin Turbo
You may know that the Tucker 48 was powered by a rear-mounted, helicopter-derived flat-six powerplant. But back in the day, it was purely naturally aspirated. Not so with this resto-rod. It amps up Preston Tucker's idea of power with a bespoke engineered and hand-built twin-turbo version of the original six. Not to mention its custom alloys, lowrider stance, lush interior and dazzling paint and chrome. Only 51 were built so it's a rare machine for this treatment, but the result is head turning and utterly unique.
1965 Shelby 'Original Venice Crew' GT 350 Competition
Shelby's important 'retro-futuristic' news is the new run of 1965 Shelby GT 350 Competition models being produced by the Original Venice Crew. OVC does in fact comprise a handful of designers, hot rodders, fabricators, and racers that built the original GT350 R models with Carroll Shelby more than 50 years ago. It takes a genuine K-code fastback, tearing it down to the last nut and grommet, and rebuilds it up to highly authentic GT 350 R model trim, including a new Shelby Engine Company competition-spec small-block V8 and a Borg Warner four-speed transmission. The entire car is finished to absolute concours quality levels yet is turn-key track ready and comes with its own build book and video documentation of its assembly. Perhaps its most unique feature is independent rear suspension, engineered from drawings dating prior to the Mustang's original mid-1964 introduction, but which never made it into production back in the day. The whole project is officially licensed by Ford.
1957 Chevrolet Corvette Fuelie
This white over red roadster should be photographed for an authenticity book on how to restore one of these cars. It looks neat and right in every way, down to the 283bhp, 283ci small-block V8 and new-for-'57 four-speed manual transmission. Too many are either hot-rodded or over-restored with wrong parts, too much shine, or leather interiors. But not this one – just factory level perfection.
1939 Ford custom coupe
This deep maroon '39 had it all, including a generally stock looking restoration, and perfect paint, chrome and trim, plus an updated V8 powertrain, custom leather cabin, great rolling stock and a perfect stance. The highlight is the modern stacked fuel injection system that looks for all the world like classic Hillborns.
1969 Dodge Charger Hemi
Restored to look mostly stock, and to a very high quality level, but note its beefier-than-factory rolling stock that resisted the temptation of over-polished alloy mags. The finish is black as sin and mirror perfect; even the period vinyl top looks just right.
Cunningham C-2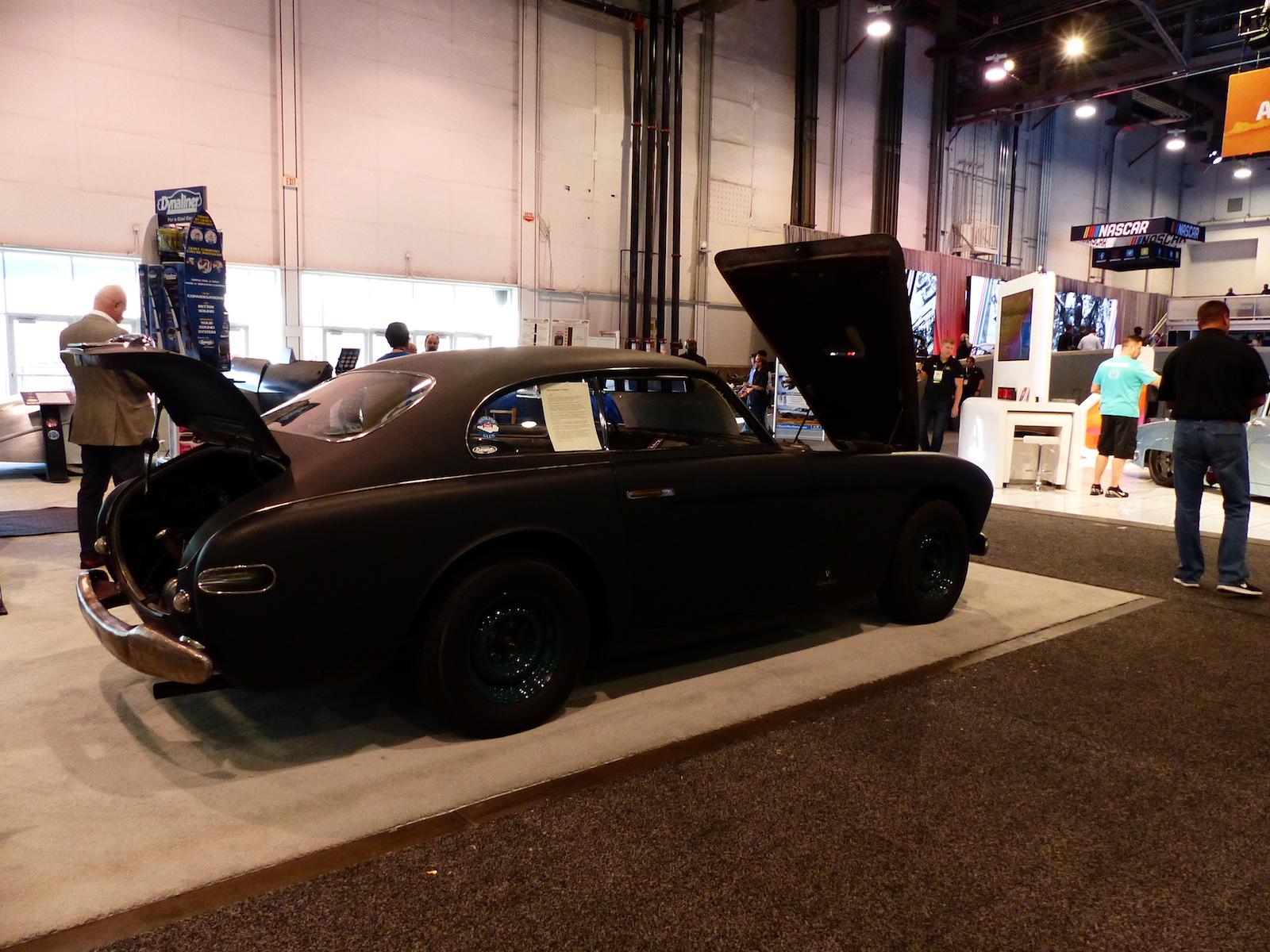 American sportsman Briggs Swift Cunningham, much like Enzo Ferrari, intended to build his own street production cars in order to feed his racing habits. Cunningham, an oft time competitor at Le Mans in the '50s and '60s, did just that, setting up shop in Palm Beach, Florida. He also contracted outside companies to hammer out the designs and bodies – Italy's Vignale in the case of this Cunningham C-2 model coupe. Think of it as an American Ferrari. And with its Chrysler Hemi V8, it could likely run with the Prancing Horses of the day. This one is highly original and patinated, and ever more lovely for it. Fabulous and rare.
1967 Ford GT40 MkIV
The MkIV was a development of the original GT40, and this exact car was driven to a historic win for Ford at Le Mans in 1967, at the hands of AJ Foyt and Dan Gurney. The bulge over the cockpit was added to accommodate the latter's lofty frame. Gurney was experienced at La Sarthe, but not so Foyt. Regardless, the pair were so fast and smooth that not Ferrari, nor anyone else, had anything for them. It was Ford's second consecutive overall win at Le Mans.
East Coast Defender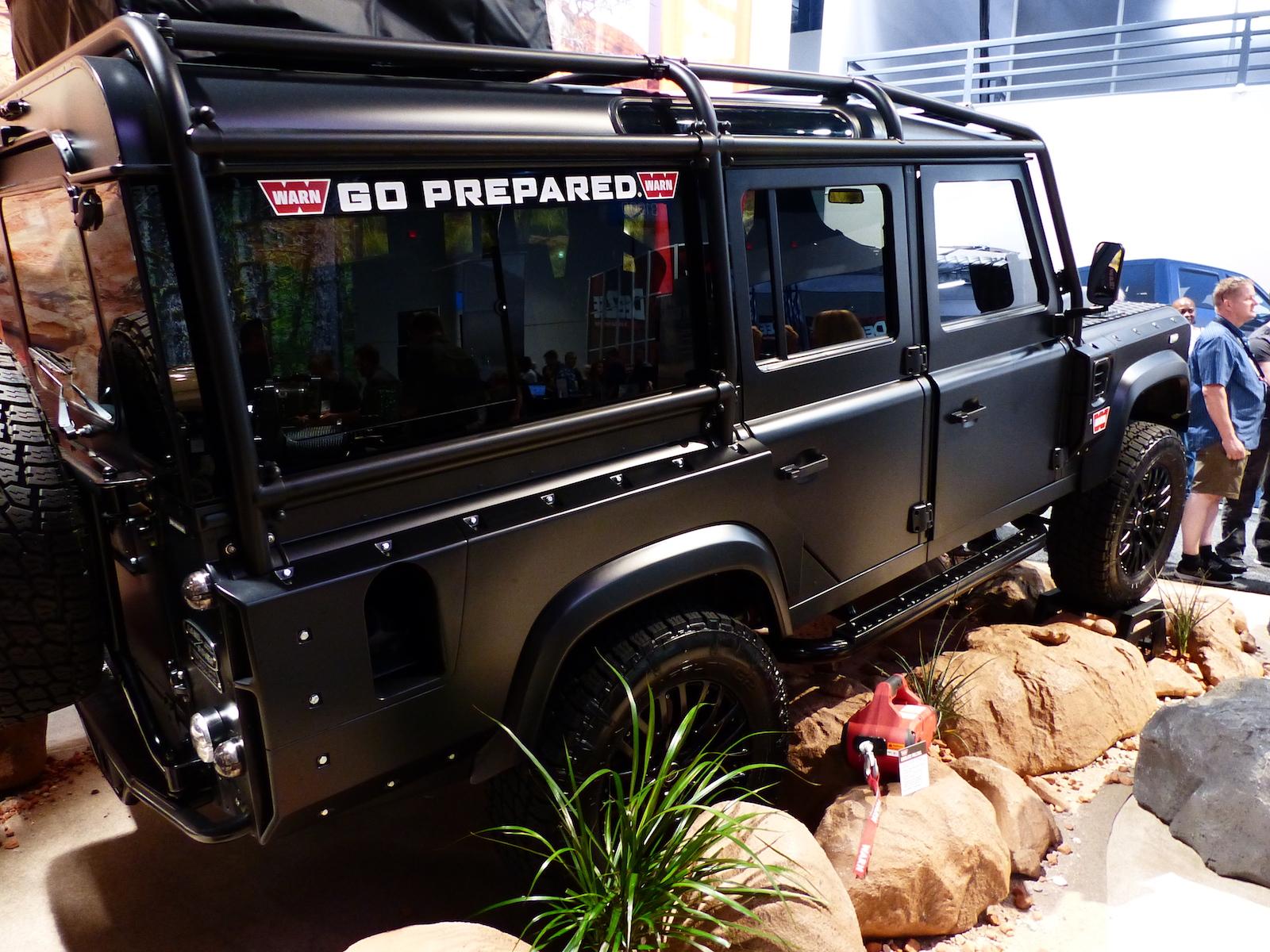 Old Land Rovers are becoming ever more popular in the United States, so that's where East Coast Defender has set up shop in order to build you a totally bespoke and upgraded Defender 90 or 110 (with early Range Rovers soon on offer). ECD begins with a solid but tired production example, then takes it down to the very last nut and washer; restoring, replacing and upgrading to near aircraft quality. The de riguer powertrain swap is a fully computerized GM LS3 V8. Interior redesigns and finish would do any Bentley proud. The cars retain their full off-roadability, and each is built to customer wishes, finishes, options, and colours.
1976 Cadillac Eldorado
They never got much larger than this. Cadillac's 'personal luxury coupe' got downsized a few model years later, but these were the good old days of 5000-plus pounds of leather-lined heft, and a torque-crazy 500ci V8 to move it all. 1976 was also the last year for factory-offered Caddy convertibles, as most carmakers feared that the US government would outlaw the open bodystyle for safety reasons.
1932 Ford Sedan hot rod
Most hot-rodders prefer open roadsters or chopped top coupes, but this Fordor sedan makes a great basis. These bodies are cheaper to buy than the rare roadsters, and offer the added room and practicality of the larger, closed car. No faulting the look on this one, with traditional design cues, impeccable colour and build quality, plus all the modcons inside with current suspension, power and electronics.
1958 Lincoln Continental convertible
Along with the Edsel, the outsized and somewhat outlandishly styled late '50s Lincoln have found new love in the modern collector and custom world. This massive '58 ragtop was built by Salt Lake City, Utah's KindigIt Design packing a Falconer V12 engine up front. The paint and countless design touches are entirely bespoke, as are the custom-milled alloy wheels.
Ford Bronco
Among the many popular Ford truck models, the original, square-rigged Bronco is the newest darling among the hot rodder and truck collector set. This one looks stock, but has been thoroughly remodelled and upgraded by TLC's ICON 4x4, with a modern chassis and powertrain, concours paint and body. The bull or bison leather interior is something that an original vinyl-lined Bronc could only dream about.
1963 Lincoln Continental Custom
The '61-65 Continental is a paragon of elegant, understated design, and this one stopped traffic cold. The body was left alone, although finished in perfect metalwork and miles deep black paint. The big hoops and slammed stance are entirely custom, but this builder was smart enough to ignore the usual Chevy small-block engine swap, instead going with a complete rebuild and custom finish job on the original Lincoln V8. The air cleaner housing and fan shrouding are hand-fabricated pieces, but what's underneath is what belongs.
Model A hot rod
A particularly ghoulish example of SEMA custom madness. This Model A sedan parked up in PPG Paint's Graveyard' of spectacularly painted, if somewhat gothically themed rods. You'll note the skulls, pumpkins and Elvira references sprinkled about, plus the highly polished, chromed and machine-turned GMC supercharged Chrysler Hemi mounted up front. Something here for everyone, even if everything's not for everyone.
Ford F series quad cab
Ford didn't originally produce this mid-60s F-series truck in a quad cab configuration. But that doesn't stop TLC's ICON 4x4 division from building them for its fastidious customers. The chassis is modern, and the body built of the several cabs and doors in order to 'sedanify' this classic pickup. Finish and components are modern and first rate. Don't want a Ford? No matter; ICON will do the same for your Chevrolet, Dodge, GMC, Jeep, or International – with nearly any engine combination you can dream.
Gunther Werks 993 400
Can't afford an authentic 993 RS or GT2? No matter, Gunther Werks will build you a 4.0-litre, winged 993 that should run with those factory boys. It looks custom and obviously tuned, yet retains a bit of an adult factory vibe, even in Guards Red and with all the Go-Fast goodies it wears. Even though the SEMA show is somewhat built around American brands, racing, and mods, there were plenty of international nameplates to be seen and enjoyed, particularly JDM, and at least a dozen hot Porsches.
Ring Brothers DeTomaso Pantera
The Ring Brothers are well known hot rod and uber custom builders in the US. And they hung it all out on this Yankee-powered Italian exotic from the early 1970s. This Pantera packs lots of tasteful body modifications onto its Ghia skin. The old cast-iron Ford lump hit the bin in favour of a high-tech, Ford all-alloy DOHC V8, mated to the original ZF five-speed transaxle, and a killer stainless steel exhaust. Great for hunting Ferrari 458s and Lamborghini Gallardos, no?
Photography by Matt Stone