'Reimagined by Singer': the ultimate retro Porsche 911?
To backdate or not backdate? That is the question after driving a Porsche 911 restored and reimagined by Singer Vehicle Design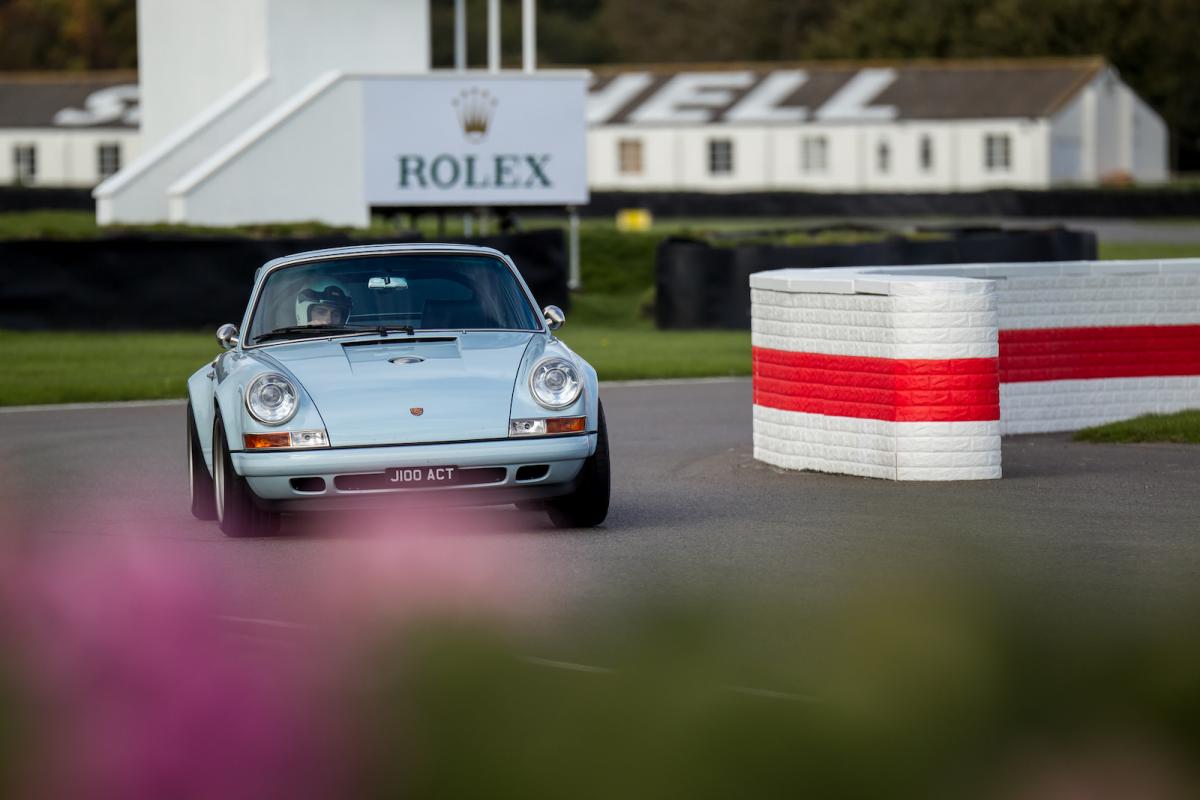 Funny that the backdating trend of making old Porsches look like even older ones has its roots in LA. This, after all, is a town prizing youth above all other physical qualities. Cosmetic surgery for cars – especially Porsches – instead goes the other way, unfashionable (all things relative) newer 911s regularly chopped this way and that into facsimiles of cars several decades older.
But then that's the Porsche 911 all over isn't it. Perhaps the ultimate example of a car chained to its heritage, for all its maker's attempts to modernise and update the distinctive looks and engineering there is no escape from the past. Witness the hasty retreat from the 'fried egg' headlights of the 996 if you were in any doubt.
Likewise the fuss from supposed purists any time new technology is introduced, be it coil-sprung suspension, water-cooling, electrically-assisted steering or – more recently – turbocharged engines for the entire Carrera line-up.
More on Singer...
The lengths people are willing to go for an idealised vision of the 911's good old days are revealed in the mega money restorations emerging from Singer Vehicle Design's workshop on the northern outskirts of LA's sprawl. And for a six-figure sum you too can have your 964 'reimagined' into the perfect tribute to rear-engined icon's air-cooled era.
Porsche has responded best it can with its own retro-themed special editions, including the 997 Sport Classic and Speedster, the 50th Anniversary Edition and, most recently, the reborn 911 R. The latter's repackaging of modern performance with a manual transmission, wingless bodywork, retro racing stripes and houndstooth cloth resulted in one of the most hyped and over-subscribed Porsches of recent times.
Rumours of the 911 R's £140,000 list price being trebled once the 991 examples hit the open market reflect the demand for retro-modern 911s. But even that pales in comparison with what people are willing to pay Singer for one of its fastidious restorations. Can it be worth it? And should we really be chopping up old 911s to achieve it?
These are two big questions hanging over the restorations Singer has carried out, the UK-based 'Dorset' commission you see here number 47 out of a total of more than 75 now completed for owners across the globe. The folk behind this car, including Singer founder and British ex-pat Rob Dickinson, are true 911 purists. And yet the Porsches they restore seem counter to that ideal, given the combination of influences it embodies.
So on one hand there is nothing whatsoever original in the transformation. As you walk around a Singer restoration you can pick out the kind of visual references only true Porsche geeks like Dickinson and his team could have chosen, such as the central fuel filler inspired by that on the 911 S/T, the side-mounted external oil cap seen on 1960s racers such as the original 911 R and the deeply-dished Fuchs-style wheels buried in RSR-style rear arches.
And yet when you really look closely you realise it is something different, with a style and character of its own. That enlarged filler cap with 'Fuel' engraved in modern script on its top is machined at vast expense from a single piece of aluminium. The muted colours and beautifully finished interiors may be retro-themed but have somehow become a Singer signature in their own right.
The brightwork is in fact toned down with nickel plating in place of chrome, the headlights are modern-day Hella LMP-spec units in clear lenses and the 17-inch wheels are bigger and fatter than any Fuchs worn by an original 911. And the wings that wrap around them so perfectly? Carbonfibre, shaped by Dickinson's car design graduate's eye, and treading that perilous tightrope between celebration and parody.
Dig deep into the mechanical spec and it's the same story, boutique-spec modern dampers from Öhlins paired with carefully mixed original Porsche parts that exploit the interchangeabilty of steering racks, suspension components and mechanical parts across generations of 911s. Some is original 964, much is from the later 993 while finishing kit comes from the network of specialists catering to the vibrant 911 tuning scene in America. The beating heart, handbuilt by Ed Pink Racing Engines, is as much a work of visual art as it is engineering perfection.
This isn't the mad 4.0-litre unit Singer has been developing with Williams, nor is it anywhere close to the motorsport-spec unit in the 911 R or wingless GT3 Touring Package it's inspired. That motor – water-cooled and direct injected of course – revs to 9000rpm, delivers 500bhp and is now the only naturally-aspirated option in the modern 911 range. The 350bhp and 270lb ft of this 3.8-litre unit sound modest in comparison but these figures are delivered at revs you really have to work for, the rewards including throttle response to die for and a soundtrack to stir the soul.
You get that from the R and other recent GT3s too of course. So what would make you put multiples of their respective values into a restored 964? The owner of this car is an interesting case study, given he's previously owned both a 2.4 S and a 997 GT3, both rare and desirable Porsches, delightful to drive in their respective ways. Yet for him, and with money seemingly no object, the way Singer has combined the character of the former with the performance of the latter is more appealing than anything the classic market or modern Porsche dealership can offer.
Most impressively all those aesthetic and engineering references come together in one glorious whole when you turn the key. You can put chrome trim on a 991 like Porsche did with its celebratory Millionth 911 revealed earlier this year. But no modern flat-six can equal the purposeful, mechanical chunter of a perfectly honed air-cooled motor like the one assembled for this car.
The single-mass flywheel, single-plate clutch and traditional (but beautifully set up) floor-hinged pedals demand concentration, the throttle in particular having a firm spring to work against and a long, long travel that has your foot disappearing deep into the footwell if you want the exciting numbers to appear on the orange-faced revcounter.
Deft footwork is required to keep the motor on the boil and successfully match revs to road speed as you navigate the slop-free action of the six-speed gearbox. Close ratios honed on the canyon roads near Singer's base keep you busy but answer the common criticism of modern manual Porsches being way over-geared for cut and thrust driving.
You'll have been through four gears in this car before you've even shifted out of second in a 911 R. By which point you'll be seeing some very serious numbers on the speedo, without even troubling the truly exciting part of the powerband. The experience of revving out a modern 911 to over 8000rpm is intoxicating as it sounds. Opportunities to do so, however, are fleeting at best.
Meanwhile in the Singer-restored 911 life is less frenetically paced but markedly more enjoyable, and relevant to what you can exploit on the public road. The torque of this 3.8 means it's happy to haul from low in the rev range but the increasingly thrilling crescendo that really opens out beyond 5000rpm and then again past 6000 is something to behold. Pleasingly it's more induction than exhaust too, the trademark paired central pipes emitting track-friendly levels of noise while the best of the soundtrack is reserved for the occupants.
And where the 991's longer wheelbase and onward march of technology means Porsche has to adopt gimmicks like four-wheel steering to make its latest models feel as agile as a traditional 911 the 964 underpinnings give the Singer restoration a winning handling balance.
There's an authority to the 993-donated steering rack and calibration that harks back to the non-assisted wheels of older 911s. And while the old-school handling balance is there you don't get the front end bob or scary vagueness on turn-in that can make fast progress in older 911s an occasionally heart-in-mouth affair.
You'll have probably got the gist by now. This is one lovely 911. And one that overshadows even the best efforts of the factory with all its considerable resource and technology. What a Singer restoration brings is heart and soul absent in so many modern cars, paired with the kind of usability and liveability you don't get in a true classic. It's pastiche of sorts. But carried off with such style and attention to detail it's all but futile to resist.
Just one question remains though. Should diminishing reserves of original 964s really be sacrificed at the altar of backdating, no matter how tastefully or extravagantly done? As suitable donor cars become more desirable and valuable in their own right the market will dictate such restorations become ever more expensive and exclusive, even when based on a high-mileage Carrera Tiptronic as the Dorset commission was.
Originality matters to the classic market and will always be prized. But few would argue such a car is a great loss to the 964 gene pool. And its rebirth as a knowing tribute to all that makes the Porsche 911 so special is perhaps the happiest ending of all. Those with the money will have faced tougher moral dilemmas.