LAT Archive: John Barnard's F1 design legacy
20 years since his last design, John Barnard's legacy in motorsport still endures – his revolutionary developments are still used by every team in Formula 1
In association with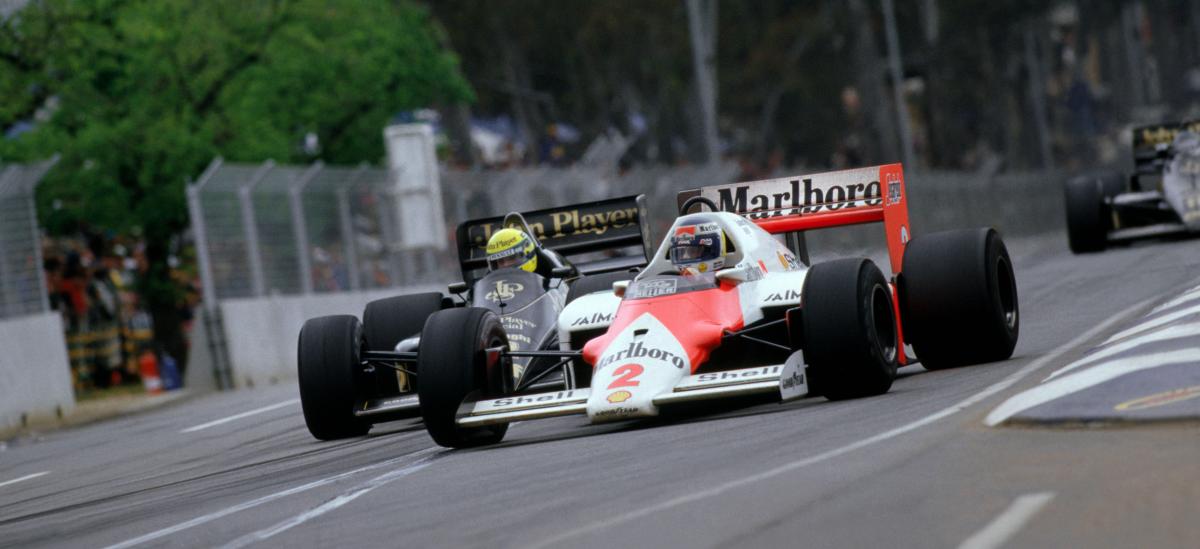 If Ferrari came calling for your services you might imagine being on the next flight to Maranello. Even if, by its standards, it's suffered a slump in form there's an unquestionable draw to work for the most recognisable brand in motorsport.
But rather than immediately sign on the dotted line, Formula 1 design guru John Barnard stood firm. If Ferrari wanted him then it would be on his own terms: he wanted to stay in the UK and the team would have to set up its new design facility in Guilford.
Such was Barnard's prowess that Ferrari agreed. The reason being is that he was a pioneer of revolutionary and lasting design.
Thanks to LAT Images, AutoClassics explores some his most important innovations that continue to influence the design of all of the 2018 F1 contenders currently testing in Barcelona.
German Grand Prix
Nürburgring, Germany. August 1-3, 1975.
Parnelli Jones hired Barnard and he designed the VJP14 for the 1974-1976 seasons. With 1978 world champion Mario Andretti behind the wheel, it achieved a best result of fourth at the 1975 Swedish Grand Prix. Here, four races later, Andretti is pictured on one of the jumps at the Nordschleife on his way to 10th.
Read how John Barnard helped Ferrari to stop the McLaren MP4/4 from winning every race in 1988 here.
Austrian Grand Prix
Osterreichring, Austria. August 14-16, 1981.
The McLaren MP4/1 introduced the carbonfibre monocoque to F1. Barnard took his inspiration from aerospace engineering. The pioneering design survived its critics when, at the Italian Grand Prix, John Watson walked away from an enormous crash.
Indianapolis 500
Indianapolis Motor Speedway, Indiana, USA. May 29, 1982.
Credited by Barnard as his finest work, he penned the Chaparral 2K for an American assault. In 1980 Johnny Rutherford won the Indy500 and CART title. Seen here in 1982, Rutherford finished eighth. Gordon Johncock would win for the STP Patrick Racing Team.
Australian Grand Prix
Adelaide, Australia. October 24-26, 1986.
During his stint at McLaren, Barnard established the team as the most potent force in F1. It won consecutive titles in 1984 and 1985. His tenure was marked by 31 grand prix wins and three drivers' titles. Here Keke Rosberg defends in his MP4/2 from the Lotus of Ayrton Senna.
Brazilian Grand Prix
Rio, Brazil. March 24-26, 1989.
For the 1989 season, the entire F1 grid switched to naturally aspirated power. In the opening race in Brazil, Nigel Mansell takes his Ferrari 640 to victory on his debut race with Ferrari. Most notably, the 640 marked Barnard's introduction of semi-automatic paddle-shift gearboxes to F1.
Australian Grand Prix
Adelaide, Australia. November 2-4, 1990.
The following season Barnard moved to Benetton. With triple world champion Nelson Piquet, the B190 claimed two victories that season – the final two of the year in Australia and Japan. Seen here in Australia, Piquet is on the way to claim the spoils in the 500th ever grand prix.
German Grand Prix
Hockenheim, Germany. July 29-31, 1994.
With Toyota's foray into F1 failing, Barnard returned to Ferrari for the 1994 season. Since his first stint, Ferrari had failed to win. Upon his return the team's fortunes changed and Gerhard Berger took victory with the V12-powered Ferrari 412T1B in Germany. Both team and driver finished third in the points.
Belgian Grand Prix
Spa-Francorchamps, Belgium. August 28-30, 1998.
A rain-soaked Belgium Grand Prix allowed Pedro Diniz to finish fifth in the Arrow A19. It was the last car to be fully designed by and to score points for a Barnard. From there he went on to become technical consultant for Prost until 2001.
Pre-season Testing
Circuit de Catalunya, Barcelona, Spain. February 26, 2018.
Testament to Barnard's influence in F1, the coke-bottle, shrink-wrapped shape of the engine cover, carbonfibre monocoque and semi-automatic gearbox are still used by every F1 team – as seen with Fernando Alonso in the McLaren MCL33.
Images courtesy of LAT Archive