Is this the greatest American car ever?
America boasts dozens of historically significant cars, but none of them offer the clout of a Shelby Mustang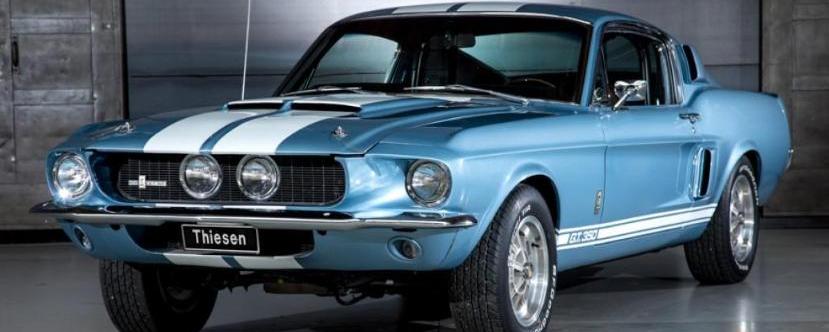 Confident designers rewrote the cultural rulebook, whereas certain others tore it to shreds. Carroll Shelby was the latter. His automotive creations pushed boundaries like nothing else, ushering in a new era of performance, style, and aspiration. Some lay claims that Shelby's Cobra was his finest hour, yet we beg to differ.
Tampering with Ford's already worshipped Mustang formula was a risky move; however the wily Texan remained well versed in vexing the impossible. Shoehorning immeasurable amounts of power into Americana's ponycar, Shelby created one of the 20th Century's most prominent vehicular icons – the Shelby Mustang.
More great Mustang action!
Dubbed the Shelby GT350 and produced for just shy of two years, the first-generation Mustang to boast Caroll's handiwork remains arguably the greatest American car of all time. The rampant stallion has everything; power, heritage, desirability and racing pedigree. Yet, where others lose their way, the Shelby Mustang retains a degree of poise and formality. Remove the racing stickers and the tailored body appears somewhat subtle.
However, there is nothing subtle about the way a Shelby GT350 shifts. Reducing rear tyres to flapping strips of rubber within a matter of minutes, the 306bhp Windsor 289 cubic-inch V8 separated the men from the boys. But here's the shocker – it's not the greatest Shelby Mustang. That title goes to its' steroid-fed brethren.
The Shelby GT500 commenced an agenda for stalking unsuspecting road users in 1967, equipped with a 'Ford Cobra' FE Series 428cu in V8. The 7.0-litre brute featured two 600 CFM Holley four-barrel carburettors atop a mid-rise aluminium intake manifold. This may not mean much to those outwith the engineering fraternity, but the GT500 could devour almost any supercar and trump everything else when it boiled down to street cred.
You could go one step further if such riotous horsepower didn't scratch the itch by purchasing a 428 Cobra Jet V8 – producing 355bhp in a frame that weighs less than Rush Limbaugh's conscience.
Those who seek ownership today are hard pushed to find a good one without spending ludicrous amounts of cash. Thanks largely to a revival of interest alongside Nicolas Cage in the remake of Gone in 60 Seconds, an original Shelby GT500 will now cost you more than a house, whereas the original GT350 commands an even heftier price tag.
But then what do you get for the eye-watering market cost? Besides enough grunt from beyond the bulkhead to kick-start a Saturn V expendable rocket, there's enough tradition within the design to attract the most conservative of blue-blooded elites.
The pick from our classifieds has to be this prime example in rude health. Appearing as though fresh out the factory in 1967, there's not a speck of rust to be found and the drivetrain is set to provide huge dollops of the insane clout ensuring contemporary rivals don't even get close.
Americana is responsible for no end of automotive innovation, but the Shelby Mustang represents the pinnacle blend of elegance and power.