First drive: Aston Martin's revamped Vantage
How do you follow up a car that was on sale for 11 years, shifted over 16,000 units, and still looks drop dead brilliant? You make it more purposeful. That's how
Oh, Aston Martin, over the last few years you've gone from making cars that look like variations on a theme to revitalising the line-up and promising many, many things.
The DB11 has no pretensions to be anything other than a super quick GT, there's a mid-engined Ferrari 488 competitor on the way, an SUV, an all-electric sub brand, and a replacement to the Vanquish is looming large.
See also...
Aston's busy then. But not too busy to give its entry level model, the Vantage, a fresh new look, German power, and make sure it feels like a sports car.
Part of head honcho Andy Palmer's mission for Aston Martin is to make sure each car in the line-up looks suitably different from the others, but still look like an Aston Martin. The Vantage looks wild enough to distance it from a DB11 and to have an appropriately 'sports car' image.
It takes familiar Aston themes and modernises them – they're here, but more functional. The traditional grille keeps its shape, but it's lower down the nose and doesn't have the old-style braces look – it's there to feed air to the massive 4.0-litre V8, not to draw your eye. Where once there were small, elegant side vents there are now triangular pressure relieving vents. The badge on the nose remains the same, so purists can rest easy.
Its bonnet is long and wide, aping the Vulcan hypercar. And if you look closely there's a power bulge in the middle to give the V8 a little extra space. The headlamps look remarkably similar to those found on the Bond special DB10, too. The side profile is pure Aston slinkiness, while the rear is so achingly pretty it's almost impossible not to let out an involuntary hum of appreciation whenever you see it.
The cabin is driver focussed. There's space for two, but only one person's going to be having the fun in there. Aesthetically it has the potential to be a bit out there with a few rogue options box ticks, but keep the colours on the saner side of fluorescent green and you're golden.
The last Vantage had an elegant interior – smooth lines and simple shapes. The new car is big, brash, and in your face. There are buttons, many of them, and it's no bad thing. Often touch screens can hide useful things behind myriad menus, whereas a button may sit unused nine times out of ten but it's always there when you actually need it. They're all laid out sensibly, which is a plus.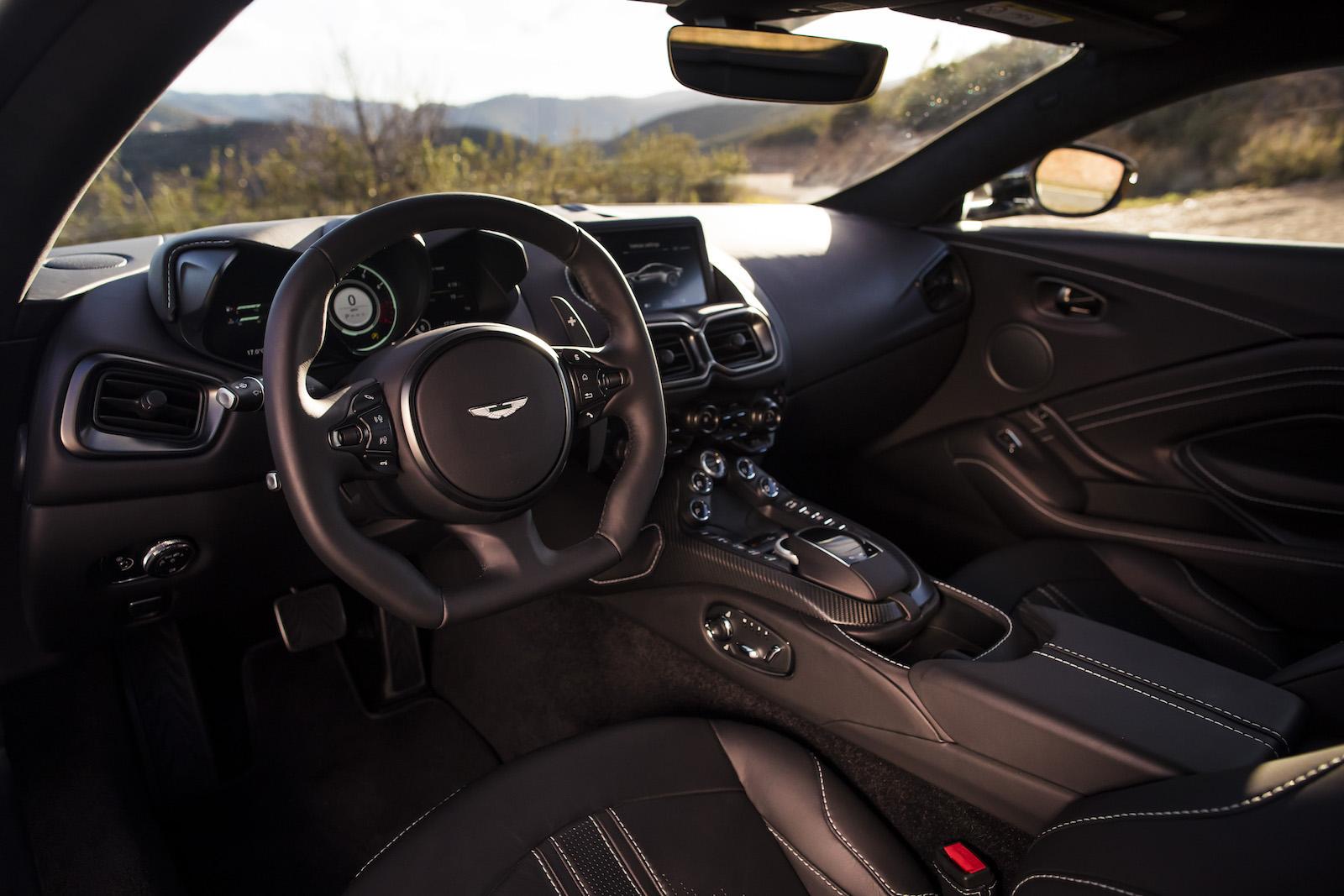 Aston's tie in with Mercedes is evident in the cabin as well as under the hood. If you've driven a modern Merc you'll recognise some switchgear and, of course, the COMAND infotainment system. It's not the best out there, but it's a damn sight better than Aston's in-house efforts of the past.
It's pretty then. But to be anything more than an expensive paperweight it needs to drive well. We know that DB11 is a wonderful steer – it's big, wafty, punishingly quick, and able to cross continents with ease. It's a GT. The Vantage isn't a GT though.
The Mercedes-AMG unit under the hood has been Aston-ified to produce 503bhp and 505lb ft, meaning a 0-62mph sprint in 3.6 seconds and a top end of 195mph. And because it's a 4.0-litre twin turbo you'll even get over 26mpg out of it. As it's got turbos bolted to it the noise isn't quite as old school as some may prefer but give it the beans and it sounds suitably glorious. Aston's engineers had to work hard to make sure it doesn't sound like an AMG, and they succeeded.
You get three drivetrain and three suspension modes to choose from: 'Sport' for the day to day, 'Sport Plus' for when you've had a truly awful day, and 'Track' for… the track. Each makes the car slightly more angry, though you're best off sticking the ride in Sport and the powertrain to Sport Plus for the most fun. The ride, even in its softest setting, isn't going to challenge a DB11 for comfort, but it'll handle nasty British roads nicely.
The throttle response is pin sharp, each prod firing you into the distance with ease. Acceleration is urgent, power delivery smooth and addictive. The 8-speed auto works well with the car – in the car's base Sport mode at normal speeds it changes quickly and quietly, and becomes more aggressive in Sport Plus and Track.
Manual mode is fun to play with, too. The paddles have a satisfying 'clunk' to them. A Vantage with a manual gearbox is on its way for 2019, though according to Aston's Matt Becker the company doesn't expect to sell many.
Braking is taken care of by a set of steel brakes, with carbon discs on the options list. As it went the 'boggo' brakes did an exemplary job offering great feedback. It steers sweetly, again giving the driver feedback on where the front wheels are and what they're doing. A good thing, as the view out of the front doesn't make it easy to visually place them (a common Aston Martin trait).
It's not a flawless car – it can feel awfully wide, making tight manoeuvring tricky. It's also colour sensitive, as if you go too dark you miss out on some of the design. Go too lairy and you'll look a bit of a berk.
Following a car as successful as the last Vantage is a tough gig. It drove well and remains a fine looking car. The new car is a more purposeful affair, it's faster, sharper, and looks awesome. If you were wondering where Aston Martin is headed, it's surely in the right direction – the new Vantage is a stonker.