Jim Clark – 'The standard by which all others must be judged'
Two of the most respected grand prix writers, Peter Windsor and Nigel Roebuck, share their memories of Jim Clark and explain why he remains an inspiration
In association with
50 years ago, on April 7 1968, double world champion Jim Clark was killed in a Formula 2 race at Hockenheim. Peerless in his prime, for some he remains the greatest Formula 1 driver ever to have lived.
Nigel Roebuck: 'I was at Brands Hatch that day [when Clark lost his life in a Formula 2 race]. It was the BRDC 1000km sportscar race. It was cold and I was in the Clearways grandstand. After a couple of hours the race had settled down, so I went off to a buy a couple of books. I went to pay for them and the guy behind the till said to me: "Have you heard about Clark?" And I said: "No, what about Clark?" He said he'd been killed at Hockenheim that morning. 
See also...
'They talk about the world suddenly swimming before you and it was a little like that. It was a complete shock. He was the one guy it was never going to happen to, whatever else. It took a few minutes for me to kind of compose myself and get used to this idea. And then I knew I had to go back to the grandstand and tell my pal. That was one of the hardest things I've ever had to do.
'Brian Redman [F1 and sportscar driver of the era] who was racing that day remembers that he was just about to take over from his team-mate – he was there with his helmet on, ready to go – when a local journalist came up to him and said: "Have you heard, Jimmy Clark's been killed?"
'Brian was no different to any of the others at the time – he idolised Jimmy. He said it was one of the hardest things in his life to force himself to concentrate through taking in this overwhelming news. 
Watch: Jim Clark round-table, unabridged
'I remember driving back to London and because I hadn't heard it formally, I thought maybe it wasn't true. We were frantically searching for a news station that might have something about it and finally we found a French station.
'I remember this voice just said: "Un grand champion est mort aujourd'hui." We left that on and it finally became real. It was just one of those days you never forget.'
Peter Windsor: 'For me it was disbelief as well, because I used to wake up after trying to follow motor racing as best I could in Australia.
'I used to wake up on Monday mornings in fear of turning on my little transistor radio to the 6:30 news and waiting for the newsreader to say something along the lines of: "South African racing driver… New Zealand racing driver" and you never knew what was going to come next. "Yesterday, he won the Belgian Grand Prix," or "Yesterday he was killed at…" It was almost a 50-50 chance every Monday as to what he was going to say at the end of that sentence.
'By 1968 – I was 16 – I'd heard a lot of these headlines, these "killed yesterdays". And I remember when I actually heard it, I was sitting in the little dining room we had, at home in Sydney… Mum was cooking breakfast and I was going off to school.
'The radio was on and I just remember: "Scottish racing driver Jim Clark was killed yesterday in a Formula 2 race in Hockenheim." That's all they said. And then they moved on to the next thing. It was complete and utter disbelief. I remember my hands started to shake and I burst into tears.
'I didn't go to school that day. I didn't actually go to school that week, from memory. I was distraught. I couldn't take it in at first. He'd become the centre of my life.
'I was brought up in a spiritual environment – we used to go to church a lot, every Sunday – and I remember reading after his funeral that the vicar had said: "Jim Clark wasn't a regular churchgoer, but when he was around, he took his place in his regular pew."
'And I remember thinking he's going to be alright. It wasn't until I heard that, that I started to recover again. 
I would say that I believe in life after death and I believe souls never die and that Jim's still with us in many ways. Everyone is.'
F1 Racing: Obviously he'd made a huge impression on you both with the way he conducted himself both in and outside the cockpit. Was he a charismatic man? What made him so special?
Nigel Roebuck: 'He was intensely charismatic – Jimmy's voice had a quality. It was a light voice…'
PW: 'A soft Scottish burr, wasn't it…?'
NR: 'Yes, it was. And it had a kind of a mid-Atlantic twang…'
PW: 'And I think he had a feel, a taste, for colour and shape as well. The helmet said it all really. The dark blue with the white peak. Everything always looked right. His overalls always looked immaculate. They fitted him really well. And when he wore glasses, he wore Ray-Ban Wayfarers. He just looked great all the time. And he dressed in a very conservative Scottish Borders way. But he always looked great.'
F1R: One of Jimmy's qualities that has passed down through the decades is his sheer speed and the immaculate driving style. Was that apparent when he was racing?
PW: 'Absolutely. The thing about Jimmy was how he liked to get into the corner early and extend the straight – that's kind of how he describes it in his autobiography.
'Colin Chapman [Lotus founder and Svengali figure for Clark] was sitting next to him once in a Lotus-Cortina and Jimmy was doing this and Chapman was saying: "What are you doing?! You're turning in too early!" And he said: "No, no, I like to do that." Jimmy was doing it naturally and didn't really want to talk about it or even think about it that much, because it was so natural to him.
'Jackie Stewart says that Jim never spoke with him about the detail of driving, ever. Not because he didn't want to give away the information, but probably because he didn't want to start identifying it within himself, in case it made him change. He could just do it.
'And certainly when I saw him drive, the overriding impression compared with, say, Graham Hill, Chris Amon, or Piers Courage, was that Jimmy had this ability to make the car float. Everything appeared to be right on tiptoes but everything was very soft and incredibly co-ordinated.'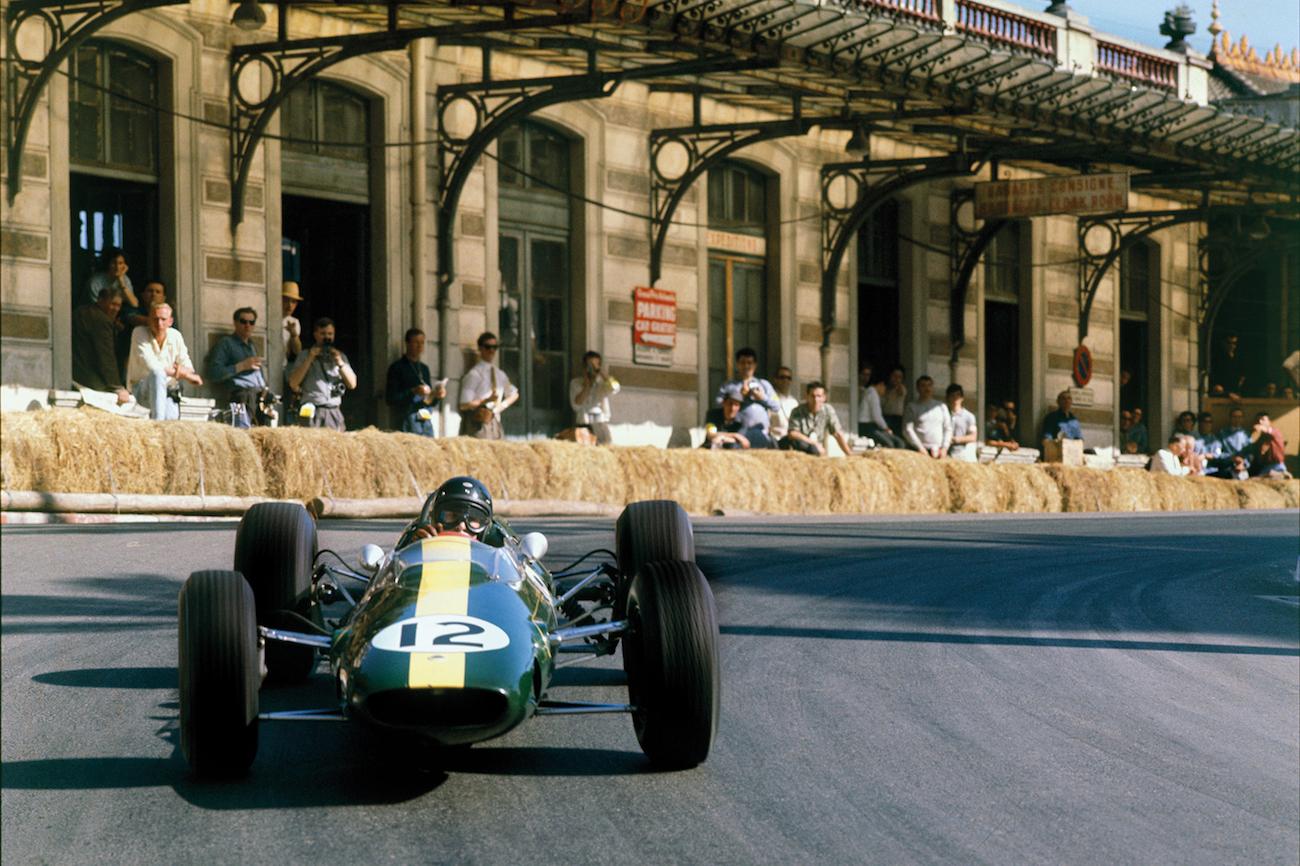 NR: 'Jimmy's skill was a mysterious thing to me. I'd grown up watching – and worshipping – Stirling Moss and always thinking: "What does he do that the others don't? Why is he just plain better than the rest?"
'You could watch him and he was silky-smooth and everything else, but beyond that, where was he making up the times? Because it wasn't obvious. It was the same sensation watching Jimmy – you watched what he did and you could obviously see that he did it supremely well, but what was difficult to tell with Jimmy was where he made up the time.'
F1R: You can see some of his driving qualities in pictures like one of him exiting a corner at the Nürbürgring, during the 1965 German GP, which he won. He's kicking up stones, on the limit, but Clark and the car look totally under control…
 
PW: 'And that's a classic example of Jimmy, in the Lotus 33B. We kind of took Jimmy winning for granted. But pictures like this show it wasn't so easy. He's completely on the limit – suspension compressed. Of course, if you've got everything perfect up to the apex, then the apex to exit is relatively straightforward, because it kind of takes care of itself – you've done the hard work.'
F1R: Would it be fair to say that he stood above his Formula 1 peers – that he was 'The Man' 
of his generation?
NR: 'Absolutely.'
F1R: Without rival?
NR: 'Well I remember Stirling [Moss] holding that position, but then Stirling had his accident [Moss suffered a career-ending shunt at Goodwood in 1962] and the next era was Jimmy.'
PW: 'But you know, the thing about him was that even when you had your Dan Gurneys, your Graham Hills, your John Surtees and Jochen Rindts, at no stage was Jimmy ever worried about competing against those guys in a Formula 2 car that was patently less competitive.
'In quite a lot of F2 races when he didn't have the best car, he would finish third or fourth – but he'd always drive absolutely to the maximum and he didn't mind because it had been great motor racing and he'd enjoyed it. That was just the love of driving a car on the limit and getting the best from it.'
F1R: Peter, It's true to say that Jim Clark was your inspiration for becoming involved in motorsport isn't it?
PW: 'Well in 1968 I went out to the airport to see him off after the Longford race in Tasmania. He flew in to Sydney and then on to Indianapolis and his plane was delayed. I was with my dad and he said: "Come and have a coffee".
'He was with one of the stewardesses – oddly – and we went up and he was in his famous check shirt, nice slacks and he had his briefcase with him and we sat down. The four of us chatted for about 20 minutes.
'It seems incredible today that that happened to me. But I remember saying to Jimmy: "I really really want to get a job in motor racing. I just hate that feeling on Monday morning of going back to school after being at a race meeting. How do I get through that Jim?" And he said: "If you really want it badly enough, never ever give up. Whatever you want, you'll achieve as long as you never give up."
'And I told him I really wanted to be a journalist and he said: "Don't give up." That was basically the last thing that he said to me and I was probably the last person to speak to him in Australia. Sadly he died a couple of months later.
'Since then I've had ups and downs in life, like all of us, but whenever it's a down, I always think of that moment when Jimmy said: "If you really want it badly enough, never ever give up."
'That was actually a pivotal moment in my life. We often use phrases like that, but for me it was. Jim Clark, therefore, became the benchmark around which I judged everything in motor sport: attitude of drivers, approach of drivers, teams, cars, livery… whatever it is, circuits… I always think: 'What would Jimmy think here? What would Jim Clark have done there?' He's still
 the main man for me.'
F1R: Nigel, do you have quite that idealised notion of Jimmy or do you see him differently?
NR: 'Everything Peter says makes sense to me, though oddly enough whenever I think of Jimmy, almost the first meeting that comes back to me is in a way the least likely. In April 1964, there was a national meeting at Oulton Park and I got there on race day, early in the morning, and went into the paddock, because of course in those halcyon days you could pay a quid and buy a pass. 
'There was nowhere for drivers to hide in those days – no motorhomes, not even any caravans and as I walked in, just about the first thing I saw was the reigning world champion standing there wearing his cardigan – the famous cardigan that he quite often used to drive in sometimes. He had that under a big anorak, since it was bitterly cold and he was just standing in the middle of the paddock talking to some fans. They were obviously quite overwhelmed by the fact they were talking to Jimmy Clark, and why not?
'A lady there was saying to Jim: "Now Jim, would you like some tea?" I remember that clearly. And Jimmy said: "Oh yes please!" So the woman produces a flask from her bag, unscrews the top, pours tea into it – this was utterly surreal.
'I stood there and was spellbound by him. You know, Jimmy Clark? Is this Jimmy Clark? That was the day I got Jimmy's autograph, but I couldn't quite believe it. This is the greatest driver on Earth and I'm standing here with three other people on a freezing cold Saturday morning in Cheshire and nobody else is around. Why isn't everybody here to listen to what he's got to say? It was completely surreal.'
F1R: You've obviously both watched and known a lot of great racing drivers through your decades writing about Formula 1, so where does Jim Clark stand, for you, in a list of all-time greats? 
NR: 'Well I know where he'll stand with Peter! But I guess I've got this thing about Stirling Moss. I think because when I started going regularly to races, by then Fangio had retired and Stirling was the man. And there's an element of when you first fall in love with it, those memories stay with you most acutely.
'So for me, Stirling has always been the greatest driver who ever lived. That said, I've never seen anybody better than Jimmy Clark – that's for sure. I can remember, I went to a lot of races during Jimmy's career. I saw him race and win a lot. I knew in those days that Jimmy Clark was going to win again and it never bothered me in the slightest! 
'I can't really tell you why, except that, well, of course he's going to win, he's just better than everyone else and that's the end of it. In those days Chapman built great cars, but there weren't huge differences between them as there are now, so I think that made the driver more important than he is today.'
PW: 'For me he was the greatest driver of all time and the standard by which all others are judged. It's always been that way in my mind. I totally take on board what Nigel says about Stirling and would put Stirling right up there as well.'
F1R: You say, Peter, that Jimmy was your number one, but has he had a spiritual successor in your view? 
PW: 'Well if Jimmy were here now, physically, I think he would say Jackie [Stewart] was as good as he was, probably. I think Jimmy would say that because he was a humble person and there's no denying that Jackie was pretty well-rounded as a racing driver and pretty accomplished. Jim was very, very close to Dan Gurney and he loved Dan, I think, like a brother almost. And he had enormous respect for Dan as a driver.'
NR: 'I think he was also very close to Chris [Amon] as well.'
PW: 'Yes, he had a lot of respect for Chris, but beyond that, where do you go? He liked Mario [Andretti] very much too, so he would have been delighted when Mario won the championship [in 1978]… But I think when you're evaluating drivers – and this is how I evaluate Jim – he's not necessarily [the best] by F1 results or standards, but everything he did, as a human being, he did well. He was just a consummate professional.'
NR: 'A consummate professional but also a simple man with simple, straightforward values. He was just an honourable guy, wasn't he? Who can have a bad memory of him?'
This article by Anthony Rowlinson is taken from the May issue of F1 Racing – on sale April 12