Donald Osborne's Rules of Collecting: Can You Go Home Again?
Part 4: Nostalgia can make us seek out the cars of our past, but will they hold up after time's onward march and those rose-tinted glasses? Donald Osborne finds out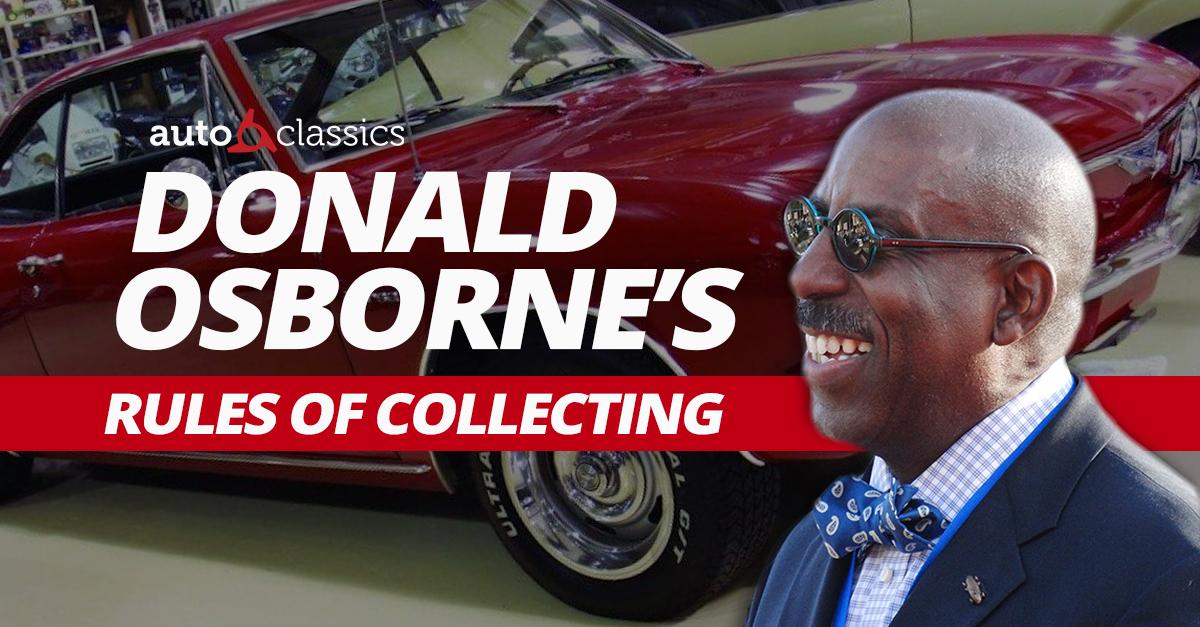 Many of us have fond memories of cars we've owned in the past. They may have represented milestones, dreams realised and unforgettable experiences. Perhaps it was the first car you drove, or the first you owned. It could also be the vehicle that introduced you to classic motoring, resetting your expectations and understanding of what the past had to offer.
For most of us, circumstances have dictated that we couldn't keep every car we ever bought. If we've been at this for a long time, it probably didn't even cross our minds that if we sold a particular car that it might be difficult to easily find another just like it.
See also...
Imagine that dream garage...
It's common now to sit among friends and fantasise about what we wouldn't have sold if we had the endless storage of our dreams. You know, that dry, secure, well-ventilated warehouse, with electricity and running water conveniently located a short drive from our home or office. And of course, our building was a gift and is amazingly inexpensive to maintain.
Inside this Aladdin's storehouse, much like the warehouse seen at the end of Raiders of the Lost Ark, would be parked every car we ever had: coupe, sedan, sportscar and station wagon – stacked door handle to door handle waiting for the moment when we decided we wanted to once again re-commission it and slip behind the wheel.
Old dreams would be revived with the mere turn of a key, the snick of the gearlever and the push of the accelerator pedal. Our personal time machines would whisk us back to all the special moments that linger in our memories years later and give them brilliant life.
...but in reality?
But, would that really happen? Could a car that we really loved 20, 30 or 40 years ago move us the same way today? I'm not at all sure. There are so many factors involved. First, our own experience base has grown so much. What was vivid and thrilling when we were 20 years old might not be so at 50.
Add to that the fact that its likely traffic conditions where you drive will have changed. Most of us can count on added congestion and deteriorated road surfaces and, where I live most of the year in Southern California, low-grade premium gasoline packed with rubber destroying ethanol. Not the same environment in which we first drove some of these vehicles.
But more fundamentally, can you really turn back the clock and find yourself exactly where you had been? My first car was a 1963 Chevrolet Corvair Monza convertible. I was in my second year of college in Connecticut and it was 1975. Black, with red interior and white top, it had covered less than 1,500 miles a year with its original owner, my future mother-in-law. I I was thrilled to own it.
My love affair with the Corvair
Having been born and brought up in New York City, my family didn't buy our first car until I was 12-years-old. With the buses and subways there was no reason to own a car in the city. I had, meanwhile, fallen in love with cars and all things automotive at age 9 when my two older brothers took me to the New York International Auto Show. I was hooked.
You can only imagine what it was like to finally have my own set of wheels for the first time at 20. It was as if I was 9-years-old all over again. To hop into that Corvair, put down the power top and go cruising to school, through the country with friends or driving down to New York City was amazing. The 'Vair had sufficient power to amuse but not so much that I could get into real trouble.
I had always admired what I thought were the very 'European' lines of the Corvair. Of course I later discovered that many European cars were in fact influenced by the Corvair, including the Fiat 1500 and NSU Prinz. Even only 11 years after the last of the first generation Corvairs had ended production, they were beginning to become scarce on the road and I felt a sense of exclusivity in driving it that I enjoyed as well.
I sold the Corvair the year before I graduated and moved back to New York, buying a 1965 Mercedes-Benz 190 Fintail sedan as its replacement. That was the first of a long line of older Mercedes I would come to own. But, I digress. As the years have passed, I often thought I wanted to find another 1963 Corvair convertible just like the one I had.
The search became serious a few years ago when I told a colleague and friend, a complete and committed Corvair expert and nut, about my idea. He immediately propelled himself into a search for just the right car. I insisted it had to be the exact color combination and year that mine had been.
It was at this point that the reality of the challenges of this particular situation began to emerge. First was the discovery that vintage Corvairs seemed to be divisible neatly into three distinct categories: rough projects requiring total restoration, rough projects requiring total restoration which hid beneath shiny paint; absolutely perfectly preserved original or expertly restored examples which of course were not for sale, as their owners could never realise what they might want for them.
Such information does not help in the search for finding likely prospects in rekindling lost memories. I then began to realise that having experienced the vastly improved driving dynamics of the second generation Corvair, perhaps I needed to rethink this lark down memory lane.
No car was going to make me 20-years-old again – and frankly I'm quite glad not to be that age any longer. So, why not celebrate the magic of the Corvair with a car I haven't yet owned and that could provide me with new memories instead?
Leno: Osborne is a cheap date
I recalled greatly amusing my friend Mr. Jay Leno with my response when he once asked which of all the cars in his vast collection I would choose to drive off in, if I could. My almost instant reply was 'Your '66 Corvair Corsa coupe!' He was slightly dumbfounded, then offered the observation that I was '…a mightly cheap date.'
The second-generation Corvairs benefited from the improved rear suspension which ditched the original swing axles and ramped up the power. The top engine was now the 180hp turbocharged unit and the Corsa had more complete instrumentation.
A standout for me is the styling. General Motors vice president of design Bill Mitchell inspired and presided over the creation of some of the most beautiful cars ever with the 1965 models. Without exception, all are a stunning combination of clean, essential forms with delicate and appropriate decoration.
The Corvairs are standout members of that group, a master class in handling the design of a relatively small car. All of this added up to an unquenchable realisation for me. No, I would not try to 'go home again'. I'd rather keep my memories and slightly faded photographs handy as I drive off in a totally different Corvair.