Why BTCC champions have embraced historic racing
Matt Neal, Colin Turkington, Andrew Jordan and Ashley Sutton are all converts to the thrills of classic motorsport. Here's why
In association with
'Historic motorsport is more popular than ever, and continues to go from strength to strength.' Words to that effect are bandied around so frequently, they increasingly seem to fall on deaf ears.
It's obvious that the likes of the Goodwood Revival, Spa Six-hours and Le Mans Classic have continued to grow in terms of size, spectacle and professionalism. And given the costs involved in buying, building and racing a classic car, it's unsurprising that dedicated race preparers – such as JD Classics – are numerous.
Whether it's for the noise, the oversteer or the sheer diversity of the grids, understanding the charm of historic motorsport is no difficult task.
But while much of this waxing lyrical may now seem almost customary, there is one clear barometer as to the increasing appeal of classic racing. That is the wealth of professional drivers who now regularly enter the blue-riband events.
In recent years, specialised classic racers such as Rob Hall, Chris Ward and Dickie Meaden have emerged as genuine driving talents. That they often line up on the grid alongside nine-time Le Mans winner Tom Kristensen, former Formula 1 driver Jochen Mass and 1974 Can-Am champion Jackie Oliver shows the draw of – and skill demanded to win – such events.
The appeal of racing at Goodwood
'I thought: "What the f@@@ am I doing here and doing this?" But then I looked across and there's a Spitfire coming in to land, and I thought: "Yeah, that's why I'm doing it."'
There's also been a notable influx of drivers from the British Touring Car Championship. The likes of triple series champion Matt Neal, two-time title winner Colin Turkington, 2013 champion Andrew Jordan and reigning champion Ashley Sutton have all ventured into historic racing over the past few years.
Witnessing the four of them sat round a table at the recent Autosport International, it's clear that the historic scene has worked its way deeply under their skin. And if, as Turkington reckons, the BTCC field is 'stronger than it's ever been, the level more competitive than ever', then the fact that nearly a third of the 2017 grid has raced at the Revival in the past couple of years is testament to both the attraction and the subsequent quality of the headline historic line-ups.
'I wasn't into historic racing at all until about six years ago,' says Neal. 'I got invited to drive a Lister Tiger at the Revival. I couldn't do it – I was going to do it, but I couldn't because I'd broken my hand.'
Fortunately, this injury suffered as a result of martial arts training didn't stop him. 'They said: "Oh, come down and do it anyway." I went down there, walked in through the gates [at the Goodwood Motor Circuit] and instantly thought: "I now get it." It's like going to Disneyland isn't it? It's unreal.'
However, that's not to say the entirety of Neal's love affair with historic racing has been quite that simple. 'The first time I drove that Tiger, it was damp and it was f@@@ing horrendous. I was coming down the straight towards Woodcote, the last corner, and I thought: "What the f@@@ am I doing here and doing this?" But then I looked across and there's a Spitfire coming in to land, and I thought: "Yeah, that's why I'm doing it."'
BTCC vs Goodwood paddock
'You walk round the paddock and people actually smile at you.'
It's not only the absence of World War Two fighter planes that separates historic racing from the drivers' normal, contemporary touring car pursuits. Where the BTCC paddock is so competitive and focused that it becomes inescapably serious, the charm of historic racing is in its more relaxed atmosphere, says Jordan.
'[BTCC] is a pressured weekend. You are there to do a job, you're not there to laugh and joke around in touring cars,' he reflects. 'If it's going well, you're still thinking about the next race and what you've got to do, and then if you're having a s@@@ weekend... Whereas in historics, if you're having a c@@@ one you can still go and have a chat – it's not the 'end of the world' sort of thing. It's just different.'
That comparative sense of calm and affability in the paddock hasn't been lost on Neal, either. 'One of the differences I've found is that you walk round the paddock and people actually smile at you,' he says. 'They're friendly. When you're in a touring car paddock, you'll be sociable with each other but it's not a friendly place.'
It's not only the pleasant nature of the Goodwood paddock that stands out, but also the extent to which it is packed with racing legends. Brushing shoulders with the likes of Sir Stirling Moss, Derek Bell and Dario Franchitti is the norm. 'I don't get starstruck when I line up alongside the likes of [Emanuele] Pirro and others, but you just know you're racing proper people,' says Jordan of the star-studded grids. 'There's a lot of good people doing it, proper good pedallers. You've got to be on top form to beat people like that.'
Adapting to driving historics
'Because it's so different, you have to treat them as two entirely different cars.'
But even for Jordan – who co-runs with his dad the Jordan Racing Team classic race-preparation outfit – it's difficult to find that top form. Despite the extensive testing that goes into Revival and Members' Meeting preparation, swapping from a downforce-producing, super-stiff, slick-shod touring car to a comparatively twisty and low-grip classic isn't a linear process.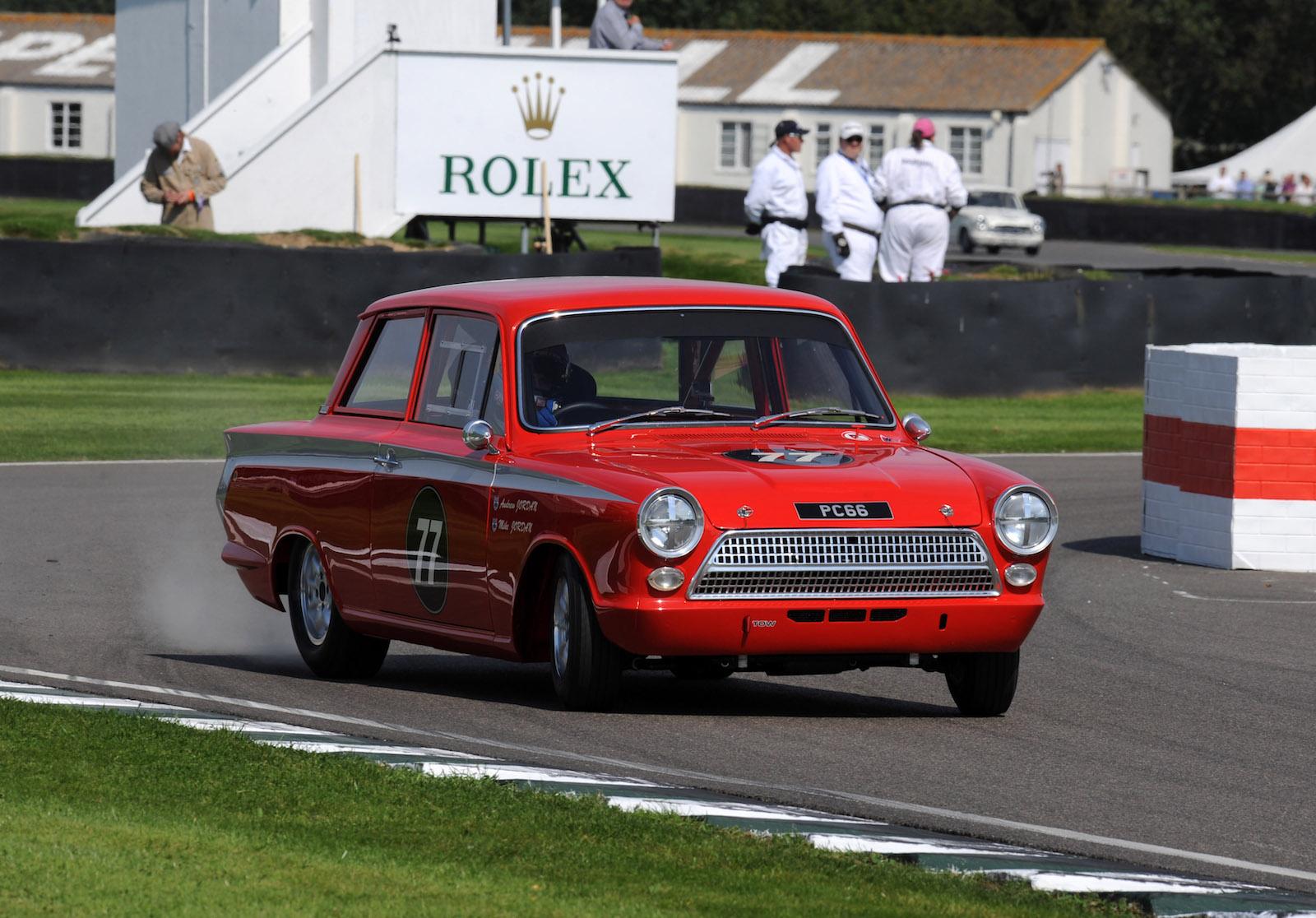 'It'd be more difficult if the [touring cars and historics] were similar, but because it's so different you have to treat them as two entirely different cars. I enjoy that challenge, though, and because the classics are low grip they move around a lot. Goodwood is a really quick circuit and a lot of good people do historics now. Whereas maybe a few years ago a pro would go into it and disappear into the distance, now you've got to be on it.
'You're just aware that it's a quick circuit and there's not a lot of run-off, but it's such a good circuit to drive.'
Turkington, by comparison, is less well versed with the Goodwood Motor Circuit, having made his first appearance in the St Mary's Trophy race for pre-1959 saloon cars only in 2014. 'I also did the Members' Meeting last year, but I'd like to do a bit more than that as it was just really dipping my toe into the water.
'I did enjoy it; as the others have said, it's a bit more relaxed, but I like how you drive a diverse range of cars. I was in a Triumph Dolomite, a Lister Knobbly and an E-type Jag, which are all quite tricky to drive. You've got to manage them, so it's good practice for what we do as a day job.'
The reigning champion
'Taking it up the hill is a memory I will never forget. The noise and atmosphere from the car get the heart racing.'
Since a road-car accident that left Ashley Sutton in and out of hospital, he's enjoyed an impressive rise through the ranks of Formula Ford and the Renault UK Clio Cup, peaking with winning the 2017 BTCC title for Team BMR in a Subaru Levorg. That rapid rate of progression, plus the fact he's only 24 years old, means finding the time to get behind the wheel in historics has been limited. That said, he has certainly made his limited exposure count.
At last year's Goodwood Festival of Speed, Sutton found himself piloting the 1992 Dallara–Ferrari F192, as driven by JJ Lehto and Pierluigi Martini, up the famous hillclimb route.
'It came around just through people I know, to be honest,' says Sutton. 'It was one of those scenarios that came about through word of mouth that someone needed a pilot to take it up the hill, so it was really good to get that opportunity.'
Understandably, with Molecomb Corner and the Flint Wall being so unforgiving, he didn't fully unleash the Ferrari V12. 'I gave it a little bit off the line, but the cost of the car sits at the back of your mind for a bit. Also, you're only there to put on a demonstration for the crowds, not to set a time. But it was a good experience.
'Taking it up the hill is a memory I will never forget. The noise and atmosphere from the car get the heart racing.' This car really made me respect what fellow drivers back in the day were signing up for when they were sat on the grid for a grand prix. These cars are incredibly fast, and from a driver's point of view you are very exposed.'
From that, Sutton's appetite is now whetted. And as with Turkington, when asked whether he'd also want to compete at the likes of the Revival and Members' Meeting, along with his BTCC title-winning counterparts, he was willing. 'Yeah, I'd love to. There's that possibility, and it's an opportunity that I'd love to take up.'
Images courtesy of LAT