Hero: Brooks Stevens, the greatest visionary of all?
From steam irons to speedboats and a swathe of automobiles, the industrial designer's legacy is surpassed by few – but it's for his replica Excalibur cars that he's best known
It was a throwaway line that took on a life of its own. Design legend and born salesman Brooks Stevens was proud to have coined the legend 'planned obsolescence'.
In recent decades, it has become a term of derision; one where consumers are compelled to replace items sooner than they otherwise might in order to stimulate and perpetuate consumption. In his mind, it meant: 'Instilling in the buyer the desire to own something a little newer, a little better; a little sooner than is necessary,' which is perhaps less cynical.
Except this great visionary didn't actually come up with the term; he merely appropriated it and used the term in a speech in 1954. It became his catchphrase, and few designers were more adept at teasing open purse strings than Clifford Brooks Stevens.
See also...
Born in Milwaukee, Wisconsin, on June 7, 1911, and stricken with polio as a child, he was encouraged by his father to practise drawing while confined to his bed.
He later studied architecture at Cornell University and, on leaving further education in 1933, he was plunged straight into the world of industrial design by his father. William Clifford Stevens was prominent in Milwaukee's business community as vice-president of engineering at Cutler-Hammer, a manufacturer of electrical motor controls for industrial machinery.
Stevens Jr was tasked with giving these controls a more modern look, Stevens Sr reasoning that '…a spiffy-looking switch box' was just the ticket to maintain sales. It worked a treat, and Stevens the younger founded his own design firm a year later, initially specialising in soft furnishings.
By the end of the 1930s he was employing five staff members and had 77 clients, which included most major companies in the Midwest. A promotional brochure from 1940 trumpeted: 'There is a new trend in modern manufacture… a trend towards cleaner lines, smarter appearance and functional beauty.'
Stevens seemed to instinctively know what the client wanted, emphasising the shift between technological focus and consumer behaviour.
Cars were a great passion that saw Stevens conceive of a civilian version of the Willys-Overland Jeep as early as 1942. It would emerge in 1946 as the Jeep Station Wagon – a sort of proto-SUV – which also spawned the open-top Jeepster variant.
Around the same time, Stevens also helped shape an experimental front-wheel-drive small car for the McCulloch Corporation, for which he had earlier designed a factory and office building. That in turn led to an entrée with the Kaiser-Frazer Corporation.
At the end of World War Two, the USA's vast wealth led to pent-up demand, particularly in the automotive industry, and Stevens was tasked with designing an entire range of new vehicles for this independent player.
However, the flamboyant Howard 'Dutch' Darrin had also put forward proposals. Rancour between both parties spilled over when Stevens was quoted in the media as saying that his rival was '…unable to draw a straight line with a ruler.' Darrin sued for libel…
Following the merger of Kaiser-Frazer with Willys-Overland in 1953, Stevens continued to work with this reconfigured company. However, he wasn't above involvement with smaller operations, start-ups and firms whose ideas piqued his interest.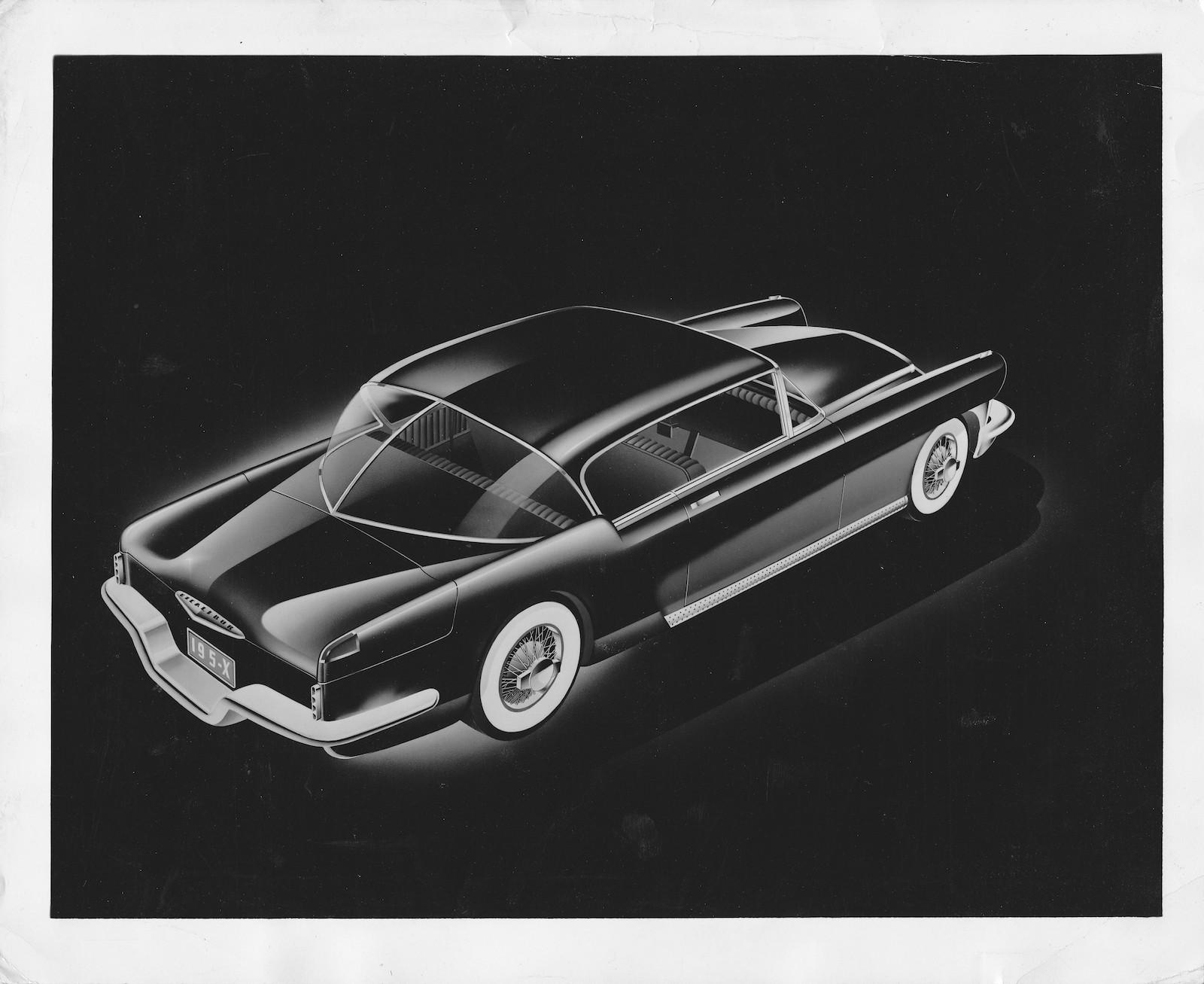 A keen interest in custom coachbuilding led to a raft of one-off or small-series offerings that decade, perhaps the most radical being the Chrysler New Yorker-based Scimitar.
This bold machine was commissioned by aluminium manufacturer Olin Mathieson, with a view to demonstrating the use of the material in vehicle production. Stevens was familiar with aluminium's properties, having previously used it in the construction of his home-brewed Excalibur J racing car in 1952, and he and his team began work on the Scimitar four years later.
According to Stevens, this brave new world was '…not to be a car of the future, or even a drastic styling treatment, but a concept of today applicable to current manufacturing procedures.'
However, although aluminium had been used in the construction of small-series cars, the raw material cost roughly four times that of steel. It was also considerably more expensive to tool up, as individual presses were needed for each panel. Major brands therefore took some convincing as to its merits over conventional steel.
Stevens was well aware of this, and cunningly conceived three individual Scimitar designs that required only one set of die stamps. Only their roofs would be different. His plan called for a two-door convertible with a retractable roof, a saloon variant, and also a station wagon with a large rear glasshouse.
All three bodystyles were turned into three-dimensional reality in Stuttgart, Germany by Reutter Karosserie, the coachbuilder better known for its work with Porsche. The use of aluminium even extended to the Scimitar's brightwork, which had a polished, anodised finish with the basic outline mirroring that of Stevens' earlier Die Valkyrie and Gaylord Grand Prix show cars.
The trio of prototypes were shown across the globe over a three-year period, but failed in persuading major brands to adopt similar methods of construction. Stevens, though, had moved on to more pressing concerns: the small matter of trying to turn around the flagging fortunes of the Studebaker Corporation with some much-needed redesigns.
The South Bend, Indiana-based marque had employed fellow industrial design colossus Raymond Loewy since 1939. However, by 1956 his fees were deemed excessive as the firm merged with Packard in a bid to stave off the inevitable. While Loewy was kept on a retainer, his role was somewhat diminished.
Stevens had long been keenly competitive with his French-born counterpart, and earned his chance to muscle in on Loewy's territory after Studebaker bought in Sherwood H Egbert from the McCulloch Corporation – to which he had strong ties – in an attempt to turn around its flagging fortunes.
Among the most celebrated of all Stevens' designs was the 1961 Studebaker Gran Turismo Hawk. In truth this was a reworking of the Loewy-penned Hawk, but it was masterfully done. Stevens followed through with the Wagonaire station wagon, but the brand's days were clearly numbered.
By 1963, the slide into insolvency was irreversible. Nonetheless, Stevens continued to produce concepts including the wild Sceptre prototype saloon with its aircraft-like cabin, and also a subcompact with interchangeable glassfibre panels.
The game was up, but from the ashes of the Studebaker Corporation emerged a new marque as Stevens the designer became Stevens the reluctant motor mogul. Studebaker had held the US concession for Mercedes-Benz, and Stevens conceived a loose replica of a pre-war Mercedes SS based on a Studebaker Lark Daytona chassis, to be shown at the 1963 New York Auto Show.
However, the suits at Studebaker got cold feet and decided not to feature the 'Mercebaker' on its stand. Unbowed, Stevens arranged for it to be shown as a standalone exhibit and it caused a furore. So much so, he was effectively strong-armed into putting it into production.
And thus, the Excalibur marque was born, with the likes of Dean Martin, Steve McQueen and Jackie Gleason being among early adopters. The firm stayed in the Stevens family until 1986, although Stevens Sr had little to do with the day-to-day running.
By the early 1970s, his time as a design leader was starting to ebb. A contract with AMC led to several proposals, including a replacement for the Jeep Wagoneer that he had penned a decade earlier. However, none was adopted. The death of the Wagoneer in 1991 represented the first time in 45 years that a Brooks Stevens car design had not been on the market.
Stevens was all too aware that his time had passed. Sidelined by heart problems as the 1970s drew to a close, he handed over the reins of his design consultancy to his 27-year-old son, Kipp. However, he continued to preside over his car museum, having begun collecting back in the 1930s, and outlived his biggest rivals from the design community.
He died on January 4, 1995, aged 83. Stevens' legacy is more than 500 landmark products, ranging from steam irons to locomotives, speedboats to lawnmowers. Ironically for a man obsessed with pushing things forward, he is perhaps best remembered today for ushering in the replica industry in the USA.
As the man himself said in 1965: 'It's an odd situation for me… I find myself in a venture that has no obsolescence: contemporary classics. Now I'm wearing my hat the other way…'
Images courtesy of Rota Archive