120 years of Renault – here are the highlights
A visit to Renault's usually hidden heritage collection to celebrate the firm's incredible history – and we got to drive a few museum cars too...
In association with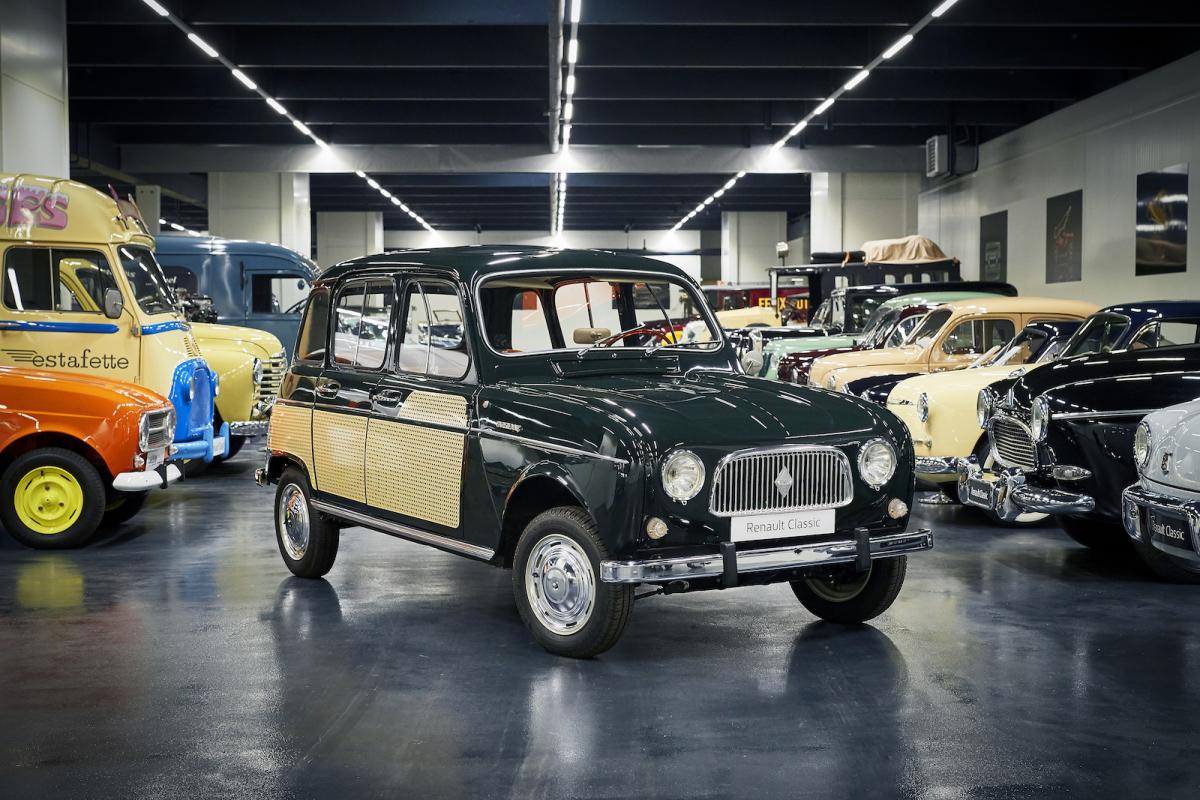 Condensing a car manufacturer's 120-year history into a few hours would be a challenge for any brand. But Renault is more than just a car manufacturer, its story inextricably linked with the seismic technological, social, and political changes that have defined modern French history in the period since Louis Renault first spluttered up the Rue Lepic in his self-built 0.75hp Type-A voiturette on Christmas Eve 1898.
With the version presented to us for this 120th anniversary celebration just down the Seine from Renault's spiritual Boulogne-Billancourt home you'd be forgiven for thinking it has exclusive claim to the national automotive heritage – something Peugeot and Citroën may well have something to say about.
See also...
But in Renault's defence its story is more intimately entwined with the French experience of the 20th century than most, given that the personal fortunes of its founder were tied to the highs and lows of the first half. And for much of the second it was a state-owned institution with a role far beyond that of most car manufacturers.
The modern history lesson can wait though. Because sensibly our day starts with a diverse four-wheeled taste of Renault's heritage and edited highlights from its incredible 750-car historic collection. Most are housed at the Flins manufacturing hub and, we're assured, maintained in running condition.
For this anniversary year 120 have been selected to represent significant moments in the firm's history, one for each year in business. And as we emerge into the spring sunshine a few have made available for us to drive.
The first we're ushered towards is the 4CV, our minder keen to point out the dog-leg layout of the three-speed manual gearbox and fact that the rear-hinged doors and lack of seatbelts present a very real chance of inadvertently exiting the vehicle at an inopportune moment. No need for a second coffee with that focusing the mind.
It would be easy to be bewildered by the vast scope of Renault's history but the 4CV actually offers a good place to start, representing as it does the chaotic and traumatic transition from private company run by its eponymous founder to state-owned enterprise.
Chaotic because the 4CV was developed while France – and Renault – was under German control and supposedly dedicated to supporting the Nazi war effort.
The romantic version is that 'resistance' engineers realised whenever the war ended there would be a need for a cheap and dependable modern car and quietly designed one under the noses of both Daimler-Benz overseers and Renault's own management.
The traumatic counterpoint is that while all this was going on Renault himself was being condemned as a collaborator, ultimately leading to his arrest as France was liberated and his death in custody a disgraced man.
So much for the wider symbolism. The 4CV is a car and there to be driven, this example dating from late in the production and a year before the car finally ended its run in 1961. As you'd expect though it feels more like a '40s car; its tiny, minimalist cabin and modest performance appropriate for its time but out of step with modern traffic conditions.
Its torquey little 750cc engine is flexible and willing though, and at an indicated 70km/h on a French country road it feels very much at home.
Parallels with the Beetle are, perhaps, inevitable given they both symbolise post-war rebirth for their respective manufacturers. As road networks developed and motorways became part of the landscape it's easy to see how the Volkswagen's original development as a car for Autobahns made it the more successful and long-lived product, the 4CV remaining a car of its time rather than moving with it. But no less charming for it.
To fixate on the 4CV is, of course, to skip the entire first half of Renault's story. And at the bustling maintenance garage at the heart of the vast Flins complex the range of the brand's broad portfolio is on show and, in some cases, available for rides and drives.
This includes replicas of the original 1898 Type-A (pictured top of page), the 1905 Type-AG1 Parisian taxi that formed the basis of Renault's first bulk order and moves towards mass production and everything from a FT17 light tank (above) to Alain Prost's 1983 RE 40 F1 car sitting in the workshop. A broad-hipped Group B 5 Maxi Turbo beside a Poste-liveried Renault 4 van (below) is just one of many charming juxtapositions.
Driving opportunities occur at random and it's as easy to find yourself jumping from a mid-60s 16 – one of the first modern family hatchbacks – and into a 1933 Vivastella (below). The latter is one of the grander inter-war models typical of Renault's early status as a luxury marque.
Such was the public face but by the time this 60hp, six-cylinder model was on sale Renault was building close to 50,000 cars a year and had around 25,000 employees building everything from diesel railcars to trucks and tractors. But the depression was biting and appetite for such grandiose machinery was waning.
It's a fascinating taste of Renault as a builder of luxury cars all the same, the deco interior opulent in its detailing and the driving experience typical of its period, though made a little easier thanks to its conventional pedal layout. Let's just say it's not a car suited to modern street furniture like speed bumps and mini roundabouts though.
As the 1930s drew on and conditions became tougher, Renault reconsidered its approach to mass-market cars and in 1937 launched the unitary-bodied Juvaquarte to compete with the Citroën Traction Avant and Peugeot 202. Amid industrial turmoil and political activism among workers it was just what was needed, though it was outsold by its rivals and production was interrupted by the war years before living out its life as a light commercial vehicle.
Bringing us back to 1945, the formation of the state-managed Régie Nationale des Usines Renault and a new era of modernisation, mass production and response to the changing needs of the motoring public. Under the leadership of Pierre Lefaucheux and then Pierre Dreyfus, Renault's de facto role as a commercial arm of French government policy was reinforced by the enduring political links between management and ministries of state.
This may seem on the periphery of the business of designing and building cars but informs much of the thinking behind products like the Renault 4 (above) and 16 (below), whose rejection of the rear-engined, three-box template of the 4CV, Dauphine and Renault 8 demonstrated how the firm sought to respond to – or even influence – social trends.
Launched in 1961, the 4 lived on until the early 1990s and, like Citroën's 2CV, became a fixture of French roads and embodiment of egalitarian values. It was the 'blue jeans' car and, from the early '60s, marketed directly at female drivers in partnership with Elle magazine through a programme called 'She's in the driving seat'.
More upmarket interpretations of its practical, adaptable hatchback format then resulted in cars like the 16. Switching from the late-production 4CV into a mid-60s 16 it's hard to believe they were built in the same decade, such is the difference in character.
See also...
The 16's modernist minimalism, size and comparative luxury made five-door cars acceptable family and executive machines suited to suburban life and show an enthusiasm for moving with the times that's characterised Renault's better products over the years.
Few did this better than the 5, conceived under American-educated Bernard Hanon and influenced by the youth culture making waves on both sides of the Atlantic. Even today the early model made available to drive looks fresh and modern, its plastic bumpers and distinctive silhouette setting the template for superminis to this day.
The way it stays true to French values of utilitarian industrial design without compromising on style is a masterpiece of automotive engineering, the driving experience hardly dated despite this car being 45 years old. True, modern equivalents are better equipped, faster and safer but the fundamental concept is as relevant as it was when sketched by Hanon and his colleagues in the heady days of the late 1960s.
Not all the products or initiatives that followed met such high standards but as the '80s dawned the ideals that inspired cars like the 4 and 5 inspired creation of new market sectors, like the Espace MPV and its later Scenic little brother.
The former (below), built in collaboration with Matra and using bold new materials and open-minded ways of using the interior space created by its one-box design, remains a recent high-point in Renault design.
Driving the diesel version brought along to this celebratory event, the charm is more in its airiness and novelty seating arrangements than the driving experience. And the fact that its position in the market has been more or less annexed by the craze for SUVs proves customers don't always value practicality above all other concerns.
Credit to Renault for its modern Espace defiantly sticking with the concept, its one concession to modern tastes being a token increase in ride height to put its occupants eye-to-eye with the 4x4 crowd. A very French response. And one proving modern, privately owned Renault hasn't entirely lost the radical spirit present in much of its 120-year history.