Petersen Museum Cruise-In
Sunday morning in LA – once a month you can drive onto the rooftop parking area of the famous Petersen Automotive Museum, which is exactly what we did...
Of course it seems only logical that Los Angeles would have an entire museum dedicated to the automobile... Welcome to the Petersen Museum, hosting exhibits of Bugatti, the rarest of Ferraris and even Lowriders. Probably the greatest car museum on the planet.
The Petersen is located in West LA on Wilshire Blvd., known as Museum Row. Once a month from 8am-10am on a Sunday morning the museum holds a 'Cruise in' where all are welcome to bring their cars.
The only real prerequisite for the show is that you must pull yourself from bed on a Sunday morning. It's a casual event. Bagels and coffee are free, and Terry Karges, the director of the museum, is there to greet everyone.
Car nuts from all over Los Angeles gather. Alfa Romeo is here today giving ride and drives in their new Stelvio SUV, there's a people's choice award (a Panhard wins), a Lamborghini Miura has shown up, and a lightweight Jaguar E-type replica has made its way over.
Today I've brought my 1967 Giulia Super and parked it between a Porsche and pick-up truck. As you walk up and down the aisles of cars you'll see an eclectic mix of collectables; everyone is curious. A Pagoda 280SL Mercedes next to a C4 Vette… sacrilege? People are laughing and checking each other out.
This is probably the only time you'll see the Mercury Cougar club hanging out with Ferrari owners, and Porsche owners parking alongside British machinery. I know it's a car show, I know it's on Sunday morning, but on rare occasions women do show up to these events. I ran across a friend with his wife. I stared in amazement. 'What are you doing here?' She smiled, he said she wanted to come… and… yes, well, we are going shoe shopping after this...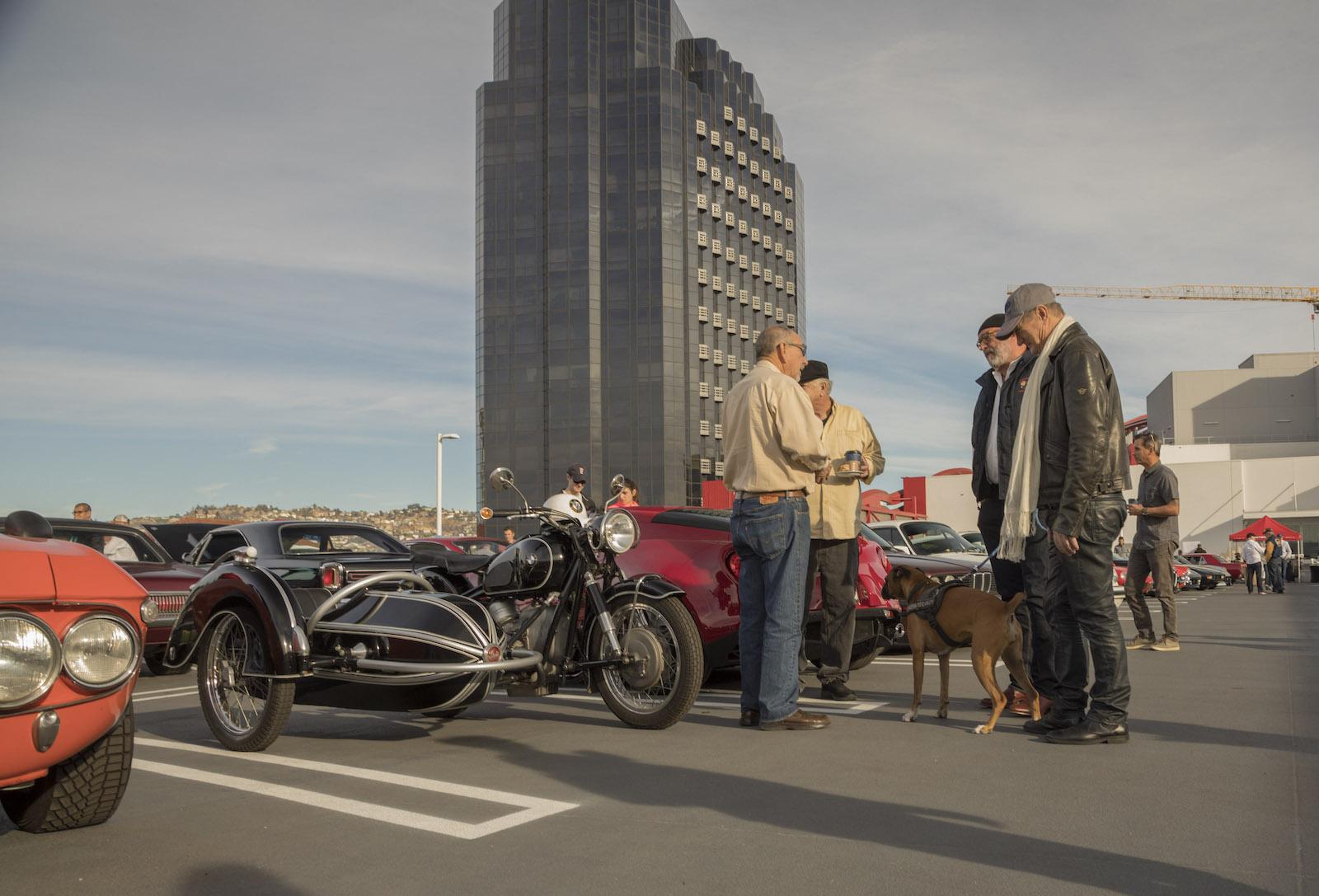 As 10am grows near the smell of exhaust and rumble of motors ceases, the parking lot clears as the last bite of bagel is taken. Don't worry, the museum is still open, the cars are just waking up. Take a special tour of The Vault, hidden away in the basement, giving you an up-close look at all the cars not on display as well as restorations in progress.
On the main floor is the Drago Italian restaurant and gift shop full of car swag. Or, in 30 minutes you can be at the beach, in ten minutes trek up to the Farmers' Market for an outdoor mall and more food, or one minute takes you across the street to the La Brea Tar Pits where you can see where all these fossil fuels came from. I can guarantee though, you're in Los Angeles and no matter where you go you'll be surrounded by cool cars.
Find out more about the Petersen Museum here.