Market: Countach and pre-war Bentley and Bugatti lead Bonhams Paris prices
Wide variety of cars and prices during a €15m sale at Bonhams in Paris, but the Goodwood-consigned DB4GT Zagato captures the limelight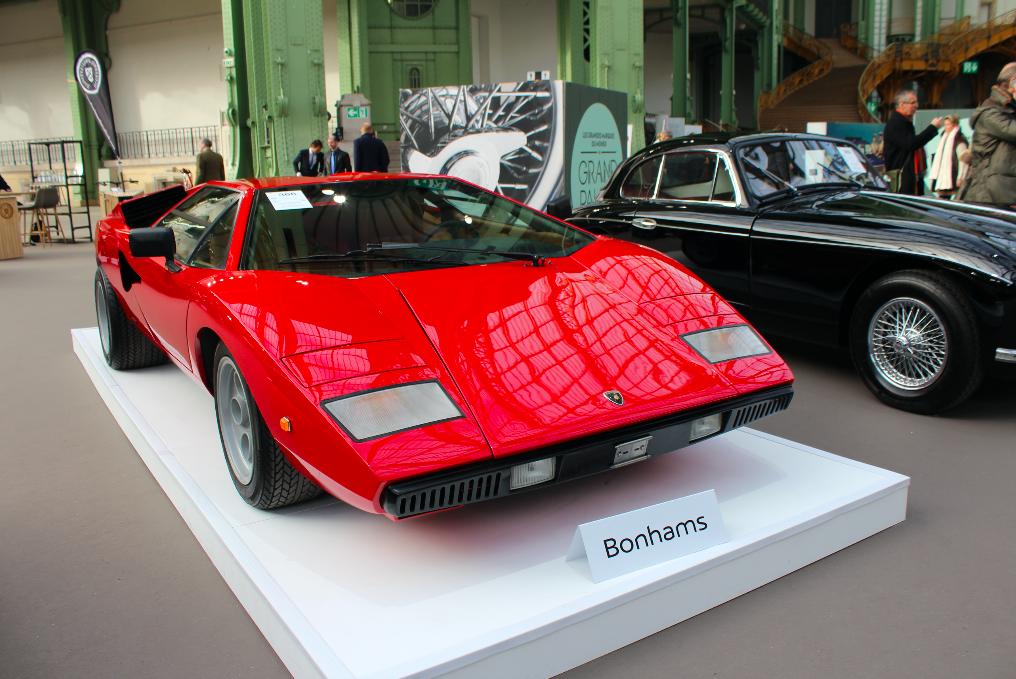 Bonhams was the second auction house to test the EU market during Rétromobile week with a sale in the historic Le Grand Palais.
Held in the same location as the first French Motor Show in 1901,102 of the 135 collector cars in a weighty catalogue sold for €15m (£13.35m) during a 76% sold afternoon. Sharing the top of the leader board were a pre-WW2 French Bugatti and a very British Bentley from the 1920s, both hammered away for €701,500 (£624,335) including buyer's premium.
One of 513 Bentley 3-Litre Speed Models made, with full matching numbers and Vanden Plas coachwork for four, clad in rare aluminium panels rather than fabric, the 'Red Label' Bentley of 1926 vintage had been a class winner on Pebble Beach turf in 2015 and was super-mint, having been sympathetically restored by specialist Graham Moss.
Exactly the same amount, €701,500 (£624,335), was invested in the Bugatti Type 57 3.3 Litre Torpedo that was driven to third place by Earl Howe in the 1935 Tourist Trophy. It also took part in the Spa 24 Hours, before being raced at Chimay and Marseilles by Pierre Levegh. Having been preserved by 79 years of Australian residency, this car, the only surviving 1935 works-built sports-racing Bugatti, would be potentially eligible for Le Mans Classic and other value-enhancing retrospectives.
A Lamborghini LP400, supplied new to Germany in 1974, since when it had been Swiss registered and maintained, topped the more contemporary classic prices. Still looking outlandishly ground-breaking, the distinctive-looking 'Periscopio' achieved a within-estimate-band €638,250 (£568,043).
The oldest automobile to cross the auction block meanwhile was a 1904 Fiat Type 24/32 Tonneau with Rear Entrance. Being one of the youngest London to Brighton eligible Runners, it was one of the last to start the annual celebration run, but in the 2015 run the powerful 75mph Fiat and its late owner, Het Loo Concours co-founder Jan Bruin, arrived at the finish only five seconds after competitor number one. The rapid 114-year-old Veteran changed guardians in Paris for €713,000 (£634,570).
Not one of Paul O'Shea's original aluminium-bodied 300SLs, but a unique re-creation of the Mercedes-Benz sports-racer also found a new home. It had taken project mastermind Georg Distler (with invaluable input from '300SL Godfather' Albrecht Lorenz) two years to replicate from factory drawings.
With a body crafted by Gabriele Artom and the team at Zagato and mechanical re-enactment undertaken by HK Engineering, the completed car then won its class on the 1997 Carrera Panamericana and raced at the Nürburgring, Hockenheim and the Salzburgring before selling here for €632,500 (£562,925).
The grand-daughter of the original owner of a 1907 Minerva Type K 40hp Limousine with fresh air seating for front seat occupants was movingly reunited with the 111-year-old Antwerp-built automobile. This jewel in the crown of the late Jacques Vander Stappen's collection was applauded for fetching €603,750 (£536,734).
One of 102 Drophead Coupé versions of the Feltham-made Aston Martin DB2/4, a left-hand drive car with 3-Litre 140bhp VB6J engine, had been delivered new to France in 1954 and sold seven decades later for €391,000 (£347,990). More mature individuals may just about remember Tippi Hedren driving such a car in the Alfred Hitchcock 1963 movie The Birds.
Although eight million front-wheel drive Renault R4s were made between 1961 and 1994, very few of them were four-wheel drive ones like this 1986 All-Terrain Soft-Top, with Sinpar transmission that had seen service with Peloton de Gendarmerie de Haute Montagne on the Col de Tende in the Southern French Alps. The no-reserve 4x4 R4, with its blue light on top, looked Maigret-shoot ready and was well bought for €34,500 (£30,705).
The unchallenged superstars on the carpet in the Grand Palais this year were not being auctioned in snowy Paris, however: the McLaren MP4/8A Cosworth 006 that Ayrton Senna drove to victory for the sixth and final time at Monaco in 1993 was on show, as a preview prior to it headlining the Bonhams Monaco Historic GP sale on Friday 11 May. It's estimated at €5m or more.
In addition, the Jim Clark-raced 1961 Aston Martin DB4GT Zagato (Britain's answer in period to the Ferrari GTO) is all set meanwhile to become the most valuable British car ever auctioned in Europe when '2 VEV' (unveiled at Le Grand Palais) goes under the Bonhams gavel at the Goodwood Festival of Speed 13 July. A £10m-plus plus result has been suggested.
How did Bonhams compare with RM Sotheby's in Paris? Read the RM Sotheby's report here.
Plus: Rétromobile show report