Market: celebrity cars and fast Fords top Race Retro road car sale
Elton John's Aston Martin tops the £2.61m sale at Race Retro, where Jay Kay Dodge charges to £95k result, both Rowan Atkinson cars surprise and Fast Fords continue to sell strongly
Delivered new to Sir Elton John in 1997, this Aston Martin V8 Vantage V550 (550bhp) with the rarer six-speed manual and 8663 miles was bid to £195,000, £5000 more than the estimate, to sell for £219,375 with premium.
A William Towns-design 1969 Aston Martin DBS auto, made in Newport Pagnell and with the benefit of £16,000-plus mechanical overhaul one year ago, fetched £99,000 – that's £19,000 more than the guide. Meanwhile, a Gaydon-era 21,900-mile 2010 DBS auto made £90,000, top estimate money.
The top performing Ferrari on the carpet was a 1981 512BB. This was one of the last carb-fed cars prior to fuel injection, though with Koenig customised front bumper, mirrors and rear wheelarches, and was sold under the hammer for £190,000, or £213,750 including premium –
considerably less than the £230,000-265,000 suggested.
Bids for a 1965 330GT 2+2 S1 manual and a 1982 400GTI 2+2 manual, one of 25 in RHD, both fell short of their reserves.
Ford RS200, Cosworth, Mustang and Escorts
An Ermine White 1987 Ford RS200, one of the 90 'stradale' versions rather the Group B competition versions, with 8876 miles on the odometer, rallied to a more than top estimate £157,500 with premium.
All three AVO Escort Mk1s sold, a more than top estimate £37,125 being paid for a UK market 1974 RS2000 in Oympic Blue with some period upgrades, £35,438 for a 1973 Mexico in Monza Blue that had been in receipt of an eight year restoration, and £24,525 for a sympathetically refurbished 1974 Mexico in Modena Green with five-speed 'box.
The highest price paid in Warwickshire for a fast Ford though was an applauded £50,625 for an RS2000 Custom Mk2 (above) with model-distinctive wheels, seats and dashboard, which had been driven just 40,044 documented miles by three owners since new in 1980.
Another three-owner RS, a very original looking 1986 Sierra Cosworth three-door with 56,000 miles realised £41,625, nearly £5000 more than estimated. A 'Terlingua Race Team Shelby GT350 Tribute' Mustang Fastback manual, an older restoration that had lasted well, had been signed internally by Dan Gurney and Phil Hill and also motored strongly, selling for £36,000, £6000 more than had been estimated.
Honda NSX and Bruce Willis and Jay Kay Dodge
A right-hand drive and manual 2004 Honda NSX facelift coupé in Formula Red with 12 Honda service stamps during its 16,928 mileage had been a frequently polished centrepiece in a Honda showroom before selling here for £84,375.
Another stunner was a 1969 Dodge Charger to Bullitt movie car chase spec. It was bought by Demi Moore for her husband at the time, Bruce Willis, and later imported to the UK by rocking petrolhead Jay Kay of Jamiroquai some eight years ago, and treated to a no-expense spared revival with upgrades. The 8.2-litre V8 projectile cruised to a £94,750 applauded result, £34,750 more than had been estimated.
Alfa Romeo GTV
The most viewed lot in the hall however was a said-to-be unrestored 1969 Alfa Romeo GTV 1750 S1 which was certainly in exceptional condition, having been consigned from a major collector.
Unusually, it was also knocked down twice, the first time for £36,000, which was bid by two bidders simultaneously, one on a phone and the other in the seats right in front of the rostrum. Offered again to the two contestants by auctioneer Humbert, the tie-break was resolved in favour of one of them, who bid £37,000 and paid £41,625 with premium.
Rowan Atkinson's Mercedes and Lancia
Nothing seems to inspire bidding like totally transparent 'No Reserve' motor cars, especially when they are well cared for desirable classics from a motoring celeb source like Rowan Atkinson.
His 1993 Mercedes-Benz 500E left-hooker flew way above what the market in such rarities have (and haven't!) fetched in public auction before to sell for a stupendous £71,300.
The actor's 1989 Lancia Thema 8.32 also sold well. These V8 32-valve Ferrari-engined Q cars achieve 0-60mph in 6.8 seconds and 150mph top speed but there are fewer than 20 of them alive in the UK. The £29,813 with premium paid is also more than your reporter can ever remember a Thema 8.32 selling for. Enough to make Inspector Maigret bust his pipe in fact.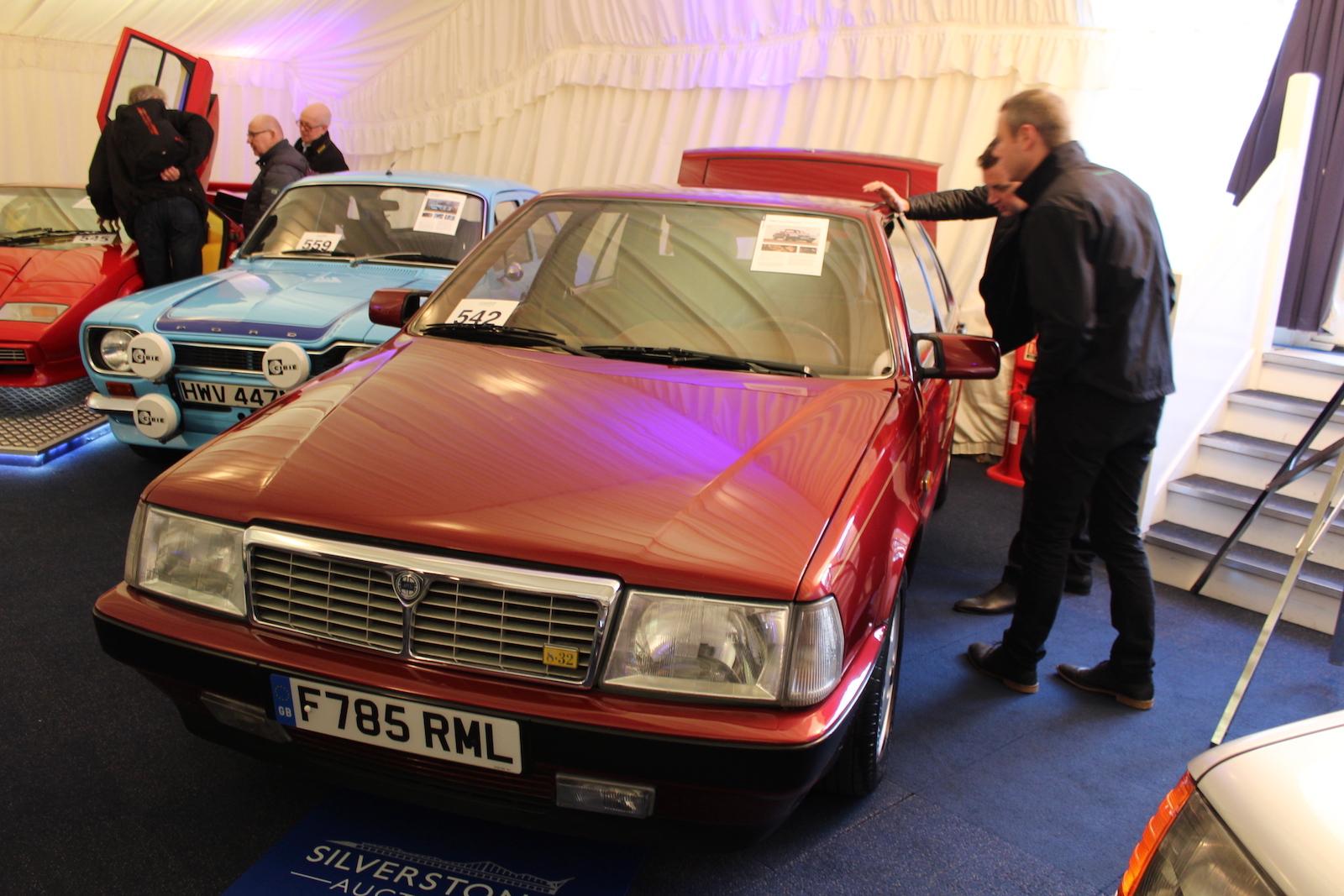 Even before any post-sales had been concluded, 62% of the 69 mainstream classics on offer in Warwickshire had been knocked down to new keepers, who paid £2.61m with premium for their 43 acquisitions.
Including the 18 historics hammered for an additional £891k the day before, a total of 61 cars were sold by Silverstone Auctions at Race Retro for £3.5m.
The average price of a competition historic sold here this time was £49,504, £9550 more per car than in 2017, interestingly. Traditional classic sales averaged out at £60,599 apiece, only £2733 per car down than at this same fixture last year.
Hungry number crunchers could read into these figures: a quite modest 4.3% price correction in achieved auction prices for classic road cars from one year ago at these auctions. The finest examples in unquestionably original condition or in receipt of well documented quality restorations, and with well stocked history files, continue to achieve stand-out prices.