Historic Motorsport Round-up: Britain's most successful driver to retire
Barrie 'Whizzo' Williams has announced his retirement after 60 years of racing – in this week's historic racing news
In association with
Whizzo calls time on racing career
Barrie 'Whizzo' Williams, the most successful driver in British motorsport, has announced his retirement from racing after a career spanning 60 years.
Williams, who will be 80 in November, will step down from racing but will remain involved in the sport through his roles with a number of clubs and organisations.
'I've had a bloody good time racing,' he said. 'It's all I've ever really done, and I've got huge memories. But I've got to be sensible. I still want to put something back into the sport that has given me so much.'
His career started at Prescott in 1957, after racing karts for several years. His first race was at Rufforth on Easter Sunday 1960, in a Morris Minor. Barrie competed in races, rallies, sprints and hillclimbs, and scored a major success when he won the 1964 Welsh Rally in his Mini Cooper, which was his first experience of forest rallying.
He raced saloons cars through the 1970s, and won many fans with his extrovert style – in and out of the car – and sublime car control. He was a works driver for Colt in the British Touring Car Championship, and won a series of one-make titles in the 1980s.
In 1986 Barrie made his debut in historic racing, and over the past 25 years he competed extensively in historics. He raced ERAs, Jaguar C-types, BRMs and much more, and was a regular Goodwood Revival winner.
But now he has decided to retire. 'I raced every year for nearly 60 years and it was a way of life, but now it is time to stop.'
Walter Röhrl to star in Ulster Rally retro
Two-time World Rally Champion Walter Röhrl will reprise his dominant win on the 1984 Ulster Rally when he guest stars at the Titanic déjà vu Ulster Rally reunion on Saturday September 1.
The event is being run in aid of charity by the Déjà Vu Motorsport organisation, and will honour one of the finest drives in Irish rallying history.
Thirty-four years ago, Röhrl and Christian Geistdörfer blasted their Group B Audi Quattro S4 over the Antrim, Down and Fermanagh stages to crush the opposition on the Ulster Rally. They defeated the two-wheel-drive Opel Mantas of Russell Brookes and Jimmy McRae by more than four minutes.
Röhrl heads a cavalcade of historic rally cars over famous Antrim stages such as Glen Dunn and Torr Head. He will be then joined by many of his contemporaries at a gala dinner in Titanic Belfast on Saturday.
Bouffier wins the Boucles
World Rally Championship driver Bryan Bouffier won the Boucles de Bastogne in a Ford Escort MkII over the weekend.
The new M-Sport signing, who finished eighth at the 2018 season-opening Monte Carlo Rally last month, triumphed in the biggest historic rally in Belgium.
Meanwhile, local hero Thierry Neuville wowed the fans in his Opel Corsa.
A taste of Le Mans in Wiltshire
The seventh Castle Combe Autumn Classic (October 6) will celebrate 50 years of the Ford GT40 and its circuit heritage, with local racer Ron Fry.
Several GT40s will take part in demonstration sessions alongside other cars from the 95-year history of Le Mans.
Bath garage owner Ron Fry raced two GT40s in the 1960s, carrying his 'RON 54' number plate, and they were among very few GT40s to race at the Wiltshire track. His racing career and close links with Castle Combe will be a feature of the event.
The event will also mark the 65th anniversary of the last race at the circuit for Sir Stirling Moss, when his F2 Cooper flipped at Quarry.
Rare Connew F1 car to re-appear
After more than 40 years in storage, the one-off Connew Formula 1 car will be on show in public at Race Retro (February 23-25).
The 1972 car was designed and built by a team of three, headed by Peter Connew who had been a designer for Team Surtees.
It started only one grand prix, the 1972 Austrian, in the hands of Francois Migault, and was later stored at Connew's home.
Finally the original team of Connew, Barry Boor and Roger Doran, set about restoring the car, and the result of more than two years' work will be shown at Race Retro.
Hoare to be honoured with Members' Meeting race
A new race for pre-1966 road-going sports and GT cars, named in honour of Maranello Concessionaires founder Colonel Ronnie Hoare, will feature at the 76th Members' Meeting at Goodwood in March. Hoare was best known for running Ferraris in period, and several 275 GTB/Cs are expected on the grid the opening race of the weekend.
Derek Bell Trophy to star at Donington Historic Festival for the first time
The Historic Sports Car Club's Derek Bell Trophy will have a prime race slot at the Donington Historic Festival (May 4-6) during a calendar that also includes races on the Silverstone and Brands Hatch Grand Prix circuits. For the first time, the Trophy pack will compete at the prestigious Donington event with 25-minute races on Saturday and Sunday after qualifying on Friday.
Walsh embodies spirit of GTSCC
Austin Healey ace Jeremy Welsh has been presented with the 'Spirit of the Series' award from the organisers of the GT and Sports Car Cup. Welch has contested all bar one GTSCC race since the series was created in 2007, and has won the overall driver's title three times – most recently with co-driver Martyn Corfield in 2016.
Retallick seeks avenger for new Hillman
With regular driver Eliot Retallick recovering from a shoulder injury, Tim Tugwell is lining up a replacement driver for his newly built Hillman Avenger on Rally North Wales. The likely candidate is Tim's brother Mark, for a car that replaces the Avenger that was written off on the Isle of Man last September. The Tugwell bothers rallied together regularly in the 1980s.
Clutch failure curtails Durling's return
Formula Junior racer and long-time trials driver Simon Durling made his first historic sporting trials appearance for two years at Sywell on Sunday in his Kincraft. With fellow racer and former hillclimber Mark Goodyear as passenger, their day was cut short by clutch failure after only a couple of hills. More outings are planned.
BHRC crowns most entertaining driver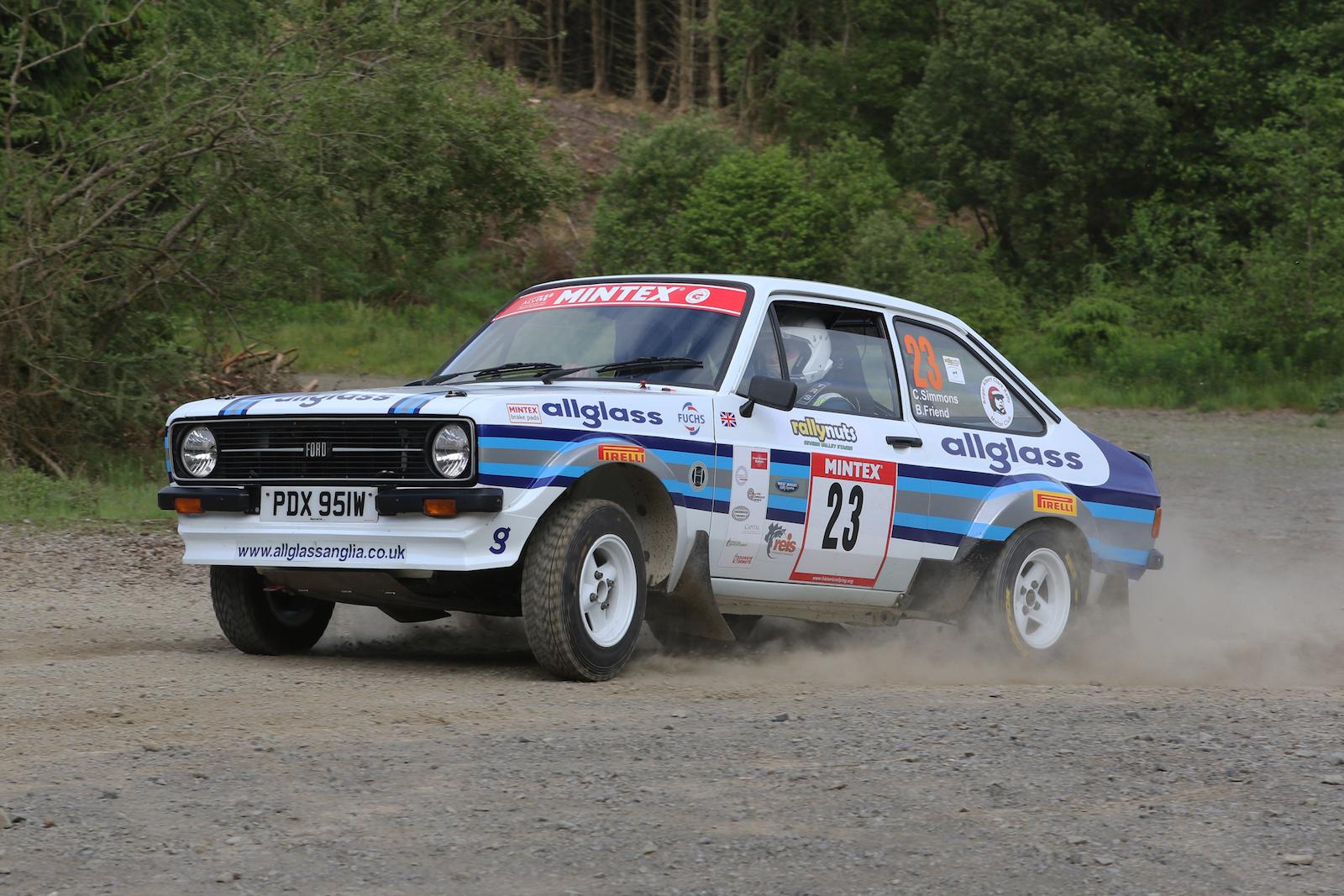 Ben Friend collected a haul of awards at the annual British Historic Rally Championship dinner on Saturday, including the championship's special award for the most entertaining driver. The East Anglian youngster, co-driven by Cliffy Simmons, was a regular giant-killer in his Pinto-powered Ford Escort MkII.
Images courtesy of Paul Lawrence and LAT