Historic Motorsport round-up: Thruxton Festival for 50th
How BARC plans to celebrate Thruxton's golden anniversary, 30 years of Citroën 2CV and what's on at Autosport International
In association with
Thruxton want to celebrate 50th anniversary with historic festival
Fifty years of racing at Thruxton will be marked on June 2-3 with a special high-profile weekend of historic racing at the Hampshire track.
Categories rarely, if ever, seen at the high-speed circuit will headline a special race programme designed to celebrate its five decades.
Among the grids will be the Royal Automobile Club Woodcote Trophy, the Stirling Moss Trophy and the Historic Touring Car Challenge, featuring grids of pre '56 sports cars, pre '61 sports-racing cars and pre '91 touring cars from Motor Racing Legends.
From the Historic Sports Car Club will be the Super Touring Trophy, Historic Formula Ford and Guards Trophy, with further race content still to be confirmed.
Bill Coombs, Thruxton's managing director said: 'We will have a mixture of racing and demonstrations over both days, all of which will echo five decades of the circuit.'
'This is going to be more of a festival than just a traditional race meeting.'
To mark the occasion, a new hospitality building will be officially opened on the inside of Allard Corner.
Thruxton was developed as the Briitsh Automobile Racing Club's new home track after Goodwood closed for racing in 1966. Thruxton's first race meeting was on 17 March 1968 and it hosted an international Formula 2 race less than a month later. Half a century on, the high-speed track layout remains unchanged while a programme of re-investment continues to improve facilities.
Although now limited to 12 days of racing each season, Thruxton consistently delivers some of the closest and most exciting racing in the UK.
Founder of Royale dies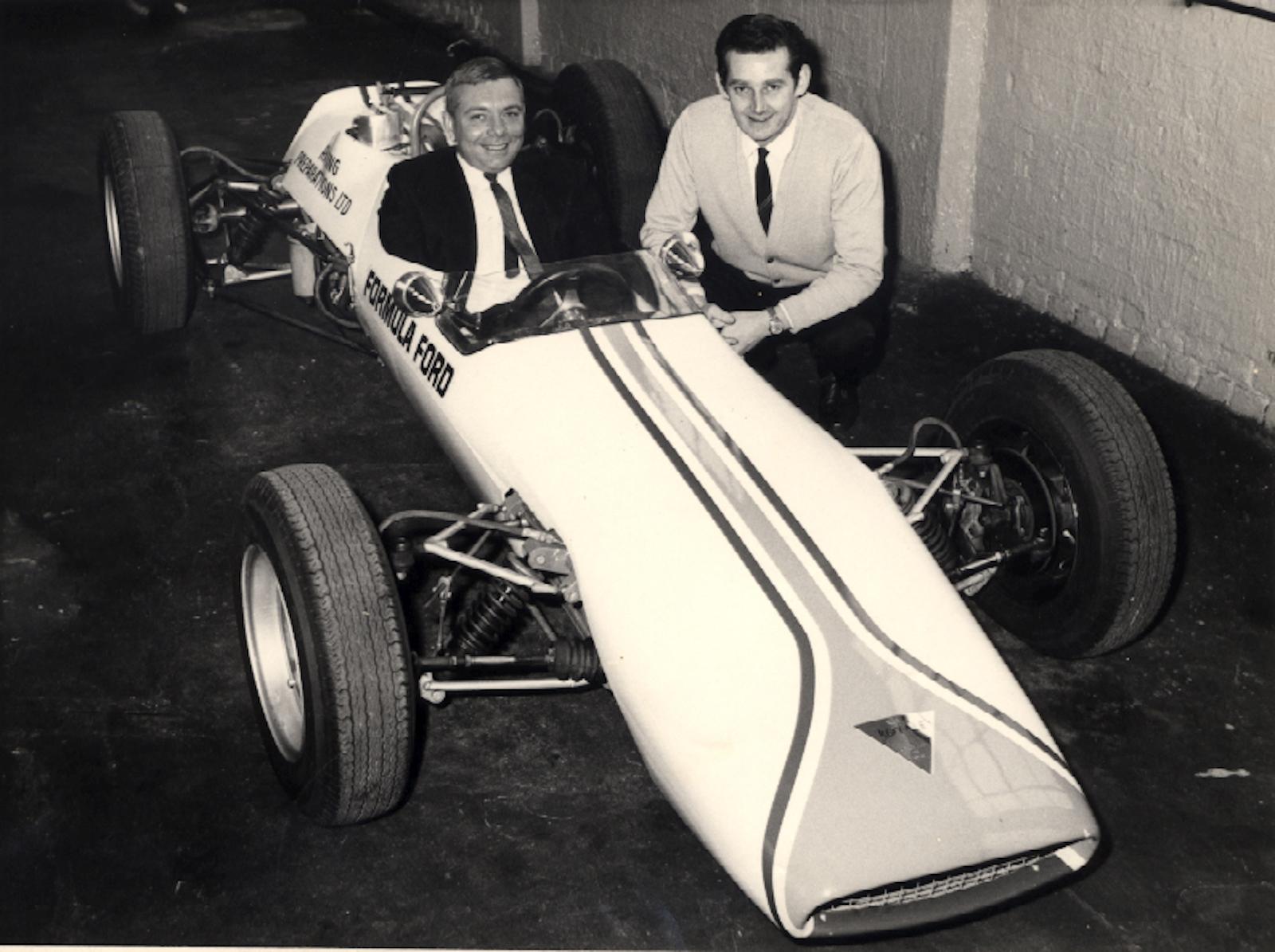 Bob King (pictured on the right), the founder of Royale Racing Cars, died shortly before Christmas aged 79 after a long illness.
King raced in the late 1950s and took a Cooper to New Zealand for the 1957 Grand Prix. However, a broken camshaft in qualifying cost him the start money that would have been his fare home. He sold the car to Denny Hulme and spent 18 months in New Zealand before returning to the UK.
His fledgling Racing Preparations company later acquired the rights to Coventry Climax but then branched out into race car construction for 1968.
Over 25 years, Royale built hundreds of cars from Formula Ford up to Formula 2 and GTP sports-prototypes. King was instrumental in supporting the young Tom Pryce and promoted designers Rory Byrne and Pat Symonds.
He is survived by his wife Pamela and three children, including former single-seater racer Stuart, now a respected race engineer.
Obituary: Tony Drummond
The Yorkshire rallying fraternity is morning the loss of Tony Drummond, who died just after Christmas aged 75.
Drummond was a star of rallying and then rallycross through the 1970s and made his mark by winning the 1974 Castrol/Autosport Rally Championship with a young David Richards co-driving.
Much of Drummond's success came in Ford Escorts and he earned a reputation for developing and building BDA engines. He also pioneered the use of Jaguar back axles in rally Escorts in period.
Although he stopped competing regularly in the early 1980s he retained an interest in the sport and was an adviser to Kevin Theaker at Rally Sport Developments in recent times.
Formula Junior ready to celebrate
A group of former Formula Junior racers will join a 60th anniversary celebration of the category on Friday afternoon at Autosport International.
More than 20 period racers are due to gather for interviews and photographs at 1400hrs on the HSCC stand in Hall 6.
Among them will be rally ace Paddy Hopkirk, who contested a handful of Formula Junior races in Ireland in 1961 and '62, future race car constructor Hugh Dibley and Tony Goodwin, who raced in the category across 44 years.
A display of six landmark cars from the Formula Junior story (1958-63) will provide the back drop to the celebrations.
Royale Formula Ford up for sale
An early Royale RP3 is being offered for sale for use in Historic Formula Ford. To date few, if any, early Royales have contested the historic category but former Royale boss Alan Cornock now has a restored 1970 RP3 for sale. The car has not been used for a decade and last ran in sprints, but could soon be made race-ready.
New British Historic Rally Championship title sponsor
Fuchs Lubricants will be title sponsors of the MSA British Historic Rally Championship in a partnership that further strengthens the links between Fuchs and the Roger Albert Clark Rally Motor Club. The new deal will cover both the MSA BHRC and the established Fuchs Lubricants RACRMC Historic Asphalt Rally Championship.
Barrington adds to his success
Tim Barrington, the 2012 Historic Formula 2 champion, has added another crown to his collection by being the most successful driver in the post-historic class in the 2017 Historic Sporting Trials season. Derby-based Barrington was competing in the Cannon he often shares with HSCC chief executive offier Grahame White.
Revised date for Red Kite Stages
The date for the Red Kite Stages has been slightly amended from that publicised for the British Historic Rally Championship. The event, which is moving to the forests of South Wales this year, will now run on Sunday June 24 and not Saturday June 23 as originally planned. All other details of the rally remain unchanged.
Chris Karn passes on
Former Clubmans racer Chris Karn lost his battle with cancer early in the New Year. Karn, from Warwick, had raced in Clubmans since the 1980s and more recently campaigned Mallocks in Sports 1600. He always enjoyed the spirit and camaraderie of the Clubmans category and was a popular member of the Clubmans fraternity.
RAC Rally DVD to go on sale
The DVD of the 2017 Roger Albert Clark Rally will be on sale at Autosport International. The two-DVD set includes in-car coverage of all the stages as well as telling the full story of the epic four-day rally. The DVD set is priced at £20 and will be available from the event stand in Hall 6.
2CV anniversary celebrations
The 30th year of the 2CVParts.com Championship will feature 10 races at five tracks, with eight sprint races, a two-hour enduro and the 29th running of the 2CV 24 Hour race at Snetterton on August 17-19. The season will also celebrate 70 years of the Citroën 2CV.  
Rally of Tests entry shaping up
The 2018 edition of the Rally of the Tests is close to having a full entry 11 months ahead of the event. Set to run from Harrogate to Bristol on November 8-11, the organisers from HERO have already taken 92 entries for 100 places on the classic rally.
Images courtesy of Paul Lawrence