Sunbeam Alpine Buying Guide
1960s roadsters don't come much more stylish than the Sunbeam Alpine, which makes a great alternative to its more obvious MGB rival
How much to pay
• Project £3000-5000 • Good £12,000-18,750 • Concours £20,000-26,000 •
Overview
Practicality ★★★
Running costs ★★★
Spares ★★★
DIY friendly ★★★★
Investment ★★★
Desirability ★★★★
Back in the 1950s and '60s, the British led the world when it came to affordable open-topped fun. But while Triumph and MG have long been the default choice for those seeking convertible thrills on a budget, there's a less obvious choice that's every bit as alluring – the Sunbeam Alpine.
This sports car has it all: looks, charm, affordability and decent parts availability, and it's also good to drive. The Alpine is also not so rare that you can't find a good one, yet compared with an MGB or Spitfire, it's unusual enough to be different.
While Sunbeams have crept up in value over the past few years, you can still buy a good one for the same price as a humdrum modern supermini. And although the Alpine won't set your trousers alight when it comes to performance, the grunt on offer is on a par with that of its key rivals. Of course, you don't have to keep your model standard; there's a raft of affordable upgrades available, to turn your Alpine into something really special.
Your AutoClassics Sunbeam Alpine inspection checklist
Engine
Alpine powerplants are durable, if not especially powerful. They're tweaked versions of engines found in Rootes' contemporary saloons, and the most likely problem is overheating due to neglect. The alloy cylinder heads warp if not torqued down properly after replacement, and if the anti-freeze level has been allowed to drop there's probably corrosion within the system.
Another potential problem is that of a cracked block because of a fault line that's given way along the water jacket, although this is only really an issue if the coolant within the engine has been allowed to freeze. Spotting whether or not the block has cracked isn't always easy (water seepage is the most likely symptom), but repairing such damage isn't difficult anyway.
Oil leaks are also common, as the engines use a scroll-type oil seal. It's possible to modify this to a modern type; the crank pulleys also wear and eventually you'll need a new one.
Any Alpine engine should notch up 130,000 miles between rebuilds, but they don't take neglect very well. When you test drive the car, take a look at the oil pressure when the motor is up to temperature. At least 15psi should be showing at idle on a three-bearing engine (pre-Series V cars), with 50-55psi showing over 2000rpm. The 1725cc engine will give 25psi at idle quite happily, with 45psi or more showing at 2000rpm.
Gearbox
From the outset overdrive was an option, but it was never fitted as standard. Cars without it aren't nearly as nice to use, and finding a unit to retro fit isn't easy, as overdrives are scarce. Unfortunately you can't beat the system by trying to use a Hillman Hunter set-up, as it won't fit.
The four-speed manual gearbox fitted to all Alpines is nice enough to use, but it wasn't until the Series IV that there was synchromesh on all ratios. Earlier cars did without first-gear synchro, but if you don't like swapping cogs at all you could try to find an automatic Alpine – as long as you're happy with a Series IV. Only 87 automatic Alpines were made, and few survive – but that isn't a problem, as they're not at all sought after.
Suspension and brakes
All Alpines have the same basic semi-trailing wishbone suspension layout, but there were detail changes along the way. Series I-III cars have a front suspension design with a lower trunnion and kingpin set-up, which needs regular greasing. Many cars don't get the TLC they need, leading to sloppy handling through worn or seized kingpins – and finding new bits for the front suspension of a Series I-III car isn't easy.
Series IV and V cars used Metalastik bushes instead, to reduce maintenance and give a more comfortable ride. You don't have to grease kingpins frequently, but the bushes will probably need to be replaced by now, especially as they're probably soaked in engine oil.
At the rear, the introduction of the Series III saw telescopic dampers replace lever-arm items. But apart from checking for the usual leaks, there are no inherent problems with either type of suspension.
The steering boxes fitted throughout production tend to leak, while the idler assembly also wears or seizes. But everything is available to keep the steering sharp, although replacing a box isn't all that straightforward.
There aren't any problems associated with the braking system, although the self-adjusting rear stoppers that were initially fitted to the Series V didn't last long – by November 1967 they reverted to the manually adjustable system fitted to Series I-IV cars.
Bodywork
Most Alpines have at least some rust, but the monocoque is tough and structural rot is unusual. The most important place to check, and the area most susceptible to rot, is the sills, which are essential to the car's strength. Most Alpines have had new sills by now; check that they're curved to match the convex profile of the door. Cheap replacement panels are straight and won't look quite right.
Rust is common around the headlamps, along the base of the windscreen, the inner rear wheelarches, the rear corners of the boot floor and the trailing edge of the boot lid. The base of the wings should have a drain hole visible. If it's absent, it's been poorly repaired.
The hinges wear, allowing the doors to drop, and the doors can also corrode along their front edge and underside. If a door has been reskinned, see if the rubber seal is there and that the profile of the whole panel is correct – it often isn't.
Floorpans corrode, as do the front footwells, rear spring hangers and jacking points. Also analyse the rear corners of the hardtop, if it's one of the steel items fitted to Series III cars onwards. The earlier aluminium roofs don't give problems, but the steel ones invariably rot and the perspex windows craze.
Interior
Just about all of the interior trim is available either new or reconditioned, because much of it is now being remanufactured. Rubber mats are no longer available, but most people want carpet sets anyway, and even the exterior trim is available (except for bumpers), as this has also been reproduced.
From September 1965 an alternator was fitted in place of a dynamo, and these fed a regulator and warning lamp relay on the inner wing. If the unit is overcharging these ancillaries will get fried, so it's worth checking that the alternator is working correctly.
History
1959: Series I Alpine arrives, using a Hillman Husky floorpan and a Rapier engine with a four-branch manifold and an alloy cylinder head. 11,904 are made.
1960: Series II gets a 1592cc engine and improved seats. 19,956 are built.
1963: Series III has a GT option (no folding hood, standard hardtop, interior wood trim). The Roadster's optional detachable hardtop is now steel instead of aluminium (and more angular), and twin fuel tanks make the boot space more usable. 5863 are made.
1964: Series IV has smaller tailfins and a single-bar grille (it was previously four bars). 12,406 are built.
1965: Series V has a five-bearing 1725cc engine. 19,122 are produced.
AutoClassics says…
For years the Sunbeam Alpine was the poor relation when it came to British sports cars. As a result there are a lot of neglected examples around, as many owners have been unwilling to sink the necessary cash into their cars. That's why it's worth getting a professional inspection if you're in any doubt about a potential purchase – bodged restorations are far from unusual.
As a rule, the later the model the more usable and more desirable it is. If you're looking for a car to drive regularly, go for a Series V with its larger five-bearing engine. However, if you want an Alpine with fins your best bet is a Series III, as it has a much larger boot and more comfortable seats than the earlier iterations.
Probably the nicest Alpine is one that wasn't made officially; the GT (complete with wood trim) but with a soft-top and Series V engine and suspension. Quite a few owners have upgraded their cars to this spec, and it's these models that fetch the most money. However, you'll still be getting a sports car bargain, because while Alpines are worth more than ever, they're still far from being over-valued.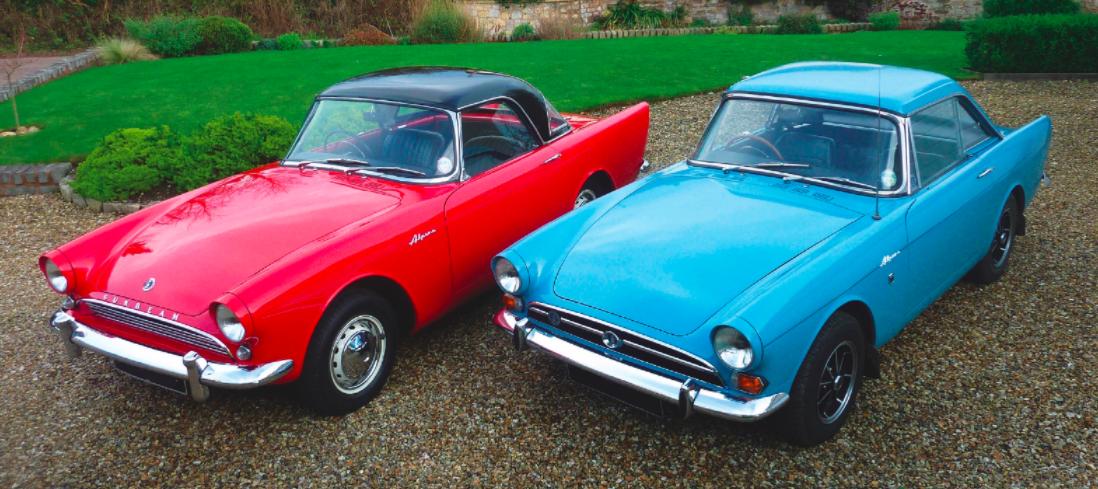 Specifications
Sunbeam Alpine Series I
Power
83.5bhp
Top speed
101mph
0-60mph
14.0sec
Economy
26mpg
Sunbeam Alpine Series II
Power
85.5bhp
Top speed
97mph
0-60mph
14.8sec
Economy
22mpg
Sunbeam Alpine Series III
Power
87bhp
Top speed
98mph
0-60mph
14.9sec
Economy
25mpg
Sunbeam Alpine Series IV
Power
87bhp
Top speed
92mph
0-60mph
18.8sec
Economy
22mpg
Sunbeam Alpine Series V
Power
99bhp
Top speed
100mph
0-60mph
13.6sec
Economy
26mpg
Picture courtesy of MagicCarPics
Looking for a Sunbeam Alpine for sale?
Have a browse through the AutoClassics classifieds for your perfect Sunbeam Alpine for sale